Switching Programmable DC Power Supply (EX-TB Series)
High Performance, High Efficiency Compact Size
EX-TB Series is high-performance and high-efficiency programmable single output DC power supply with bench-top size. This series supports RS232C, RS485(RJ-45 type) interface based on SCPI (Standard Commands for Programmable Instruments) protocol. This power supply will provide various solutions for your design and test requirements in the industrial fields, R&D institute center and education fields.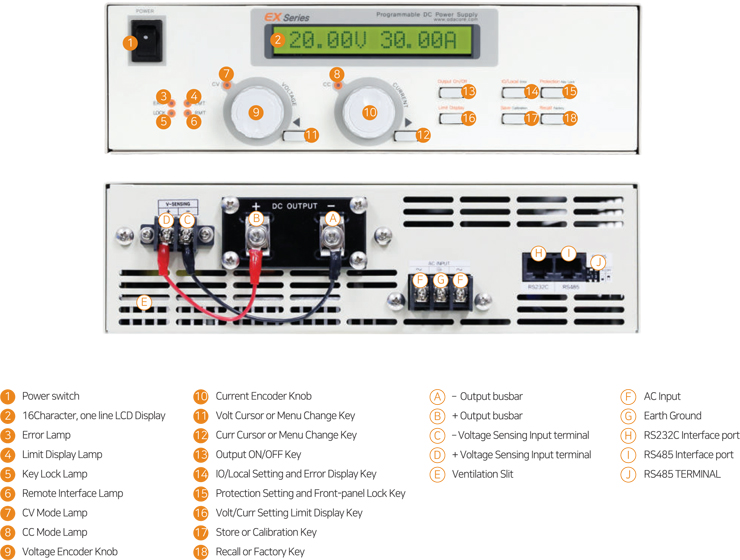 COMPACT SIZE
EX-TB Series was developed from EX Series that has smaller size compared to EX Series. Though it has bench top size but has same specification with EX Sereis.

PROTECTION MODE
Built-in OVP (Over Voltage Protection) and OCP (Over Current Protection) protection modes block the output when the output voltage and current are over the limit that user set to protect the load. This mode will be worked when user's negligence happened or conduct test for a long time.

DUAL CONTROL ENCODER
The control encoders for voltage and current help to set the mode you try to change fast compared to single control encoder.
It was designed to use the product easily even though user is not familiar programmable power supply.

MEMORY STORE & RECALL
Even you are not an engineer, user can easily save and recall the voltage, current and state of use to inspect production. Also you can use this model for the reliability test and other tests too by using the function that recalls the memory which was saved in advance.
Standard Features
Bench top size for up to 2.4kW power with 265mm(W) x 75mm(H)/150mm(H) x 404mm(D)
4-Digit Display Resolution
16 x 1 Big-Char Type LCD Display attached
Adjustment encoder provided for voltage and current
OVP(Over Voltage Protection), OCP(Over Current Protection) Protection Mode provided
UVL(Under Voltage Lock), OVL(Over Voltage Lock), UCL(Under Current Lock), OCL(Over Current Lock)
Calibration function provided(manual and PC)
Panel Lock function provided
Memory Store & Recall function provided(It is possible to store and recall 10)
Output ON/ OFF function(Signal control is optional)
Limit Display function provided
11 diverse Factory Modes provided
RS-232C, RS485 Communication mode is basic(TCP/IP communication is optional)
Single phase, AC Input 220VAC ±10% and 3 phase AC Input(option)
Option
RJ45 to RS232C cable
RS-232C cable
RS- 485 cable
TCP/IP communication
Output ON/OFF signal control
Analog Programming(Vout & Iout voltage programming) & Monitoring
(Output Voltage & Current Monitoring) by 0~5V or 0~10V, Isolated type
AC Power Cord(Other type)
AC Input 380V or 400V± 10%, 3-phase 4-wire system(R,S,T,N,G), 50~60Hz
AC Input 200V or 220V± 10%, 3-phase 3-wire system(R,S,T,G), 50~60Hz
Accessories
AC Power Cord(Type F)
Operating Manual(QR code)
Demo software program(QR code)
Line-Up and Specification
600W ~ 2.4kW
Voltage
20V
30V
50V
60V
80V
100V
150V
200V
300V
Current
30A
20A
20A
10A
7.5A
6A
4A
3A
2A
60A
40A*
40A
20A
15A
12A
8A
6A
4A
90A
60A
60A
30A
22.5A
18A
12A
9A
6A
120A
80A
80A
40A
30A
24A
16A
24A
8A
*CE certified