Drum wood chipper (new model) is a kind of special equipment for wood chipping. Widely used in shaving board, chipboard and paper mills and other industrial production.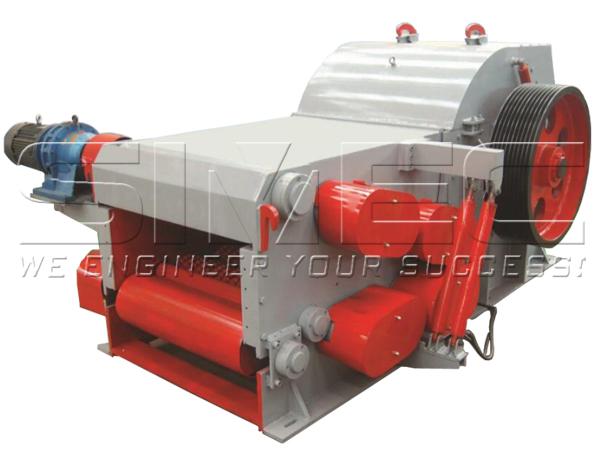 This kind of machine is mainly used to chip wood logs, wood cutting remains (wood branching tree stumps, branches, etc.) and waste material from wood working industry (slab, lath, logs core and waste veneer, etc). Wood chip size is adjustable upon clients' requirements. It can also cut non-wood materials, like sugar cane, bulrush,gross bamboo and so on.
Technical Parameters:
SIMEC has more large scale heavy duty wood chippers, which can chip larger
wood logs or trunks in diameter above 450 mm till up to 700 mm
.
SIMEC drum wood chippers are of advanced structure, high quality material, wide adaptability of raw materials, simple operation and maintenance.
The drum wood chipper can chip various kinds of wood materials into small even sizes of wood chips. Raw material can be wood logs, wood branches, waste wood or artificial boards, and other non-wood panel, etc.
The wood chipper consists of base, knife roller, feeding rollers, belt conveyor and hydraulic system. The main body is welded by the high strengthen steel plate. 2, 3 or 4 pcs of knives would be installed on the knife roller according to the clients' requirements for the output size of the wood chips. The knives are made of high strengthen alloy steel forge piece. Adopted with the hydraulic system, the feeding of large size raw material is smooth and secure.
With strong and reasonable structure, plus the durable knives, the SIMEC BX drum wood chippers are guaranteed for heavy duty operation.