Black rice tea roasted in far-infrared radiation
Product Name: Sangsaeng Farm Brown Rice
Content Amount: 500g
Ingredient Name: Organic Brown Rice 100% (Korea)
Product Type: Diffused Tea
Far-infrared radiation roasting makes deeper and more savory brown rice tea / Organic agricultural product certificate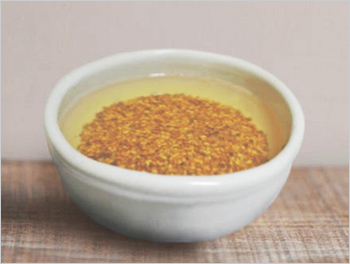 Organic brown rice tea roasted with far-infrared radiation
Only uses quality organic brown rice cultivated using freshwater snail agricultural techniques.

Far-infrared radiation roasting heats both the inside and outside of brown rice and lets sufficient amount of nutrients come out.

We make it a rule to produce and sell small quantity. You can always enjoy freshly roasted brown rice tea since daily production is limited.
How to prepare brown rice tea
Things to prepare: 200cc cup (or water cup), glass pot, 1 cup roasted brown rice, 16 cups of water
Boil 8 cups of water and put in roasted brown rice and then turn off the heat immediately.

After 5 minutes, strain the brown rice. (No.1 brown rice tea)

Boil 8 cups of water in another pot and put in filtered brown rice again and heat it for 5 minutes. (No. 2 brown rice tea)

Mix No.1 and 2 brown rice tea and drink them together.
Keep organic brown rice tea refrigerated and drink it frequently as a water substitute or after meal. If you want to reduce excessive intake of caffeine and fruit sugar from coffee, energy drink, juice, and so on, drink brown rice tea as an alternative.
If you are on a diet and are hungry or want alternative drinks, we recommend brown rice tea.
*For people who drink vegetable water, drink this tea with 30-minute time gap with the vegetable water.