Bone Mineral Density
Example Result Screen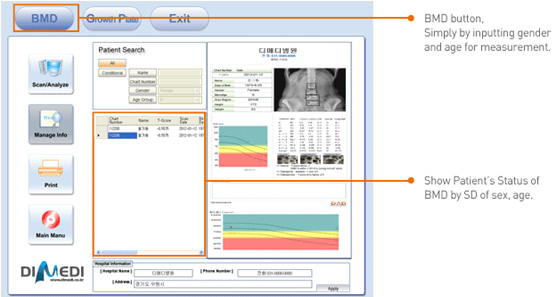 Osteoporosis Clinic for Adult

Osteoporosis is the decrease in bone calcium and lowering bone mineral density (BMD).

It causes bones to become like a porous sponge and crumble.
Features
Image Processing Support
Measurement after PHANTOM Calibration
Since the measurement of the BMD need the bone's quality it is essential that precision and accuracy are excellent.
Periodic Quality Assurance of PHANTOM ensures precision
Read and Assess Shewart Control Chart of BMD data by criteria.
Excellent Re-productivity and Accuracy of measuring parameter (less than 5%)
Trend Graph of patient
Compares the Standard value with the measured BMD value of each patient.

Measurement body part : Spine, Hip, Forearm, and etc.
OS : Window XP, Vista, 7
Printer : Inkjet, Laser
Results
Graph of BMD data of each measuring part compared with standard of age
Numerical data of BMD, BMI(Body Mass Index) compared with standard
Prints measurement sheets after all procedures