Brilliant Eyes Multifunction Anti-aging Eye Cream
Get universal and complete care for your skin around your eyes. This rich cream contains many beauty ingredients and blends with your skin really well. Gets your skin moisturized, firm, and fit. Make your skin around eyes bright again.
Multi-function eye cream for eye area and eyelashes. This single product enables full-scale intensive care of eye area concerns. Beneficial for fighting sagging, dryness, dark circles, dullness of the skin and damaged eyelashes.
Skin around eyes looks brilliant, younger and smooth. Not only for moisturizing, can also be used with a contained soft focus powder as a base control to over darkness under the eyes.

• Dermatologically tested.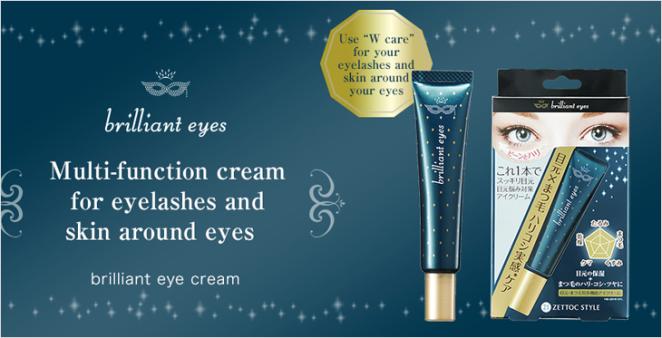 Product POINT!
1. Thorough and extensive care for area around your eyes.
Genuine focused care for all skin problems around your eyes like dehydration, sagging, discoloration, and darkness under the eyes. Get rich, bright, and smooth skin by letting highly-effective ingredients work on all respective problems in various ways. Let your worries go away with this multi-effect eye cream.
2. Effective even on damaged eyelashes
Our cream can be used not only for the skin around your eyes but for eyelash care as well. It will make your damaged eyelashes look long, sharp, firm, and glazy. You don't have to use both eye cream and eyelash beauty lotion separately anymore. This one product takes care of everything. You won't feel any discomfort even if you apply it directly to the eyelashes because it has moisturizing texture which is not sticky at all.
3. Naturally covers dark and dull skin
Contains soft-focus powder that naturally shades somberness and dullness. Is suitable not only for concentrated night treatment but also for applying make-up in the morning or before adjusting your make-up during the day.
4. Can be used as genuine aging care treatment as well
Contains stretching ingredients like almond extract and common wild oak grain extract that will make your skin tight and fit. We recommend this multi-effect eye cream for people who want to seriously start with aging care treatment too.
5. We are particular about the selection of materials
we use because it's for the sensitive area around your eyes.
Without flavoring, coloring, paraben, mineral, or organic oil. Allergy tests already completed.*