Bus fare counting machine
-System Componets-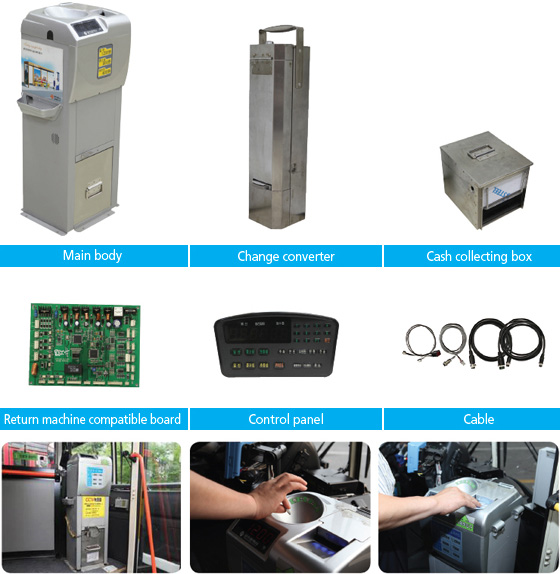 City Bus Fare Adjustment System
Overview of city bus fare adjustment system
Unmanned cash fare receiving and settlement in city bus
A product to secure transparency in cacy income
Conceptual Diagram of City Bus Fare Adjustment System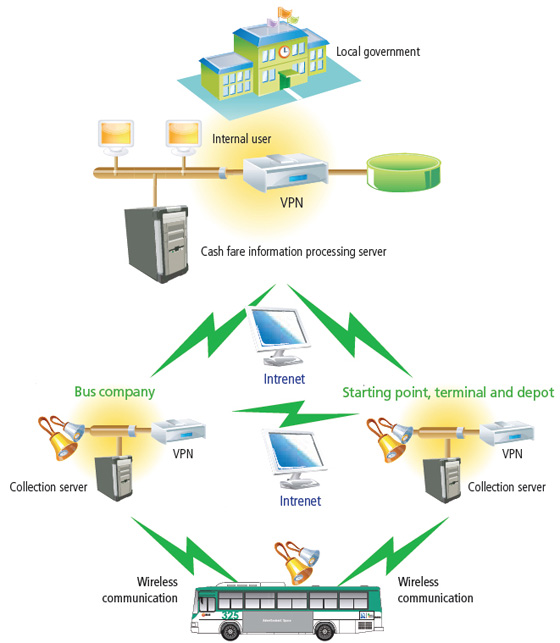 -Parts Name and Description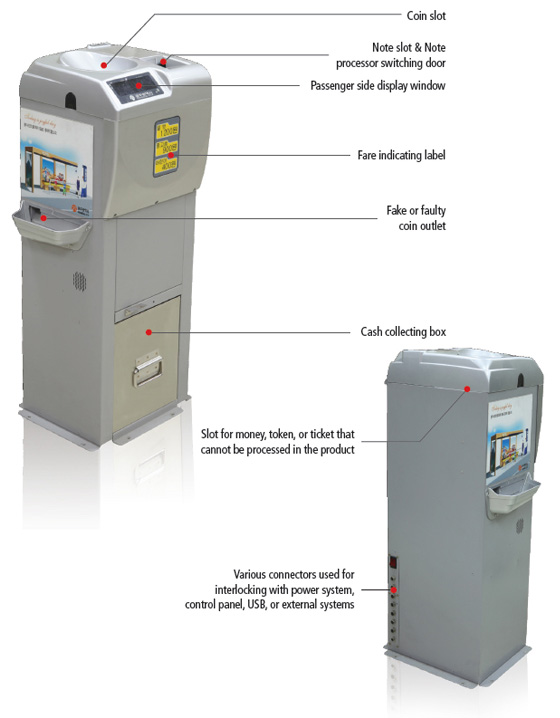 Features of cash computing system
The most critical requirement of bus fare settlement system is processing speed for coins and notes.
The technology of this company allows processing coins (up to 20 coins) or notes within 1 second, and the safety and performance of the system has been proved since it was installed in Gwangju city buses in 2007.
This system distinguishes faulty coins and discharges them through the outlet.
Colledted date is encrypted and transmitted to local government servers in real time.
Parts Name and Description on Control Panel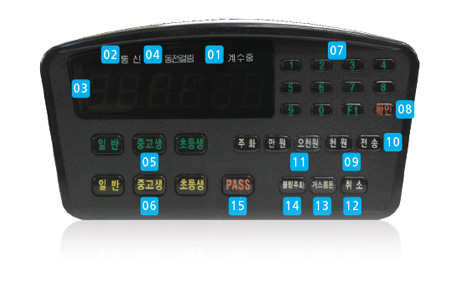 01 LED showing coin counting
02 LED showing the communication status of the control panel
03 LED showing invalid processing status due to jammed coin
04 Control panel display window
05 Fare selection button
06 Fare change button(Refer to the part 2 functional overview)
07 Number button
08 Input data confirm button ; Open the gate of point box
09 Functional button used for setting data(time, counter ID, vehicle ID, etc.) input and data checking(time, payment total)
10 Switching to data backup mode
11 Price input button after receiving a money(severely damaged) that cannot be processed in the machine
12 Input data cancel button ; Open the top case
13 Button to allow arbitrary money return other than change process by the system
14 Discharge button when an object(ex, plastic) cannot be detected by the hopper in the machine is inserted; One time coin processing button
15 Passing button for insufficient fare or allowing to board inevitably
Software
Cash fare information management program
Cash fare information includes cash fare process information, cash income information by transportation companies, service information & income information by routes, and service information & income information by buses. Therefore, the program serves such information to relevant organizations and bus companies and secures income transparency, so that the information can be utilized as statistical information required to establish public transportation policies by relevant organizations, and to make business decision by bus companies.
Menu

Function

Information by company

Total statistics for a company income

Information by bus

-Income information for a relevant bus
-Service information for a relevant bus
(Service time, depot arrival & departure information, boarding capacity, etc.)

Information by route

-Income for a relevant route
-Service information for a relevant route(driving bus, boarding capacity, etc.)
Effectiveness of Automatic Cash Computing System
Introducing automatic cash computing system provides not only effective management in cash income and bus services, but also secured information required to establish transportation policies and effects to increase cash income.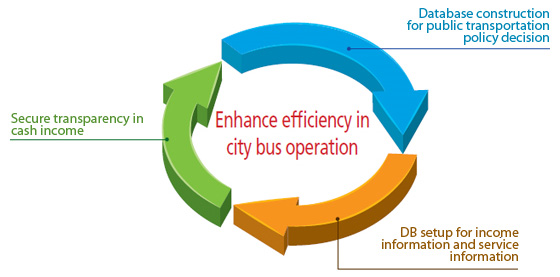 What is automatic cash computing system for city bus?
How can we achieve transparent management for cash income from city buses?
This product has been developed to solve such issue,and provides solutions to settle the cash income without intervention from third-party and to receivecash fare paid by passengers transparently.