1. CE certification biomass wood pellet machine Characteristics:
1) Vertical feed, directly in place
2) Static model, Pinch roller rotation, Material centrifugal, uniformly distributed around
3) 2 layers grinding tool, Up and down dual-use, Reduce cost, Increase benefit.
4) Circular mould, Vertical structure, Conducive to granulating chamber radiator cooling
5) Independent frequency conversion discharge device, to ensure the particles forming rate.
6) Independent lubrication, High pressure filter, Clean and unobstructed.
7) High density granulating molding equipment.
2. CE certification biomass wood pellet machine Using scope and purpose:
1). Scope: sawdust, straw, cotton stalk, rice husk, peanut shell, bamboo powder, palm and other plant waste; cement, ash, carbon powder, paper, and other chemical raw materials which are difficult to be adhesive and molding.
2). Purpose: reuse of waste residues for biofuel plant, biomass power plant, wood processing plant, chemical plant, winery.
3. CE certification biomass wood pellet machine Technical parameters:
Type

Capacity

Power

Production Size

Weight

Size

(T/H)

(KW)

(MM)

(T)

(MM)

HXZL450

0.5-0.7

45

Φ4-12

5.5

2600x1200x2300

HXZL560

1-1.5

90

Φ4-12

6

2600x1300x2310

HXZL850

2-3

220

Φ4-12

13.5

3380x1480x3180

HXZL1050

5-6

355

Φ4-30

22

4200x1850x3680

HXZL1250

8-9

415

Φ4-30

25

4600x1950x3880
4. CE certification biomass wood pellet machine Main structures:
Vertical ring die pellet machine is mainly composed of power system, granulating chamber, engine base, lubrication system, dedusting system and electric control system.
1). Power system
Power system is composed of Y series motor, coupling, and high-power reduction gear. Reduction gear uses sound absorption box structure, large surface area and large fan. Advanced gear grinding technology improves the reliability of rising temperature, reducing noise, and running, so the transmitted power is increased.
2) Granulating chambe
Granulating chamber is composed of bearing chamber, bearing, main shaft, ring die, compression roller, and cutting device.
Material of moisture content 8-10% reaches granulating chamber passing by feed inlet by feeding mechanism. Transmission main shaft drives two compression rollers rotating. Material is squeezed into ring die hole due to the rotation and squeeze of compression roller and shapes up in the die hole and is squeezed out of the die hole. And then, the forming particles are cut into required length by cutting device and outflow the machine by stirring of cutting device.
3) Engine base
Engine base uses thick steel plate and is treated by welding, aging treatment, boring-milling, so engine base strength increases and assembly accuracy of power system and granulating chamber is guaranteed.
4) Lubrication system
The lubrication system is automatic. Lubricating grease is pushed into main shaft oil hole, lubrication roller bearing and main shaft bearing by electric petrol pump. This system can set injection time and injection time interval automatically according to customers' different requirement.
5) Dedusting system
The dusting system is set around granulating chamber. Dust is sucked into spiral dust remover by pipeline when material enters granulating chamber. Spiral dust remover is optional.
6) Electronic control system
Electric control system has to be specially designed according to customers' request.
5. CE certification biomass wood pellet machine High Quality Products: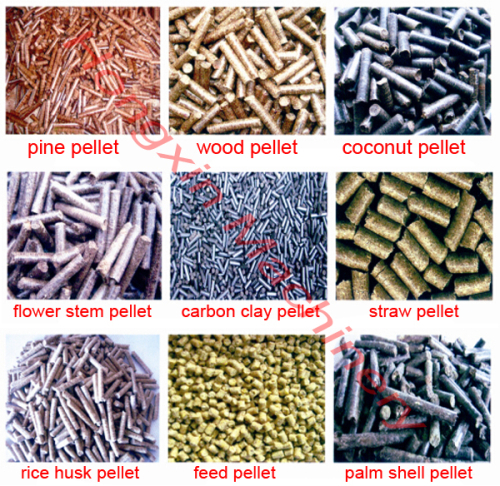 Introduction to Zouping County Hongxin Machinery
1).15 years of experience in biomass energy crushing industry, located in Zouping County, Shandong Province, China.
2). Main products: Wood chipper, Sawdust machine, Drum dryer, Vertical ring die pellet machine (biomass pellet machine), Counter flow cooling separator, Packing machine; Comprehensive crusher, Building templates crusher, Plancon crusher (Stump grinder), Free move (Mobile) cutting machine (Tree shredder), Complete pellet production line
3). Covers an area of 40,000 square meters, with more than 200 people including 120 specialized technicians and 8 senior engineers.
4). More than 100 sets of machineries of assembling, processing and transportation, etc.
5). Formed a complete systematic management system, can offer non-standard products according to customers' request.
6). ISO9001certified. CE certified.
7). Self-manufacture the key machines of pellet production line, and can design complete production line according to customers' needs.