CE&UL certificate 12v 100ah lead acid battery, 12v 100ah ups battery , vrla battery 12v 100ah factory in ji zhou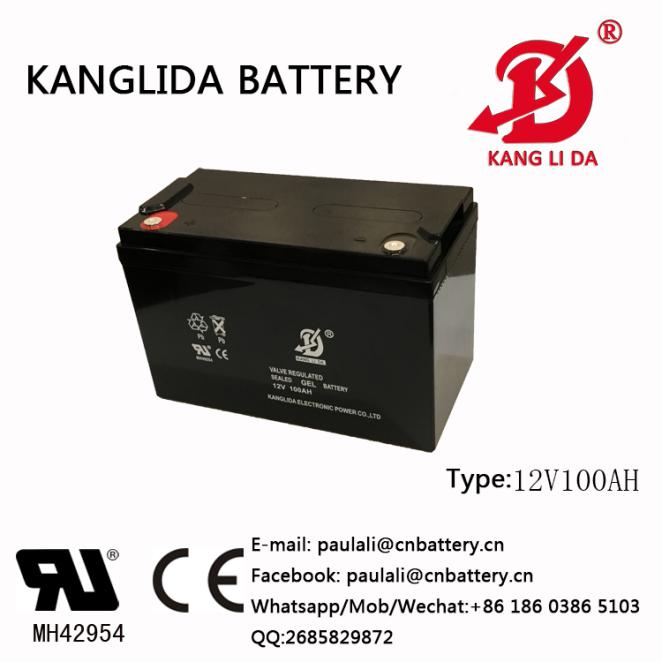 lead acid solar battery 12v100h is 1.Lead acid battery 2.Use of safety 3.Long service life 4.Rechargeable battery
Product Description
the image of the battery 12v100ah
specification
battery characteristic

Nominal voltage

12V

Nominal capacity(20h rate)

100Ah

Size

Total height

220mm

length

330mm

width

172mm

height

214mm

Weight

29.5kg

Rated capacity 25°C(77°F)

10 hour rate(0.64A)

100Ah

5hour rate(1.19A)

85Ah

1hour rate(1.19A)


60ah

Internal resistance

in full charge status 25°C(77°F)

45mΩ

Capacity at different temperature(10h)

40°C(104°F)

105%

25°C(77°F)

100%

0°C(32°F)

85%

-15°C(5°F)

65%

Self discharge 25°C(77°F)

capacity after 3 months

91%

capacity after 6 months

82%

capacity after 12 months

64%

Mode of charge (constant voltage) 25°C(77°F)

cycle-use

initial charging current less than16.5A , voltage14.40-14.80V

float-use

Initial charging current less than 1.05A voltage13.5-13.80V
structure of battery
The structure of the 12v7ah electric power accumulator,accumulator cell
Battery Structure

Unit

Positive pole

Negative pole

Shell

Safety Valve

Terminal

Separator

Electrolyte

Material

PbO2

Pb

ABS

Rubber

Pb

Fiberglass

Sulfuric Acid
related poduct
4V4.5ah battery storage 12v9ah lead acid battery
12v 200ah deep cycle battery 12v150ah solar battery
kinds of battery
MODEL

APPLICATION(Usage field )

4v4.5AH

Electronic Balance

6v1.3AH

Attendance Machine, Alarm and Instrumentation

6v4AH

ZBV, emergency lamp, camera,Electricity theft, Electronic balance and Children toy car

6v5AH

floodlight projector, emergency lighting, guard against theft, alarm system, electric tool, Emergency starting,Electric toys,Electronic weighing scales,signal lamp and Flashing lights

6v7AH

electrical scooter, Parking Lot Barrier and Hook scale

6v12AH

Distribution control, Solar garden lights, and Electric toys

12v1.3AH

Access control, alarm, Instrumentation, lawn lamp and Electronic Fences

12v2.3AH

fire control cabinet, Automatic ramp door, Security alarm and medical device

12v2.6AH

beacon light, warning light, Camping lantern, Automatic car cover, Audio, and Elevator emergency lighting

12v3.3AH

Alarm, and Mineral detectors

12v4AH

ups power supply, electronic instruments, Electric toys, Alarm, Magnetic lock, Electric lock and automatic door

12v7AH

Agricultural electric sprayer, Security, inflatable, Flashing lights, signal lamp and camera

12v7AH-C

Children's toys, Automatic parking lock, and ups power supply

12v7AH-SC

Inflatable, Security alarm host, Flashing lights, signal lamp, electric sprayer, and access control system

12v9AH

Security alarm host, Security alarm, Electric toys, Flashing lights, signal lamp, inflatable,

Burglary Alarm Master Panel, device of driving birds, and Automatic forklift

12v12AH

Automatic parking lock, Wall type fire-fighting device, sells the food machine, and Vehicle flow detection machine,

12V15AH

Dry lotus battery,Automatic parking lock, Wall type fire-fighting device, sells the food machine, and Vehicle flow detection machine,

12v24AH

Elevator emergency system, fire alarms, wind power system, Solar Power System,and Vehicle flow detection machine

12v33AH

Sweeper, plant protection machinery,

12v40AH

Elevator emergency system, Elevator leveling system, street lamp, fire alarm, Ups, Light Box,DC power supply, wind power system, and Solar Power System

12v65AH

ups power supply, Lamp power supply, DC power supply, wind power system, and Solar Power System

12v100AH

ups power supply, monitoring equipment, Solar street light,Lamp power supply, wind power system,and Solar Power System

12v120AH

ups power supply, monitoring equipment, Solar street light,Lamp power supply, wind power system,and Solar Power System
multi-angle battery
Packaging & Shipping
FAQ
1. Could you do OEM?
Yes, we can OEM for you and submit the law of intellectual property rights.
2. Are you a factory?
Yes, our factory located in Huizhou city, Guangdong province, PRC. and we have 2 sales offices, one is in Zhenzhou city, Henan province, and the other one is in Shenzhen city, Guangdong province.
3. What is your product warranty?
the warranty is at least 1 year, free replace battery in the warranty, but, we supply service from start to end
4.Can you supply free sample?
for low price battery, we can supply free sample, for high price battery, the sample cost can be returned to you in following orders.
5.Are your batteries pre-built and stored on shelves before being shipped to the buyer?If so,how old are these batteries?Are they built to order?
No,our batteries were fresh produced based on customers order,especially for the big capacity battery.The lead time is almost 20 days,because all fresh batteries must be 100% pass whole test before shipment.Our batteries can storage 6 months without charging.
why choose us ?
1)Good Discharging Ability
Tight assembly technology ensures an excellent high-rate discharge performance.
2)Long Service Life
A unique corrosion-resistant grid alloy ensures MCA batteries have long service life.
3) Low Self Discharge
Using high purity raw materials ensures MCA batteries have less self-discharge.
4)Environmental & Non-polluting
Gas Recombination technology ensures the battery high seal reacting rate, which can prevent the acid fog from separating out.
5)Safe & Reliable
Efficient venting system automatically release excess gas when the pressure rises above the normal level & reseals the valves when it returns to the normal rate, which can protect the battery from bursting.
Company Information
welcome inquiry !
Phone: +86 186 0386 5103

whatsapp(Viber): +86 186 0386 5103

Wechat: +86 186 0386 5103




QQ:2685829872

Twitter:battery927

Address: Room418-423, Floor 4,B building,East of Lianyun road,North of Hanshan dong road, Erqi district, Zhengzhou

Website:www.cnbattery.cn
Related key words
12v rechargeable battery ,12v 10 small rechargeable 12v battery 0ah battery,
vrla battery 12v 100ah,12v 100ah sealed lead acid deep cycle battery,deep cycle battery, 12v rechargeable battery , deep cycle solar batteries , gel battery 12v ,12v 100ah deep cycle battery ,gel battery 12v,12v 100ah solar battery,12v 100ah ups battery,vrla battery 12v 100ah,12v 100ah sealed lead acid deep cycle battery,,battery charger 12v 100ah lead acid batteries,12v 100ah smf battery,batteries 12v 100ah,gel batteries 12v 100ah,small rechargeable 12v battery,12v 100ah battery, battery solar , battery 12v 7.2ah , 12v 7.5ah ups battery , ups battery 12v 7.2ah , 12v7.2ah battery , 12v 7.5ah 20hr battery , 12v 7.5ah sealed lead acid battery , 12v7ah , 12v 7.5ah battery