CQI Japanese Cultural Adational Level Test Service
What is CQI?
CQI (Cultural Intelligence ) is a Japanese cultural adaption level test program which was developed by AIMSOUL, Global HR Solution company in Tokyo, Japan. World Value Bridge Co., Ltd is a agent and distributor for Korea. If you have an interest in Japan and Japanese culture or career opportunity, then you can do test easily which cultural addition level you are in for Japan life and career opportunity before you actually come in Japan. You can do test it within 25or 30 minutes on the web by English, Chinese, Korea, Vietnam and other language.

1. Supporting Japan's care and care business for the elderly in overseas markets
As the aging population in developed countries is accelerating in recent years, Japan's nursing organizations, health organizations, medical institutions, and health food sectors, which are already becoming a super-aged society, are drawing attention from the public.

Especially in Asian and ASEAN countries, the demand is rising.

1. Elderly care (prevention) services, such as dementia prevention
2. Fostering welfare talent
3. Welfare equipment and equipment

There are three areas.
It is predicted that the demand for products and services of Japanese companies that have made use of their experience so far will increase.

World Value and Bridge Co., Ltd. provides consulting services to enter Asia to Japanese companies that develop and sell open-door prevention programs, muscle training machines, welfare devices, and small exercise devices, along with partners in Asia and ASEAN.

2. Quality of life (QOL) - Import and export of goods and services around the world that improve quality of life

In the world, there are many great products and services that support the country's life and culture that have not yet been introduced in Japan.We utilize global networks in the United States, Asia, Europe, etc. to serve as a bridge between things and services that enrich Japanese society and the world, and provide consulting to our customers to create new businesses and benefits.

To help you have a stable smiley face, for example, rehabilitation and recreational products, prevention products, design and pricey exercise equipment for the elderly, welfare devices, dementia prevention devices, health foods, and daily necessities.

In terms of service, the world's most advanced training and recreation programs are developed and implemented in turn.We are helping users to introduce value-added products and services from the world to both Japan and the world that improve their "quality of life."

Japan's ultra-aged society and the market for preventing or promoting health care such as dementia are expanding as a business, and the demand for the introduction of the world's cutting-edge care equipment, devices, and training programs using global networks is increasing.

We are able to develop our service business using these foreign product imports and partner networks.If you are thinking about this business, please tell us in order to create a healthy and smiling society.

3) The growing number of visitors to Japan to travel to Japan.
For companies, inbound business is one of the most effective means of generating new businesses or revenue.If the country's prediction is correct, the number of businesses targeting foreign customers visiting Japan is increasing rapidly, doubling and tripling in 2015.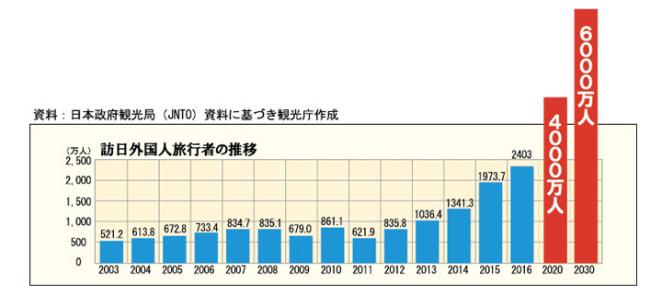 Since 2015, World Value and Bridge Co., Ltd. has been providing high-themed services that fit the needs of foreign guests visiting Japan.For example, for foreign customers visiting Japan or VIP visitors to business, they accompany shopping or ride together according to their daily shopping list, including when they do not have a product name or picture.

In addition, we provide various services such as field trips to welfare sites, volunteering and groups, industrial inspections, and international exhibitions."In terms of performance, we have provided services suitable for the purposes of small groups of 5~40 people, including Taiwan, Korea, India and Thailand."

Recently, the purpose of visiting Japan, especially with high theme, is increasing.In the future, inbound tourism specialized in topics will continue to increase.We are responsible for the overall consulting of this inbound tourism businesses.
Experienced inbound practitioners will help you set up and implement business models that highlight your strengths (business development, planning, translation, operations, etc.) to help you start new businesses and improve your profits.