CT 300PSI 500PSI 150cm 250cm Luer lock extension Y shape tube, mri coil tubing
| | | | |
| --- | --- | --- | --- |
| Product No. | Length(cm) | Pressure(PSI) | Specification |
| 302201 | 250 | 250 | Y shape |
| 302202 | 250 | 250 | T shape |
| 302203 | 250 | 250 | I shape |
| 302204 | 150 | 250 | Y shape |
| 302205 | 150 | 250 | T shape |
| 302206 | 150 | 250 | I shape |
| 302207 | 100 | 1200 | Female Male Luer connector |
| 302208 | 200 | 1200 | Female Male Luer connector |
| 302209 | - | 1200 | Female Male Luer connector,Customized Length |
| 302210 | 100 | 500 | Female Male Luer connector |
| 302211 | 200 | 500 | Female Male Luer connector |
| 302212 | - | 500 | Female Male Luer connector,Customized Length |
| 302213 | 100 | 250 | Female connector |
| 302214 | 200 | 250 | Female connector |
| 302215 | - | 250 | Female connector |
| | | | |
| 302240 | 100 | - | Shielding |
| 302241 | 200 | - | Shielding |
| 302242 | - | - | Vented Spike |
| 302243 | - | - | J fill Straw |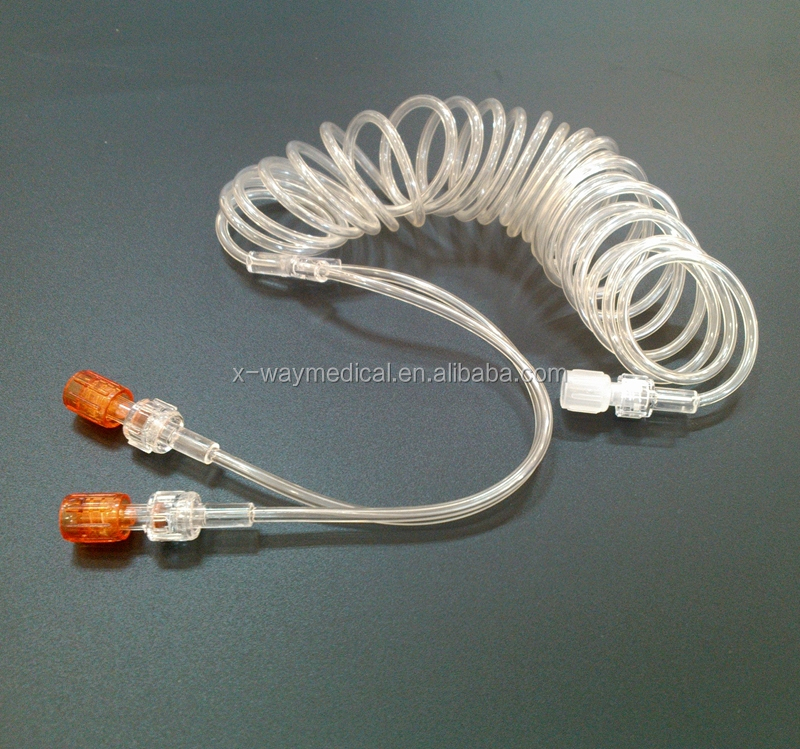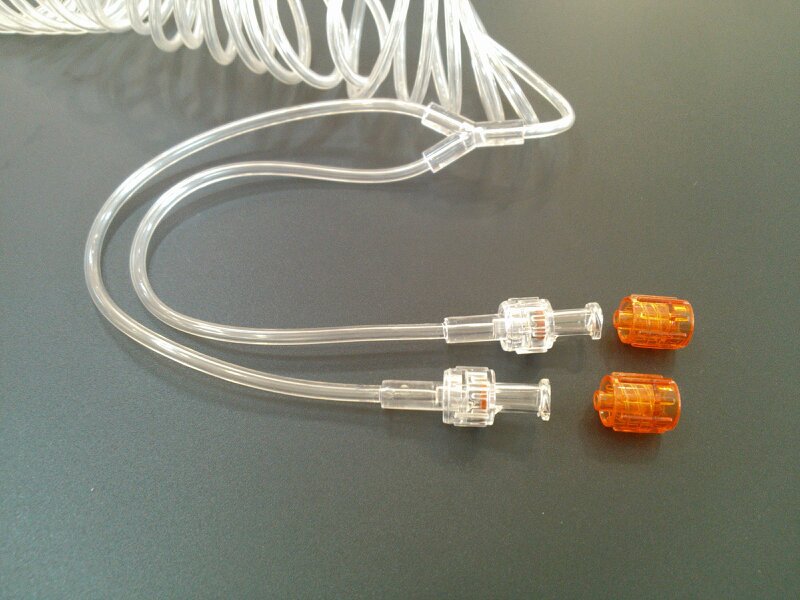 High pressure angiography Syringe Injector Family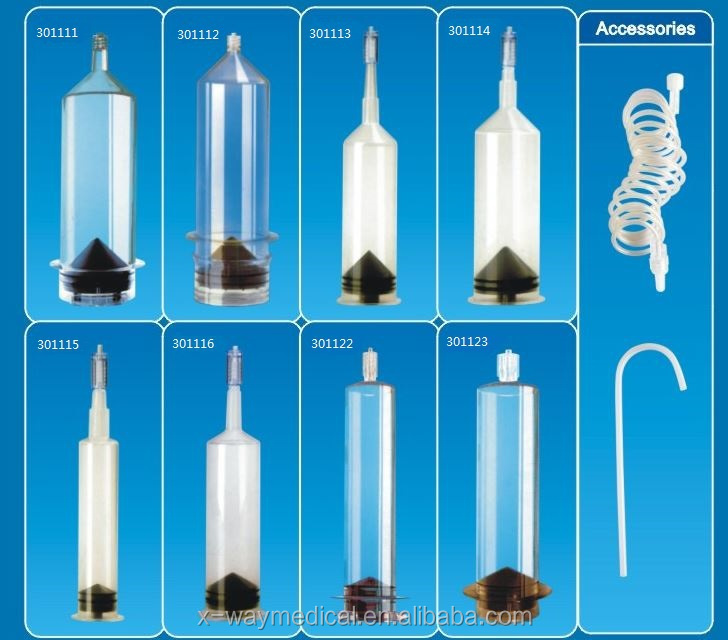 Package Detail:
Bulk packing: 25pc / PE bag, 500pcs/ctn
Individual packing: 1pc/Tyvek Pouch
200pcs/ctn ETO sterilized
Shipping Detail:
Producing Lead time: 1-2 weeks after payment received, depends on your order quantity
Delivery Method:
1. By Express: Fedex, UPS, TNT, DHL, SF express 3-5day, 5-7days.
2. By Road: Domestic and neighbour country : 3-10 days
3. By Sea : 5-45 day all over the world.
4. By Air : 5-10 days all over the world.
Loading port :
Shenzhen, Yantian, Shekou, Hong Kong, Xiamen, Ningbo, Shanghai, Nanjing, Qingdao
According to your requirement.
Delivery Terms:
EXW, FOB, CIF, CFR, C&F, DDU, DDP, FCA, CPT
Shipping Documents:
B/L, Commercial Invoice, Packing List, [CO/FORM A, FORM E, CIQ, CE, ISO13485]
Certifications
Factory Invironment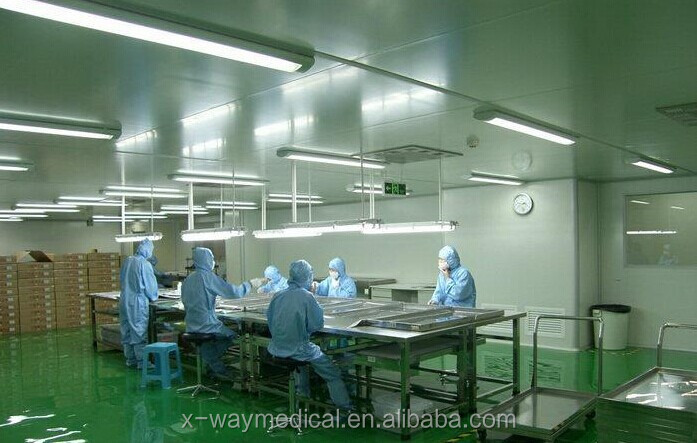 Melissa xu

Shenzhen X-Way Medical Technology Co.,Ltd
Tel: +86-755-3280 3532
Mobile : +86-136 3280 3610
Whatsapp: +86-132 6548 3617
Skype: melissaxu2013
E-mail: melissa.xu (at) x-medical.com
Website www.x-waymedical.com
Keywords Keyword , keyword , key words: Computed Tomography Magnetic Resonance Imaging Digital Subtraction Angiography, CT, MRI, DSA, Contrast Media, Contrast Agent , Automatic large volume machine syringe, single double tube syringes, injectors, 60ml 65ml 115ml 130ml 150ml 190ml 200ml, T shape Y shape 60" 96" 150cm 250cm coiled tubing with dual check valve , spike, spiker, fill straw, 300 PSI 500PSI 1200PSI extention tube, extension tubing tube, connection tubing, connection tube. High pressure syringe, injector, contrast media, contrast agent, contrast medium, Radiocontrast agent, SonoVue, Optison,male female Luer connector adaptor , curved suction tubing, PIPETTEsuction device,
USED FOR : Bayer Medrad Incorporated(USA) CT: MCT & PLUS; OP-100; VCT610; ECT710,Vistron, En Vison,Envision STELLANT DSA Mark V & Mark V Provis series Mark III & Mark IV Mark V™ series MRI: Spectris & Solaris SALIENT Mallinckrodt Liebel-Flarsheim (USA) CT 9000 ™, CT 9000 ™ ADV, Optivantage ™ Optivantage ™ DSA: Angiomat 6000™ Angiomat Illumena Lllumena Angiomat 3000 MRI: Optistar LE, Elite Nemoto Kyorindo Co.,Ltd (Japan) A-25, A-60 DSA: M800 DSA: Nemoto 120S Nemoto Dual Shot, Sonic Shot 50 Medtron (German) CT: Accutron Bracco ACIST E-Z-EM EZEM Inc (USA) CT: Empower, EmpowerCT® ,EmpowerCTA® Shenzhen SINO MDT Medical CT: SinoPower—S/ SinoPower—D Shenzhen Anke High-tech Co., Ltd CT: ASA—200 CT Shenzhen Seacrown Electromechanical Co., Ltd CT: Zenith—C20 Single: Zenith—C10/ Double Zenith—C11 MRI: Double: Zenith—C60 DSA: Single: Zenith—H15 Bracco ACIST E-Z-EM EZEM Inc (USA) CT: Empower, EmpowerCT® ,EmpowerCTA® CT: EmpowerMR®