Cabbage Juice
Containing 100% cabbage fully grown in Korea without the use of chemical ingredient.
Pure Cabbage Juice out of our company's Cheongchun Farm contains only 100% cabbage fully grown in Korea at high concentration without the use of agrichemical in order for you to consume all the beneficial nutrients of cabbage in their original state.
Experience the savory taste of fresh cabbage grown healthily with utmost sincerity of farmers in clean nature without the use of agrichemical.
"It is more important not to put harmful things than putting in beneficial things."
We Promises
- We shall not use materials that we have not inspected by our selves.
Cheongchun Farm decides on contract and whether to process all raw materials after having personally inspected them. Although it is a slower and cumbersome process, we are always selecting only the best raw ingredients for manufacturing on behalf of our customers.
- We do not use synthetic additives to enhance taste
Cheongchun Farm firmly believes that the nature in its original state is most beneficial to our body. Accordingly, we are always putting in efforts to find the optimal taste and nutrition with the raw materials obtained only from the nature without the use of synthetic additives.
- We thoroughly execute inspection of all processes ranging from screening of raw materials to shipping
We meticulously execute inspection of all processes ranging from screening of raw materials to cleaning, processing, manufacturing and shipping. As such, we send only the products that passed our strictest hygienic tests to our customers.
Cabbage - Super Food that the whole acknowledged
We used only the highest quality and fresh cabbages grown in Korea without the use of agrichemicals that the youthful fastidious staffs of Cheongchun Farm personally inspected and selected by traveling throughout Korea in manufacturing our products cleanly and honestly.
Nature that Cheongchun Farm has put in our products is truly tasteful!
√ 100% cabbage grown without the use of agrichemicals and additives
√ Taste for consumption without the feeling of rejection
√ Extracted after having thoroughly cleaned ingredients through 4 stages
√ Low temperature extraction method that minimizes destruction of nutrients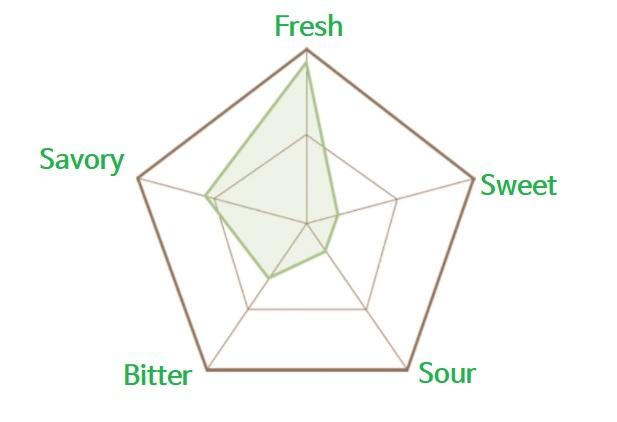 Point 1
Cabbage juice manufactured by Cheongchun Farm contains only cabbages in their natural state without the use of other additives. Although it may taste fishy or repulsive if only cabbages are used, we managed to create cabbage juice that produces the optimal taste through prolonged period of research and development.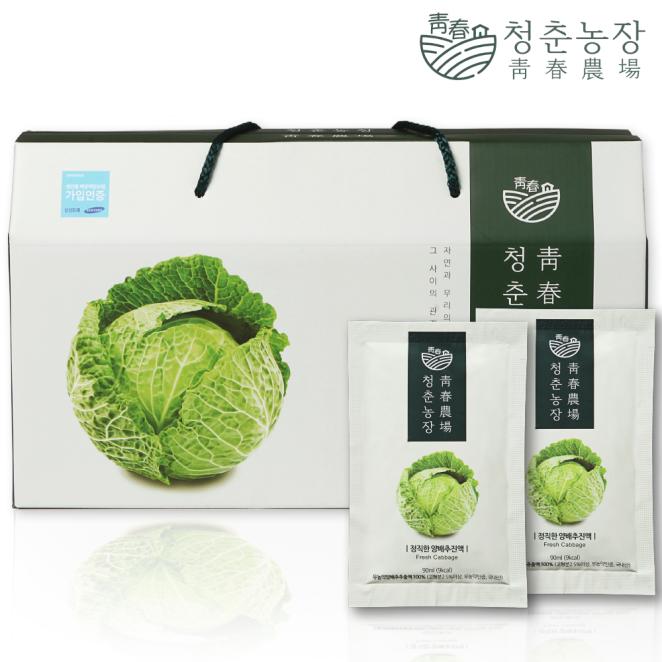 Point 2
Cabbage juice of Cheongchun Farm can be consumed with peace of mind without concerns for agrichemicals.
Cabbage juice of Cheongchun Farm is manufactured by using only cabbages grown without the use of agrichemical that has been certified by the Ministry of Agriculture, Food & Rural Affairs. Experience the full range of nutrients of cabbage grown most sincerely in clean land.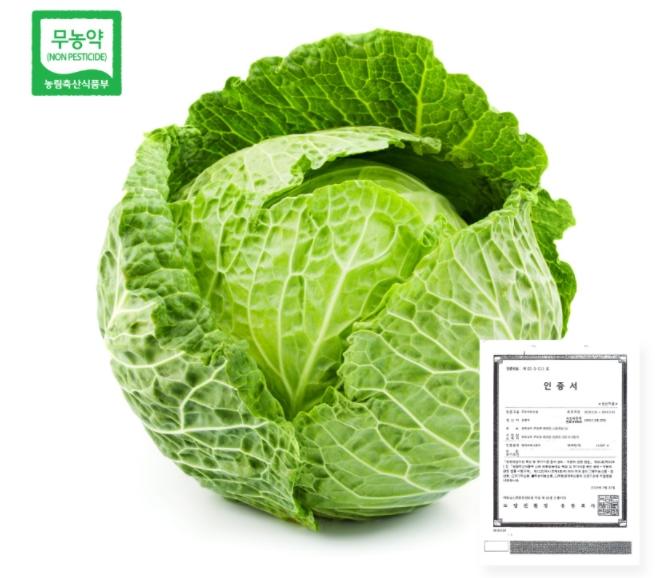 Point 3
The reason for Cheongchun Farm insisting the use of only cabbages without any other ingredients.
There are many people who are continuously consuming cabbage juice for prolonged period of time.
Since the purpose ultimately is to consume the nutrients of cabbage, we only filled our cabbage juice product of Cheongchun Farm only with cabbage.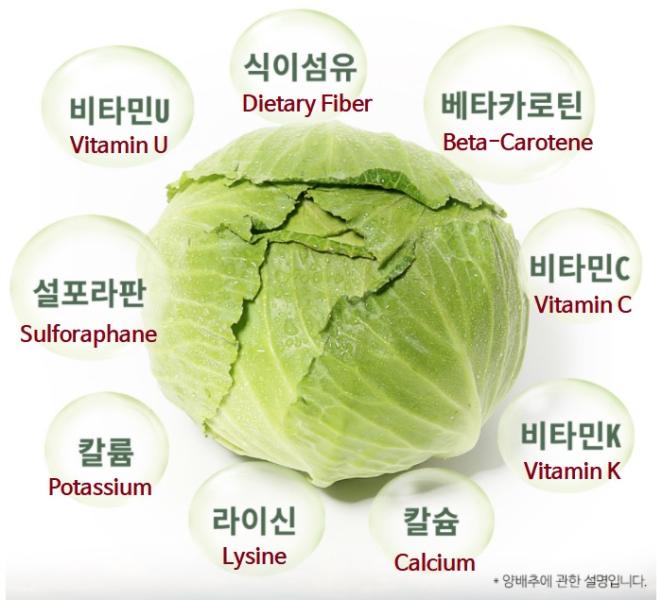 Point 4
An honest sachet of Cheongchun Farm containing 100% cabbages grown in Korea without the use of agrichemicals.
Cheongchun Farm succeed in creating the taste of cabbage juice that you can consume without burden without having to use other raw ingredients to enhance taste. Cabbage juice produced as the results of the prolonged efforts of Cheongchun Farm was selected as one of the winners at the '2017 Hi-Seoul Outstanding Product Brand Awards' by Seoul Business Agency.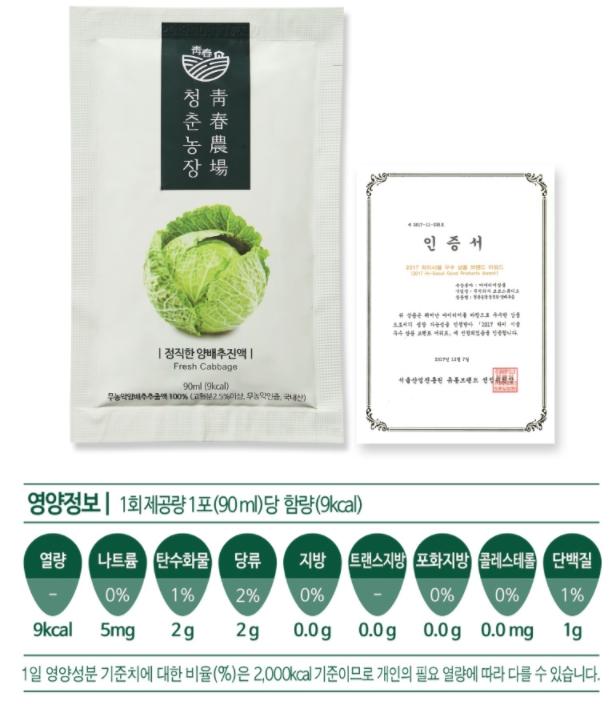 Nutritional information / Contents for each sachet for single consumption (90ml) (10kcal)
| | | | | | | | | |
| --- | --- | --- | --- | --- | --- | --- | --- | --- |
| Calorie | Sodium | Carbohydrate | Sugar | Fat | Trans-fat | Saturated fat | Cholesterol | Protein |
| - | 0% | 1% | 3% | 0% | - | 0% | 0% | 0% |
| 10kcal | 5mg | 2.7g | 2.7g | 0.0g | 0.0g | 0.0g | 0.0mg | 0.0g |
Since the proportion (%) is based on the recommended daily nutritional intake of 2,000kcal, it may differ depending on the calories that each individual needs.
Point 5
We fastidiously manage our products through hygienic manufacturing processes.
Since the entire family will be consuming our products, Cheongchun Farm meticulously checks the entire processes ranging from selection of materials to the final shipping.
01. Select materials meticulously and personally
02. Strictest and exhaustive hygienic management
03. Low-temperature extraction method to minimize destruction of nutrients
04. Cheongchun Farm puts foremost priority on the trust of customers

People who need our Cabbage 100% Juice
• Hurriedly leaving home for work without time to have breakfast in the morning
• Filled your dietary needs with greasy and instant food throughout the day
• Needing healthy beverage rather than coffee or carbonated beverages
• Lacking consumption of vegetables and fruits in you daily diet
• Loving parents needing healthcare
• Wanting to convey your warmth in heart to you colleagues at work fatigued from heavy work loads