Cabin Kit House for Living
WalMax cabin house is arched shape which is obviously different from the container houses on the market. It uses hot-dipped galvanized steel profile, cold rolled formed steel sheet with powder coating treatment and glass wool for insulation. All of these promise the cabin house great performance in the aspects of stability, durability, comfort and green.
WalMax cabin house is our professional outdoor camping house which take economy, energy saving and environmentally friendly as core ideas. The prefab modular design greatly reduces the construction consumption and shortens the construction period. It is already prefabricated with all parts including frame, floor, wall, door, windows, even the matched bathroom, furniture, terrace. No waste building rubbish producing and surrounding pollution on site.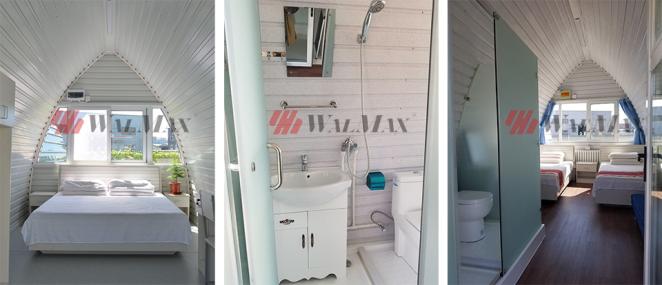 Internal furniture & integrated bathroom: single or double bed, nightstand, wardrobe, desk&chair, toilet, shower and washing basin, for your option. You can make the layout and function as you want.
Material
| | |
| --- | --- |
| Frame | Hot-dip galvanized steel structure |
| Wall & roofing | Cold rolled steel sheet with electrostatic powder coating |
| Insulation | Glass wool broad 56kg/m3 |
| Floor modular | Galvanized steel plate, Mgo board |
| Flooring | PVC leather for indoor & outdoor |
| Door & Windows | Aluminum alloy frame with double glaze |
Performance
| | |
| --- | --- |
| Seismic Proofing | Great structure strength & High steel quantity |
| Wind Proofing | Streamlined shape can effectively guide the wind flow |
| Corrosion Proofing | Hot-dipped steel frame & Cold rolled wall plate with powder coating |
| Noise Proofing | Glass wool can absorb sound greatly |
| Water Proofing | Arched shaped to no water and careful sealing to no leakage |
| Fire Proofing | Impossible-flammable for metal & Difficult-flammable for glass wool material |
| Insect Proofing | No insect corrosion compared with wooden house |
Solutions
Here are some suggestions for you based on our past project experience.
Firstly, you can own some guest rooms, put one double bed or 4 single beds maximum in a room.
Secondly, you can place several functional cabins as store, cafe, meeting room, dining hall, public toilet and public shower room.
Finally, if you have a business plan to develop professional outdoor camping site / hotel. Besides prefab villa house, we can also supply wind proofing & anti-climbing fence, solar / wind energy system, drinking water purification system, sewage treatment system and sun terrace system for the project.
Cases Show
Hillside circular viewing camping pod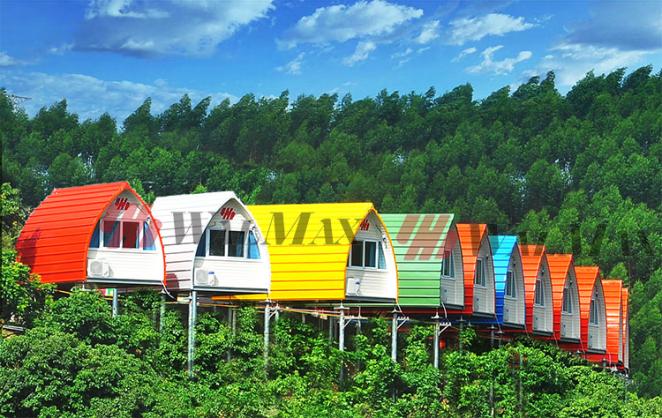 A mountain climbing tourism base: located on the circular hillside that let more and more people who like climbing have more time to enjoy climbing and take good rest. It not only brings great sightseeing horizons but also allows you to fully integrate into nature and enjoy a natural oxygen bar.
Seaside or lakefront camping pod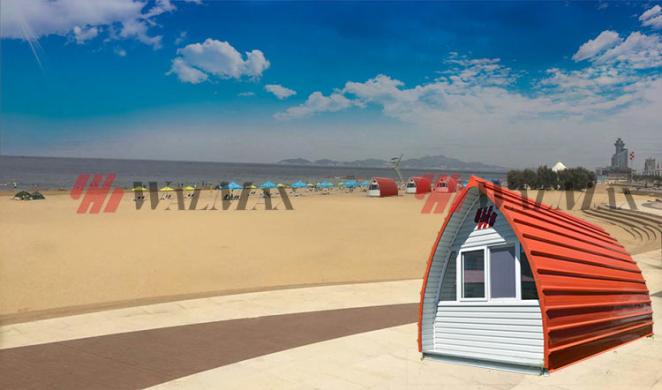 A seaside hotel project located in Yantai. The tourists can enjoy the sea at night. They can take a shower and dress conveniently after swimming, can enjoy snacks while blowing the sea wind, can enjoy the cool room and soft bed after playing tired in burning sun.
Certifications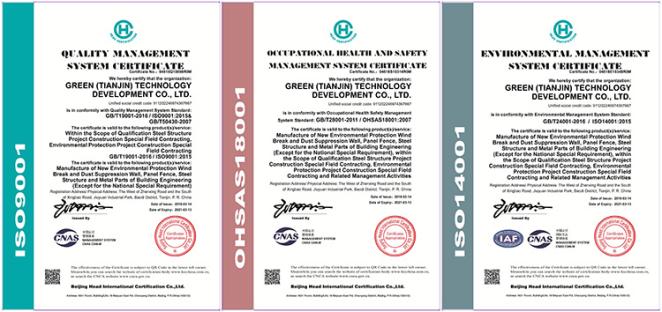 Our Company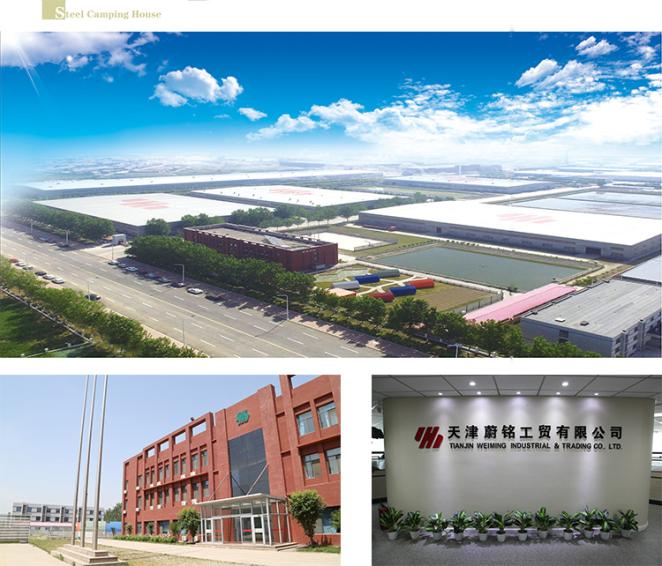 Tianjin Weiming Industrial & Trading Co. Ltd. (WMITC) locates in Tianjin, the largest seaport and the center of steel in North China. Established in 2001, WMITC has been in the line of steel material and processing for more than 17 years. WMITC is aware of requirements of different markets and has accumulated rich experience in steel quality control. WMITC has set up close cooperation with suppliers in China and is acquainted with product categories and productive capability of big and small suppliers.
WMITC mainly concerns in the import and export of steel materials, steel wall and fence, steel camping house as well as the outdoor camping system. WMITC acts as an independent provider for your brief or complicated orders. With an experienced, dynamic and high efficient team, our products are well-received worldwide.WMITC treasure her reputation in the line as a dependable, straightforward and long-term business partner. WMITC has gained recognition from customers, suppliers as well as government authorities.
Contact
It's our great honor that you are interested in the WalMax camping pod. Pls feel free to write to me at any time.