Model, YX100-600
1, Cable tray machine for producing all kinds of cable tray.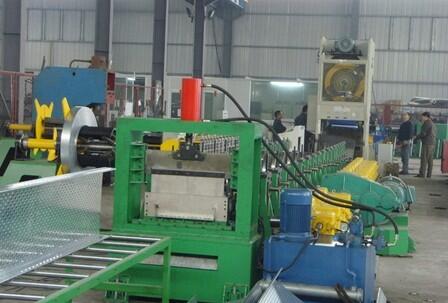 2,Completed cable tray production line working flow ,
Decoiler — leveling — feeding — punching — conveying table — roll forming — finished product
3,Equipment consists
The equipment consist with de-coiler , leveling machine, servo feeding
machine, the punching machine (with punching moulds ),automatic conveying table , main forming machine, cutting device, collection table .PLC control system
4,Main technical parameter of production line ,
material : GI steel sheet, low carbon steel.
the thickness of the steel sheet , 0.8-2.0mm
inner diameter of coil , Φ508mm
line speed, 4-6m/min ( adjustable)
5. The characteristic of the machine
5.1 Automatic de-coiler ,
type : cantilever drumming type
functional and structural features,
be used to support and expansion steel coiler , section steel welding fuselage. it is easy to operate.
technical parameters
material inner diameter : φ508mm
range of inner diameter : ф450-550
maximum outer diameter: φ1200mm
load capacity: ≤ 5T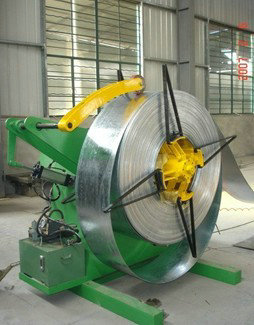 5.2 Leveling machine :
type : nine rollers active leveling machine
functional and structural characteristics: leveling steel strip. Consist of pinch roller and leveling rollers, pinch rollers can be individually adjusted, upper leveling roller adopt overall structure, and establish two adjustment points on before and after, to form a certain angle, easy to improve the quality of leveling .
leveling roll is GCr15 high-frequency hardening, the hardness can reach HRC45-55.
technical parameters:
the number of leveling rollers: 9 rolls (up4/down5), 2 pinch rolls
motor power: 5.5KW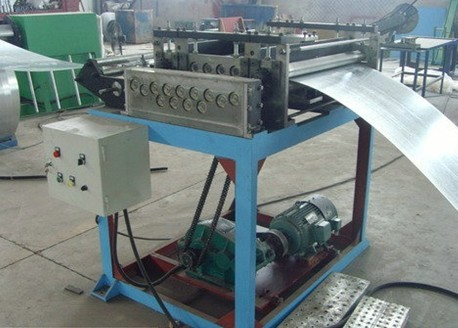 5.3 Correcting table
type : roller supporting , correcting
functions and Structure: correcting and with steel. Correcting device mainly consists of a pneumatic Prime bridge, roller, vertical roll-oriented composition. Guide wheels can be easily to adjust to different width. Galvanized rollers is beautiful and flexible.
5.4 Servo feeding machine
F type : servo feeding
F functions and Structure: Pinch and be with steel to the press machine. Polyurethane roller ensure that the feeding force. Feeding each error of feeding be controlled in rang of ± 0.15mm. Compared with the servo Clamp, feed length setting is more flexible, adapt to a wider range. This feeding device is more suitable for wide material , can effectively improve the feeding accuracy. Servo motor, measuring devices, digital control system are the imported components.
technical parameters:
maximum number of feeding: 30 ~ 40 times / min (adjustable)
feeding step: 100MM / step (adjustable).
5.5 Punching machine :
type : 21-200, 2000KN press machine ,friction clutch, PLC control, high productivity. has good rigidity of equipment, die has a long life.
function and structure: body adopt the whole steel welded structure, high stiffness, and reasonable structure, beautiful appearance. vertical crankshaft placement, fulcrum distance is short, crankshaft stiffness. gear be enclosed within the fuselage, speed motors, variable speed within a certain range, expanding the scope of the process. Adopt combined rigid chain of dry air friction clutch - brakes, the friction disc use high-tech products - semi-metallic friction materials, heat resistance, wear resistance reached a high level, the greater torque transfer , the driven inertia is small, easy installation and maintenance.
slider is a cast box structure, the slider overload protection device is installed to protect the sensitive and reliable, when the slide overload, the fuse voltage collapse destroyed, and send a signal, the slider is stopped, thereby protecting the machine tool and die from damage.
slider closed Height adopt motorized adjustment, digital display, the reading accuracy of 0.10 mm.
technical parameters:
the column spacing ≥ 960mm
nominal pressure: 2000KN
bominal stroke: 6mm
trips: 30 ~ 40rpm
motor power: 30KW
dimension: 2730x1640x3740mm
5.6 Punching mould
function and structure: 100MM / step, 40 steps / min to the beat of the Progressive complete punching and beading. mold use internal and external guiding structures; a large mold with separate small mold, punching, beading is be done step by step, can complete conversion between the slot (no pore pressure bars) and disc (punching beading).Both sides of the connection hole can be washed into through-hole and can knock down holes,
mold material: Cr12