> Place of Origine : Korea

> Weight : Portabl 20g, Case 200g, Bulk 5kg
"Cacao nibs, nuts and brown rice open the door to a new world of taste.
A nutrition cube made with a patented technique of mixing cacao nibs, nuts and brown rice!"
1. Cacao nibs have been mixed with nuts and brown rice to make tasty, easy to eat, sugar reduced snacks.
※ Cacaorea Brazil nut
A nutrition cube made with a patented technique of mixing cacao nibs (35%), brazil nut (14%) and brown rice (14%)
2. Made with a patented technique of drying oligosaccharide, sugar content is 11 to 14%, and it contains no other additives.
Sodium contents are also only 0.1%, which is lower than other substitute foods.
Unlike chocolate, it does not melt, even in summer, so ot os free from seasonal restrictions.
3. It boasts a harmonized taste.
Charcoal roasting cacao nibs with a sweet delicate chocolate aroma are mixed with savory Brazil nuts.
※ Charcoal Roasting technique
1) If cacao beans 3 to 5 times larger than coffee beans are roasted in a conventional way, they are burned on the outside
and half-roasted on the inside to leave a sour and astringent taste.
2) Charcoal roasting refers to a scientific roasting technique in which red far infrared rays generated from charcoal
are swiftly infiltrated into cacao beans to boil them inside and out at the same time.
It elicits the deep latent taste and aroma of cacao beans by dramatically decreasing the bitter astringent taste
and increasing savoriness.
3) Rose Cacao is equipped with independently developed charcoal roasters.
4. A nutrition cube enabling busy people to conveniently enjoy essential super foods as a delicious "mini bite."
Useful in supplementing nutrients such as carbohydrates and minerals when added to a protein diet.
※ Nutrition of Cacaorea Brazilnut
1) Nutritions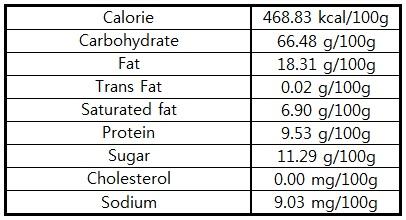 2) Polyphenol & Mineral contents