Calcium Carbonate Ultrafine Ball Mill Grinding and Classifying Production Line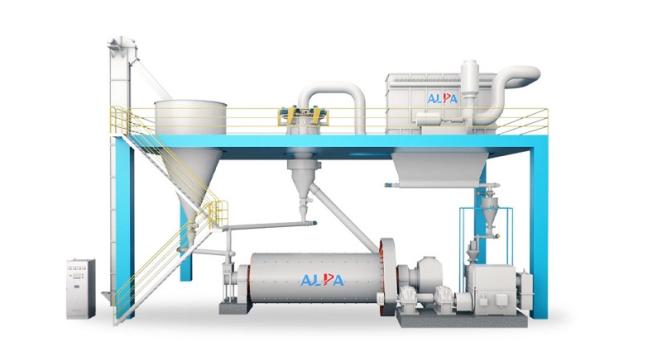 Ball Mill Classifying and Grinding Production Line Advantages:
Reasonable process design, low energy consumption per unit, large output;
Flexible choice of grinding media and liners;
PLC control, easy to operate;
Low contamination of materials with high purity;
Safe and stable operation and low maintenance cost;
The product produced has a concentrated particle size distribution and stable product quality.
Ball Mill Grinding and Classifying Production Line Process characteristics:
1.Source of Technology:Germany technology, international standard non-metallic minerals production line.
2.Technical Process:The process mainly includes crushing(generally use two stages of crushing), grinding, classifying, package, magnetic separation, transportation, lifting etc. In conjunction with several classifiers in parallel or series, several different products can be obtained at the same time.
3.Ball Mill: Special design to ball mill which will be selected on the basis of material's hardness, grindability index, final particle size and capacity. The shape of the lining and the ball (segment) are tailored according to years of engineering practice experience to maximize the grinding efficiency of the ball mill and reduce the energy consumption.
4.Classifier:Different models of Classifier could be selected depending on different fineness of products. FW series Classifier are suitable for classifying of D97:3~20μm products, FL series for classifying of D97: 8~45μm products. Wide range of adjustment is available with each Classifier and the application is extensive in market.
5.Flexible control of product particle size: The production line are designed and optimized to match with several classifier in series, the particle size can be controlled, and several products can be obtained at once, low energy consumption, free from over-crushing.
6.Low noise and emission: Environment protection design to the vibration damper, component soft connection and filter bag result in lowering noise and dust.
7.Automatic Control: The electric control system employs programmed control for the entire process from feeding, classifying and grinding to packing.
8.Personalized customization
9.Provide value-added services:Add-on services to customer such as mineral processing, modification, granulation and equipment upgrading.