Carbide Wear Components Extrusion Dies Wire Drawing Die with Mirror Surface
JLS Precision Mold Parts Co., Ltd has been devoted to producing precision carbide components for more than 20 years. Our product scope covers precision carbide punch, bushes, tungsten rod, ejector pin, stamping mold, motor connector stamping mold, etc.
Tungsten carbide mold components



We always listen to customers' requirements and our tungsten mold components are made to customers' specifications. we import super hard, ISO9001 certified tungsten carbide raw material, equipped with advanced facilities, ensuring extremely close tolerances (up to 0.001mm), excellent toughness, and excellent wear&corrosion resistance. It is our commitment to make your tool long-lasting and no added costs. The increased life of wear parts can offer greater productivity and efficiency through improved performance and reduced downtime.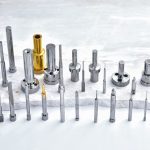 JLS devoted our full energies to standard and non-standard carbide mold components according to customers' CAD drawings. For standards, we can manufacture according to Misumi, Dayton, Punch, Din, and other standards. For non-standard parts, kindly send us your drawing via email, or just fill in the form provided on this site.
Precision ceramic parts
JLS have been supplying our range of products to stamping die industry for over 10 years. we are expanding to the manufacturing of precision ceramic parts and working harder than ever to ensure the extreme narrow tolerance and quality of our customers count on.
Components For Positioning
We supply a variety of components for positioning made to customers' design for the injection molding industry: including tapered block set, tapered pin set, straight block sets, locking block set, slide block set, locating block set, etc. To improving the performance of wear parts, TiN / TiCN / TiAlN coating, or other required coatings can be made according to clients's demand.
Why JLS?
20 years of experience;
Hardness up to 88-92HRA;
Narrow tolerance up to 0.001mm;
Specular Surface is supported;
excellent corrosion& wear resistance, flawless finishes;
100% direct factory with export quality;
Delivery time within 3-15 working days;
Smooth surface by PG optical grinding available;
OEM Package without logo supported.
Carbide rods mainly from CB-CERATIZIT, Kennametal, Axismateria.
Grades such as WF30, WF20, KG7, CD65O, AF312, as requirements of customers.

Our inspection facilities:
Nikon Digimicro Stand
MD100 Roundtest
Mitutoyo Digimatic Micrometer
CGl0-150: Vernier Caliper
Mitutoyo Internal Micrometers
Easson Profile Projector
Test Gauge
Block Gage
Concentricity Tester
Roundness Tester
Mitutoyo Indicating Micrometer
Coordinate Measuring Machine