·Executive standard:Q/TYG001-2014
·CAS RN: 63148-65-2
·1. Physical and chemical properties:
1.1 Brief introduction: Polyvinyl butyral is white solid particle. The film formed by polyvinyl butyral has a good performance, such as high transparency, elasticity, toughness, alkali resistance, oil resistance and impact resistance at low temperature. It has excellent adhesion ability to glass, metal, ceramic powder, plastic, leather and wood. In addition, it can disperse well into pigment and dyestuff. It also has good compatibility with other resins.
1.2 Structure formula: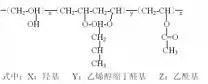 ·2. Technical indexes:
·3. Application: Polyvinyl Butyral has mainly used in the intermediate plastic film between security glasses for car and building, antirust primer, baking varnish, wood furniture paint, printing ink, adhesives of electronic ceramics and copper clad laminates. It can also be used as adhesives between metals, metal with plastic, and modifier of hot melt glue, and waterproof agent of textiles.
·4. Package: Woven bag with inner plastic bag, 25 kg net each.
·5. Storage: Stored at cool and ventilate place. Sealed preservation. Shelf life: 12 months. It is still available if the retest results of the properties are qualified after expired date.
·6. Transportation: Avoid rain, moisture and sun-baked. Don't mix with strong oxidizer.
In addition: We are able to develop custom-made products according to the clients' requests.
Develop custom-made products according to the clients' requests and offer OEM service.1.Forty-Eight years technique deposition2.Military standard quality3.Free sample4.Small order is acceptable5.24 hours online service
Founded in 1971, Tanyun Junrong (Liaoning) Chemical Research Institute New Materials Incubator Co., Ltd. (Original company name : Yingkou Tanyun Chemical Research Institute Co.,Ltd. Tanyun Chemicals for short) is the parent company of Tanyun Technology Group.
Currently covering an area of about 12000 square meters, Tanyun Chemicals is the first domestic technological platform company of 'Chemical New Materials Production and Research Incubator' and the first domestic custom-made research and production company of fine chemicals intermediate research and production company.
1.Are you a manufacturer?
We're a professional manufacturer of fine chemicals, a premium aerospace supplier, with 48 years history and 5 R&D bases.
2.What is your payment term?
usual T/T in advance or as your requests.
3.Delivery time?
ASAP after your payment, usually three to five working days.
4.What is your advantage?
High quality products, strict quality testing, OEM and Customization service.
Also we can supply one-stop service from sample ,development and research, order, delivery, after-sale service.5.What about TDS, COA and MSDS?For TDS, kindly visit www.tanyunchem.com.
COA and MSDS,please send inquiry to me.
6. Any questions for our factory?Welcome to visit our factory in Yingkou, Liaoning.
Here is our contact information.
Welcome to your inquire!
Polly Peng
Tel: +86-13680648065
WeChat: Dejavu_po
HEADQUARTERS:
NO. 75,XINHU STREET,XISHI DISTRICT,YINGKOU,LIAONING, CHINA 11500
SHENZHEN OFFICE:
Room 18D,Floor 18,No. 111 Taizi Road, Shekou, Nanshan District, Shenzhen, Guangdong, China 518100