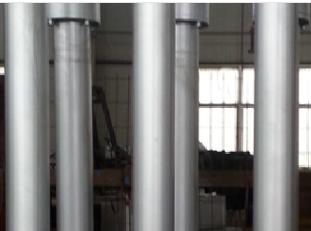 Application and introduction :
The impeller of the aerator is designed with micro-porous turbine, which greatly reduces the diameter of air bubbles. The diameter of air bubbles reaches 20-60 microns. The impeller is driven by a motor to rotate at high speed. Negative pressure zone is generated at the impeller. Air is sucked into the water through the hollow shaft, and the air is crushed into micro-bubbles under the strong cutting of the impeller. Because of the vertical buoyancy caused by the mixing of air and water, microbubbles bring the floc suspended matter produced by adding flocculants and coagulant aids into the wastewater to the surface. The suspended matter floats on the water surface supported by these microbubbles and enters the air flotation tank along with the flow direction. The barrel of the aerator is made of carbon steel or stainless steel. The exterior is passivated. The hollow shaft in the middle is precisely machined, so that the spindle rotates without noise, trembling and long service life. The whole aeration spindle adopts the sealing device at both ends. The dynamic seal and the static seal are combined to achieve the best sealing effect and ensure the normal long-term operation of the rolling bearing. The high-speed rotation of the driving motor makes the impeller produce a reasonable turning speed, which can make the treatment effect reach the best state. The impeller is made of stainless steel. It runs smoothly, has little disturbance of water flow, cuts the bubble composition, and produces smaller and more micro-bubbles.
Performance characteristics:
1. It has strong adaptability to the change of raw water quantity and water quality.
2. Save investment; the air flotation machine does not need pressure vessels, air compressors and other equipment, thus greatly reducing investment.
3. It is economical and economical. The structure of the air flotation machine is simple, and the supporting civil engineering is very few. The equipment can be installed on the ground and underground high places.
4. The operation cost is low; the power required for the air flotation is small, the maintenance operation is simple, and no more manual work is needed.
5. High efficiency: The air flotation machine can automatically and continuously remove the sludge from the wastewater. The water content of the sludge is low and the cost of sludge treatment is reduced.
6. Reduce odor: The treatment of wastewater by air flotation machine is an aerobic process, and the odor problem in sludge has been effectively solved.