Chlorella fermentation product Contains nucleic acid of CGF(chlorella growth Factor)
vThe hexane contents in CBT
(hexane photo by electrophoretic analysis)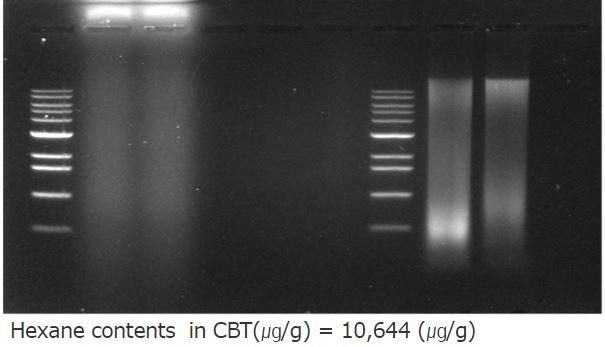 CBT has effective in maintaining, restoring ribosomes and mitochondria of the cell, increasing growth-promoting facto(CGF), enhancing immune function and harmful substances.
The change of cell wall of chlorella during fermentation period
Boost Immune system : Increase in NK cell activity and cytokine production
Natural antioxidant : Scavenging ROS, decrease in lipid peroxidation
CGF derived from chlorella : Activation of metabolism/immune system
Lutein, natural pigment : Antioxidation and detoxifing
Protection of liver : Prevention of acute liver damage Chlorophyl-aflatoxin complex Removal of toxin
1. growth-promoting effect
CGF contains a high content of a nucleic acid related substance (Nucleotide), amino acids, you can expect growth-promoting effect by acting to the metabolism.
2. Immune enhancing effect
When infected with Listeria bacteria, all NK cell activity was increased, and in the group which consumes chlorella for 48hr, 72hr, all NK cell activity was significantly (35-50%).
3. Cell regeneration promoting effect
CGF contains the essential amino acids for wound healing and tissue restoration and by acting as Ligand on the EGFR of human keratinocyte , is known to be involved in restoration and regeneration on the tissue.
4. liver function improvement effct
CGF promotes liver cell generation and supply nutrition through Chito Chromium synthesis and functional recovery in the mitochondria , you can expect liver function improvement effect.
Benefits
- Increasing functions of Microflora on the digestive organs.
- Increasing the availability of organic matter.
Decreasing high temperature stress.
- Prevention and treatment of bacterial diarrhea.
- Prevention and treatment of intestinal disorder due to antibiotics dministration.
- Reducing offensive odor.
Recommended dose
Product

Species

Dosage

CBT

Cattle

Calf

2.0-3.0 kg/ton

Beef&Dairy

1.0 kg/ton

Poultry

Breeding poultry

2.0-3.0 kg/ton

Broiler&Layer

1.0-2.0 kg/ton

Swine

Piglet&Sow

2.0-3.0 kg/ton

Growing pig

1.0 kg/ton

Fish

3.0-5.0 kg/ton