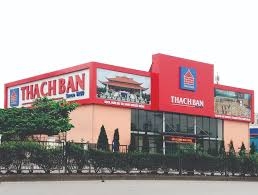 Thach Ban Group is one of the leading manufacturers in building material industry of Vietnam, founded since 1959.
We have always been pioneer in technology innovation and sustainable development, which greatly contributed to Industrialization and Modernization Process in building material industry of Vietnam.

Thach Ban aims to build a strong international brand-name in building materials manufacturing, technology transferring and Real estate investment. Besides, we always improve our products quality in order to meet increasing demand of customers in building luxurious house and sustainable with time.

Furthermore, we commit to successively innovate and promote investment in order to provide high quality, environmentally friendly products with reasonable price.

Thach Ban ensure to create best added value to our customers, best benefits to our shareholders, partners and society. Moreover, our sustainable development is defined by Customers Trust and Solid relationship with partners

More importanty, we also have our own business phylosophy as below:
To customers: Ensure companys reputation and products quality.
To shareholders: Maximize Shareholders benefits.
To employees: Ensure and enhance employees life standard, economically and mentally.
To partners: Build Trust and solid partnership.
To Society: Protect environment and improve community benefits.