[Hitachi-LG] Charge Ai ART 15W Qi Certified Fast Wireless Charger for Furniture Desk DIY Airpods iPhone Galaxy Black White
Basic attribute of the product
| | |
| --- | --- |
| Manufacturer | Hitachi-LG Data Storage Inc. (HLDS Inc.) |
| Brand | Charge Ai – ART |
| Size | Diameter 90 x 20mm |
| Weight | 87g |
| Charging Distance | Up to 3mm |
| Output | Up to 15W |
| Input Voltage | 5-12V DC |
| Input | 5V 2A, 9V 1.67V, 12V 2A |
| Input Terminal | USB Type-C |
| Certification | Qi(WPC), KC(Korea), FCC(US), CE(EU), RoHS(EU) |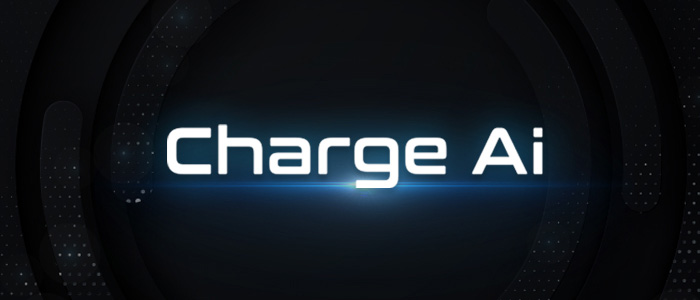 Charge Ai® is a dedicated brand for Wireless Power Solutions by Hitachi-LG Data Storage. Hitachi-LG has been the world No.1 manufacturer in optical disk drives field for the last 20 years. Based on our world class production capability and quality engineering experience, Hitachi-LG has supplied over 2 million wireless charger sets for automobiles during the last 2 years. This cutting-edge wireless charging technology for automobiles has been implanted into our new brand Charge Ai®. And now, our products are being manufactured in 6 sigma production facilities supported by 9 stages of quality control process, so that everyone may charge with confidence.
Features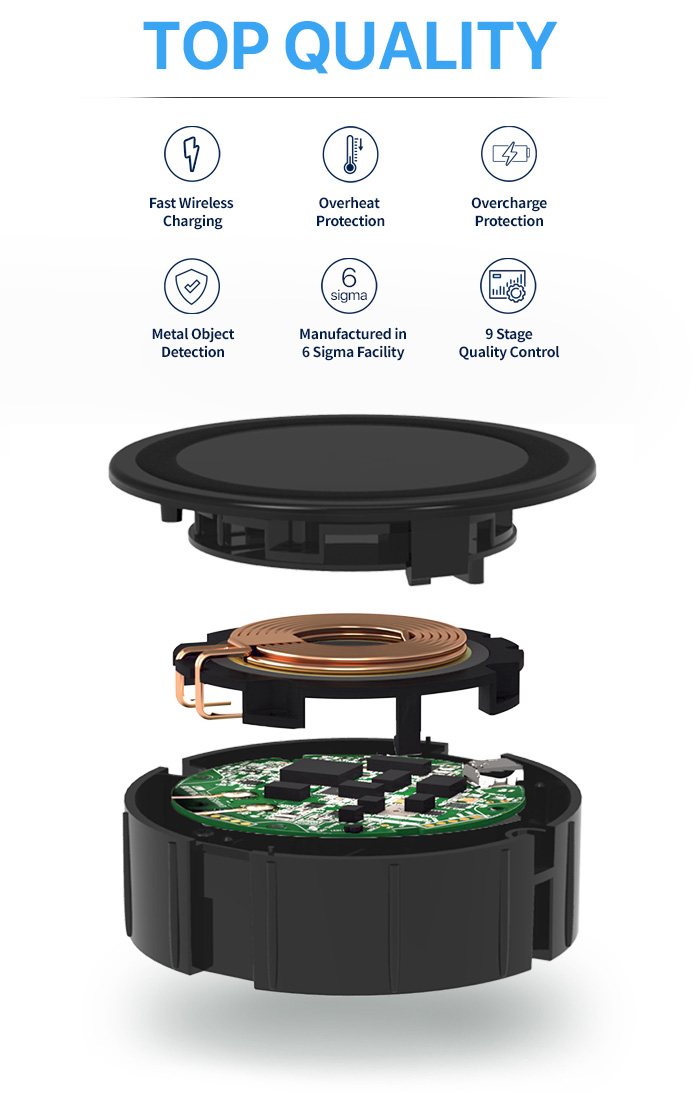 TOP QUALITY
Charge Ai® is a dedicated brand for Wireless Power Solutions by Hitachi-LG Data Storage. Having been the world No.1 optical disk drive manufacturer for 20 years, Hitachi-LG, unlike other companies, designs & manufactures our own products in our own factories. As a result, we have proven our quality in maintaining under 13 PPM defects for over 2 million sets manufactured in the last two years. Experience the high level of quality in our products manufactured under our 6 sigma production facilities and 9 stage quality control.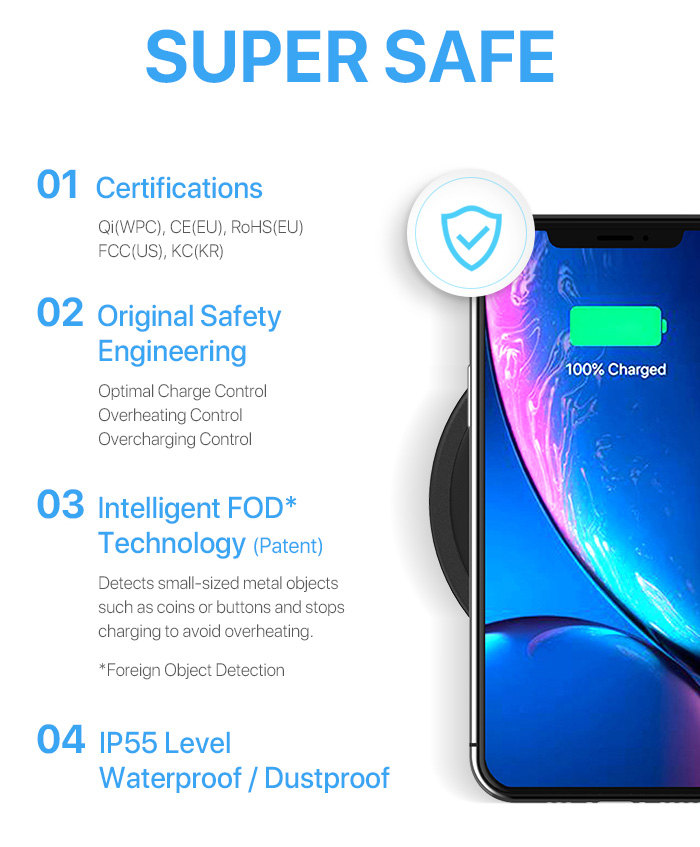 SUPER SAFE
Charge Ai® products hold certifications in Qi(WPC), CE(EU), RoHS(EU), FCC(US) and KC(South Korea). We have specially engineered some of our very own technologies such as Optimal Charge Control, Overheating Protection, Overcharging Protection and Foreign Object Detection (FOD) into our products. Waterproof & dustproof is also available at IP55 Level. So do charge with confidence.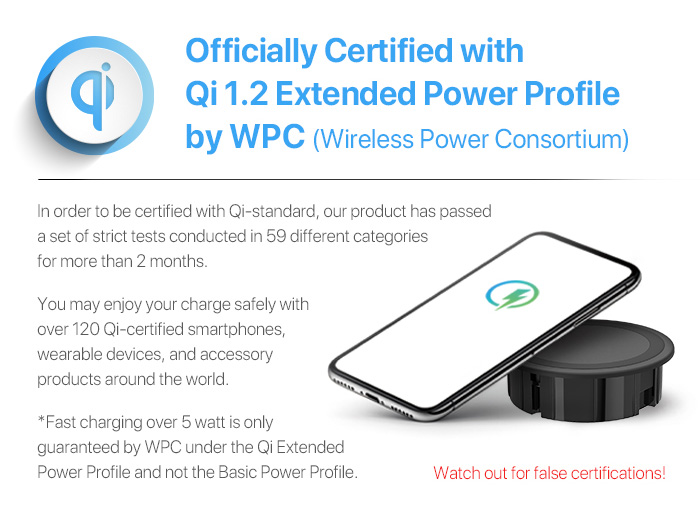 Qi CERTIFIED
Based on WPC's 1.2 Extended Power Profile (15W) of Qi Certification, ART supports up to 15 watts power for fast charging. It will automatically recognize the charging protocol for each and every one of your Qi-certified devices. Just simply put your device on top and enjoy your charge.
*Check out if your products are Qi-certified
https://www.wirelesspowerconsortium.com/products
HLDS Charge Ai ART (HLW-TNMP7A) Qi Certification ID: 7206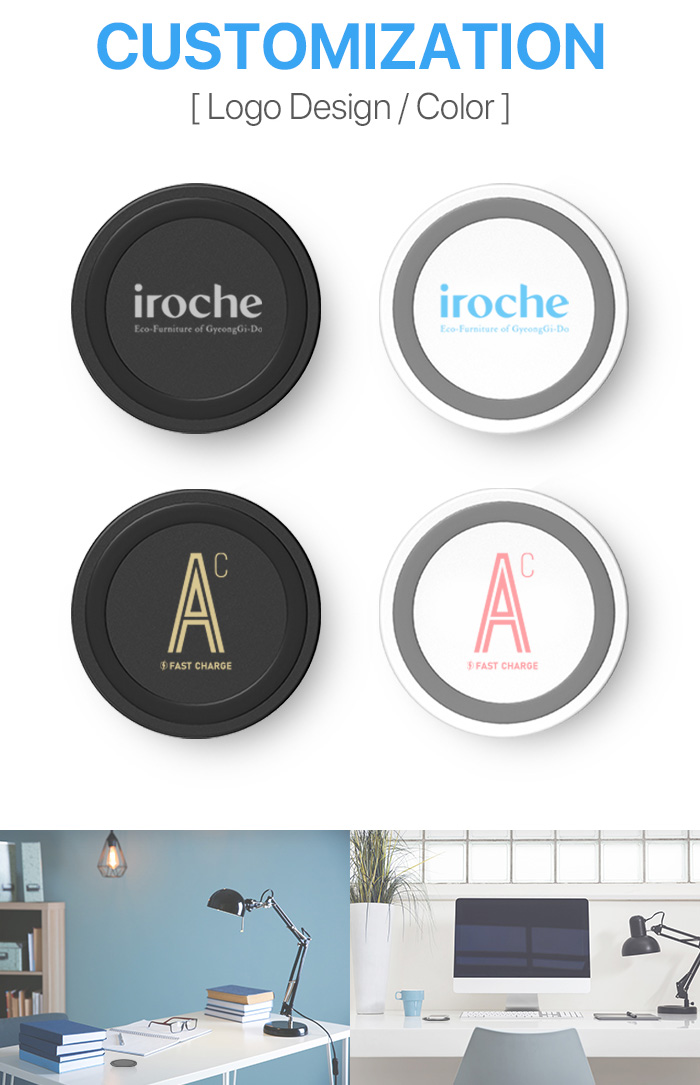 CREATE YOUR OWN DESIGN – For every order exceeding 1,000 units, we provide custom designed top plate upon your request. You may choose your preferred color, black or white, and print your desired logo on the top plate of our ART wireless charger.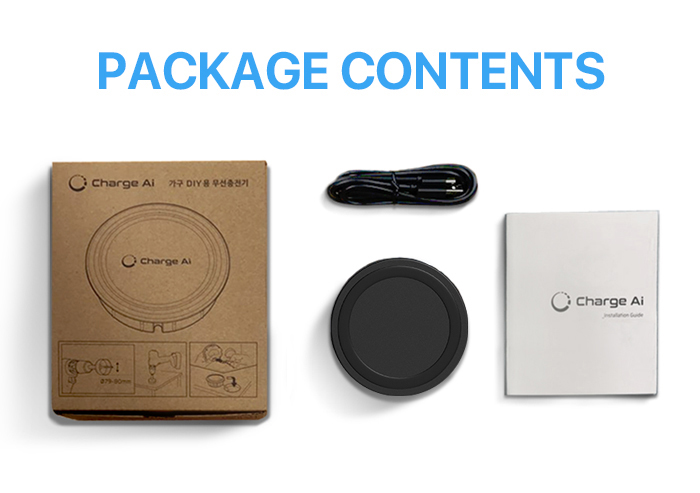 PACKAGE CONTENTS
1x Box, 1x Wireless Charging Unit, 1x 1.5m USB-C Cable, 1x User Manual
(This product does not contain wall chargers. Please use wall chargers that support QC2.0 or above for fast charging.)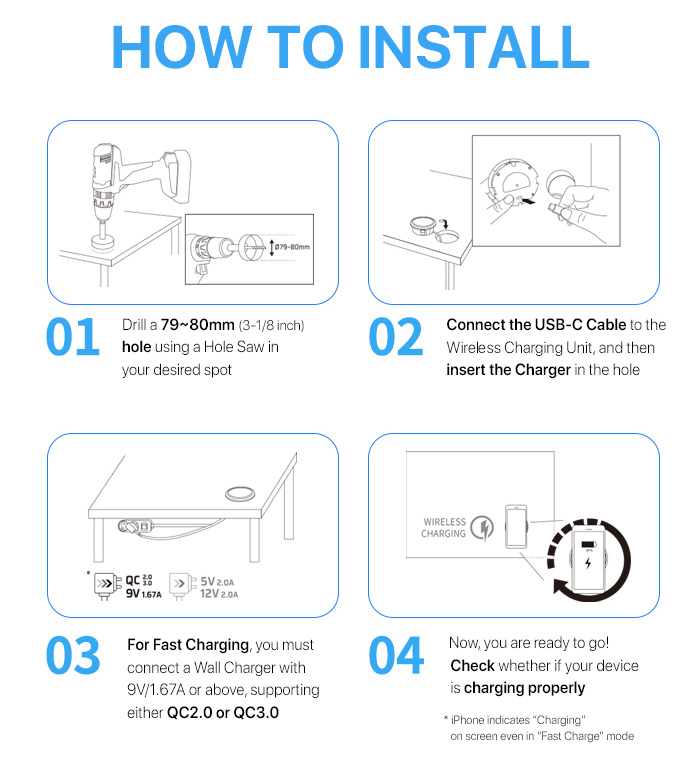 EASY INSTALLATION
Charge Ai® ART is designed so that anyone can easily install it whenever and wherever they want. Just drill a hole with a hole-saw (79-80mm), wherever you want to install the wireless charger and you are ready to go. We even provide an extensive 1.5m USB-C cable for your convenience.
Apple(Fast Charge 7.5W)
AirPods Pro, AirPods 2 (Wireless Charging Version)
iPhone 11, 11 Pro, XS, XS Max, XR, X, 8, 8 Plus
Samsung (Fast Charge 10W)
Galaxy Buds, Galaxy Buds Pro
Galaxy Fold, Z Flip
Galaxy S20, S20+, S10, S10+, S10 e, S9, S9 Plus, S8, S8 Plus, S7, S7+, S7 edge, S6, S6+, S6 edge
Galaxy Note 20, 20 Ultra, 10, 10+, 9, 8, FE, 5
LG (Fast Charge up to 15W)
LG V50S, V50, V40, V35, V30, G8, G7
Etc. (Fast Charge up to 15W)