cheap three wheel cargo tricycle with cabin
Product description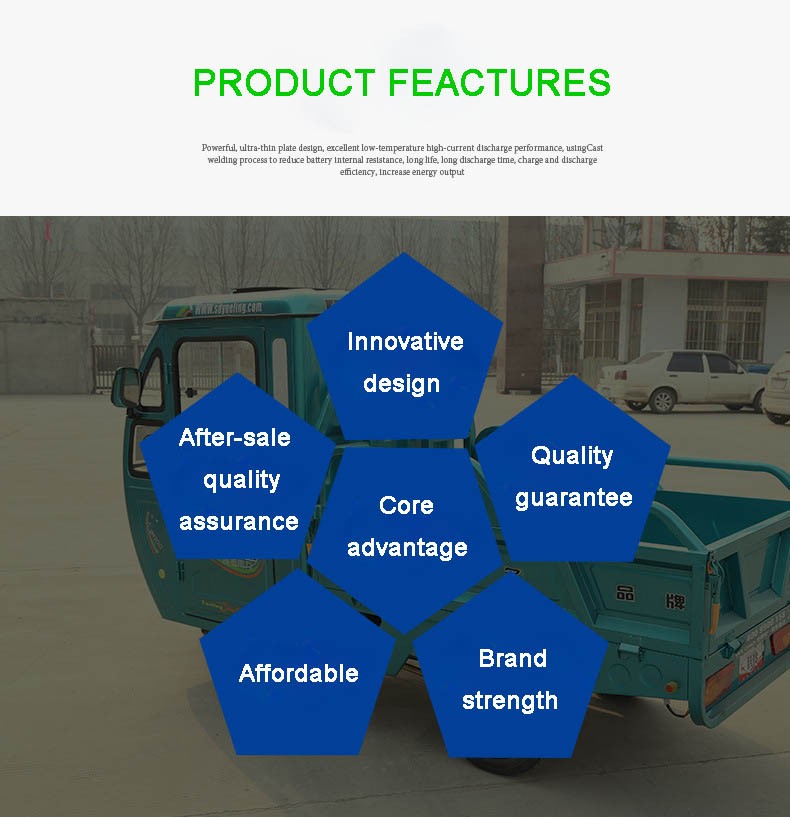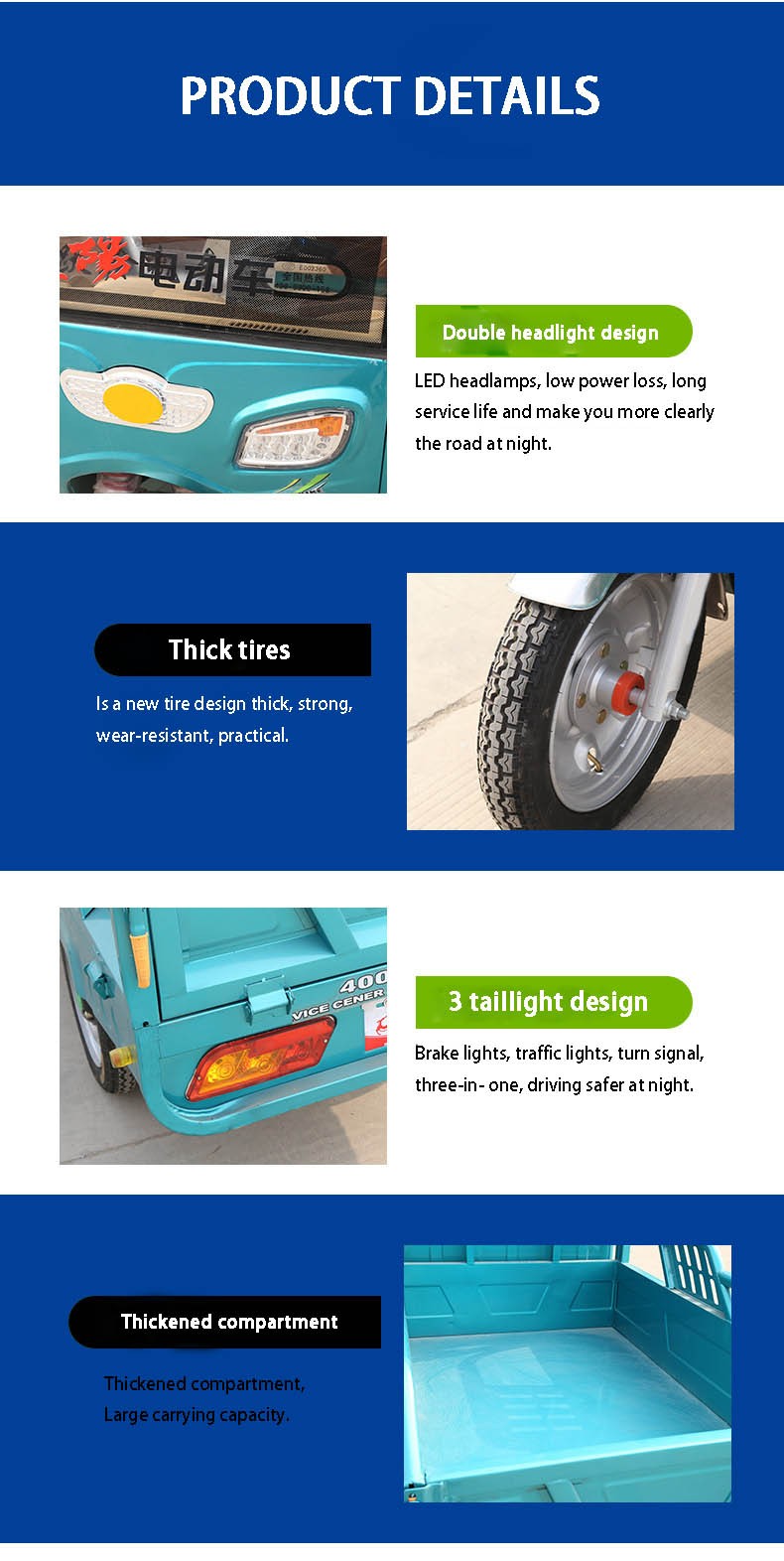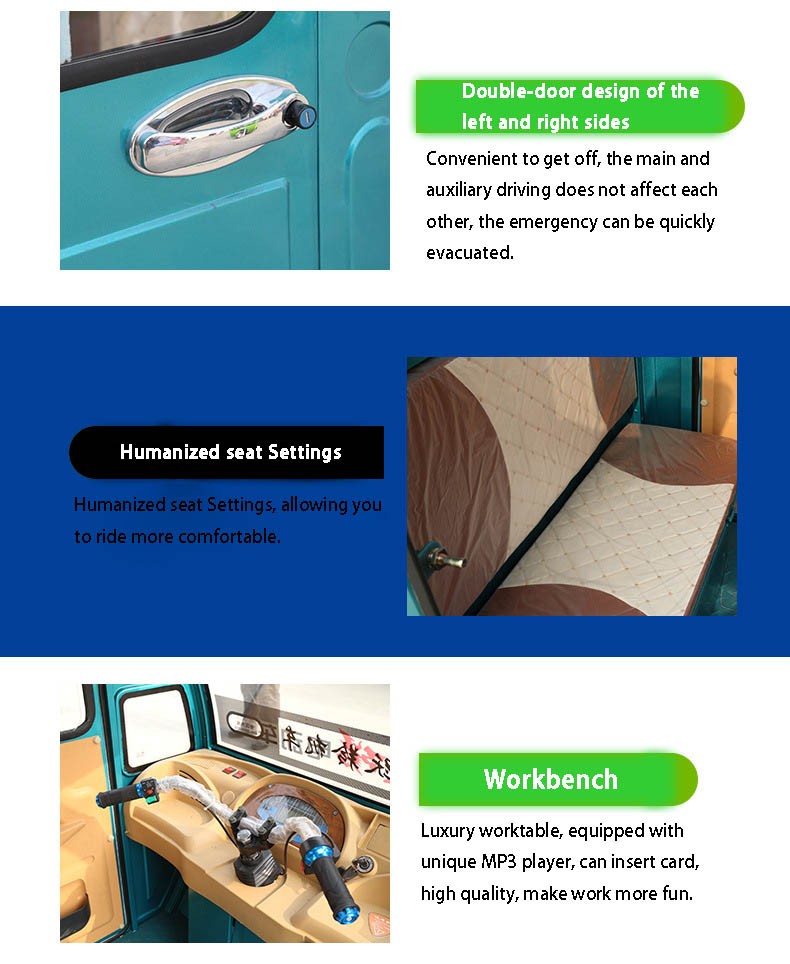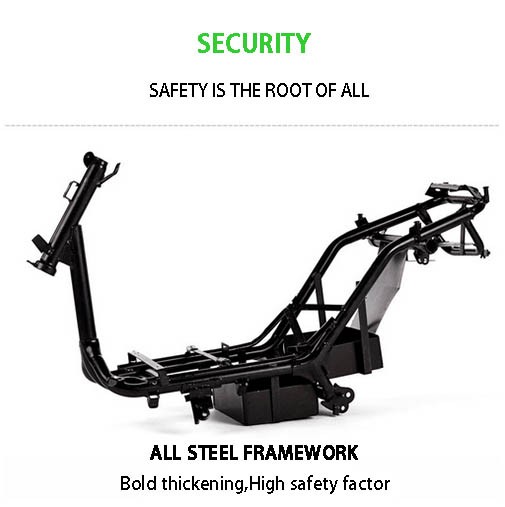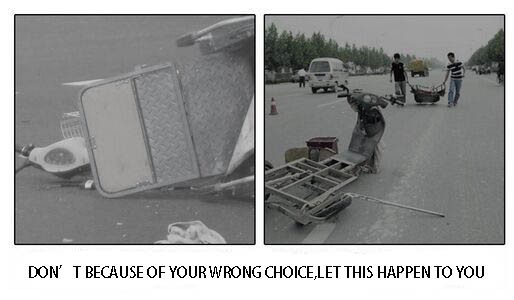 Company Information
Our workshop
Our successful cases
Our customers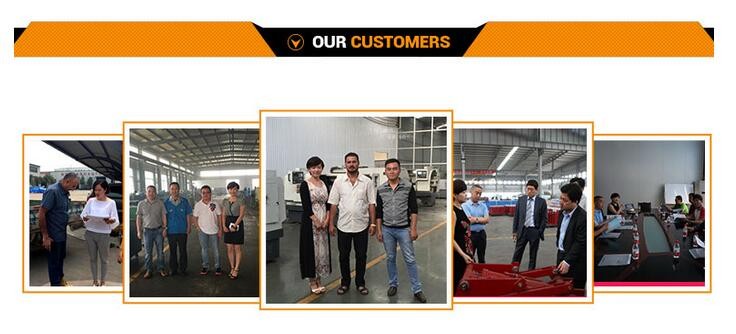 Our certificate
Why choose us?
1.Product-time delivery:In the calendar year three years, the proportion of delay in delivery of
less than 4%
2.Product quality:
a.According to Parker for three years and other large retailers RGD below 4%.
b.As Parker for three consecutive years, suppliers, for three consecutive years to less than 4
percent were rated RGD quality suppliers.
3.Product sustained supply:10 electric tricycles manufacturing experts continue to create new
products,and US companies to ensure that every year 5-10 new products for the European
market listing.
Our Services
1.6-12 months warranty policy.
2.We will send Free Of Charge spare parts replace the defective or broken parts in the
next order.
3.Choose the cheapest and safest shipping company to save the cost.
4.Track the order until you get the goods.
5.Protection of your sales area, ideas of design and all your private information.
FAQ
Q1.Company or factory?
A:We are original factory located in JInan Shandong China and has been in this business
since 2004. U're warmly welcome to visit our factory!
Q2.What is your product range?
A:We specilized in Three&Five wheels tricycle for cargo transportation and passengers.
Also tricycle parts.
Q3.When can I get the reply/quotation?
A:We usually quote within 24 hours after we get your inquiry. If you are very urgent to get the
price, pls us at +8615064003895 directly.
Q4.Can I get the sample to check your quality, and how?
A:Sure. The model, configuration and price of sample depend on our stock. Pls contact for
more info. The sample will be sent to your warehouse in China.
Q5.Can you do the design for me?
A:Sure. OEM service available. Just tell us your ideas and we will help to make out the good
design on tricycle and send you finished files for confirmation according to your
demand and our experience.
Q6.What's the price for you?
A:Different model, performance for selection. Pls inform us your requirment then we can
recommend the best one for you to meet your demand and save cost. Then a
specific quotation will be worked out.
Q7.Where is your sales market?
A:Mainly Africa and Middle East. We have exported to Uzbekistan, Sudan, Malawi, Somali,
Congo, etc.
Q8.When can you delivery?
A:Generally speaking, 20-25 days after we got your 30% deposit. We suggest that you start
inquiry two months before the date you would like to get your products at your
country.
Q9.What if I don't know how to install/assemble the tricycle?
A:First, assembly Instructions will be offered for each tricycle. Second, e-assembly drawing
available.Third, pls contact Rainbow Colin at +8615064003895 for more info.
Related knowledge
Battery Care
Electric tricycle from battery power, so crucial to the maintenance of the battery, the battery
generally are used in lead-acid batteries.
Battery maintenance from the following six areas
♦ correctly grasp the charging time: the battery depth of discharge to 60% -70% for the best
one charg;
♦ Avoid power loss: electric cars idle for a long time, it should be the best month on one
charge
♦ Avoid large current discharge: electric car start, cargo, when climbing, use pedal power,
avoid momentary high flow battery discharge
♦ To prevent exposure: Battery temperature will occur from the dark, deformation
♦ Avoid overheating during charging plug: plug due to loosening, oxidation and other
reasons can cause overheating short circuit, causing fatal damage to the battery
♦ periodic inspection: electric cars in use, if short Mileage significantly reduced, probably
because one or a few cells appear lifting off grid, plate softening, plate active
material shedding,this time, Inspection agencies shall promptly repair the battery,
so you can limit the maximum increase battery life. Reduce unnecessary expenses.
Tricycle maintenance
♦ should check the battery compartment is securely locked before riding, the display
panel for each light display is normal.
♦ When driving in rain water surface, under water no deeper than normal with electric
wheel hub, such as with surface water deeper than electric wheel hub, will likely
make electric cars seepage caused by malfunction.
♦ vehicle should be avoided on the air is humid, the temperature is too high and there
are places corrosive gases, so as not to paint the surface of metal parts plating chemical
corrosion.
♦ Avoid prolonged exposure to the vehicle and rain, so as not to damage components
within the controller, causing operation failure, accidents.
♦electrical control structure is complex, the user should not disassemble, repair. Such as
local charging voltage instability, Easy to make the charger fuse is blown, we recommend
the use of exchange regulator
♦electric tricycle feel heavier when backwards and forwards will be implemented within
the wheel frightened slight friction sound are normal phenomenon Riding should not
overload, should not be placed too heavy items and bring people to avoid damage to
the battery and motor.
♦tricycle lubrication is an important part of maintenance tricycle, according to usage,
to deal with the front axle, rear axle, flywheel, fork, shock absorbers and other
components of the pivot point once every six months to a year to scrub and
lubrication. Electric wheel drive components within the already frightened painted
a special lubricant, users do not like their own scrub lubrication.