PAC (Poly Anionic Cellulose )
Poly anioniccellulose (Poly anionic cellulose) is abbreviated as PAC, which is a water-soluble cellulose ether derivative obtained by chemical modification of natural cellulose. It is an important water-soluble cellulose ether. Usually its sodium salt is widely used in oil drilling. Especially brine wells and offshore oil wells.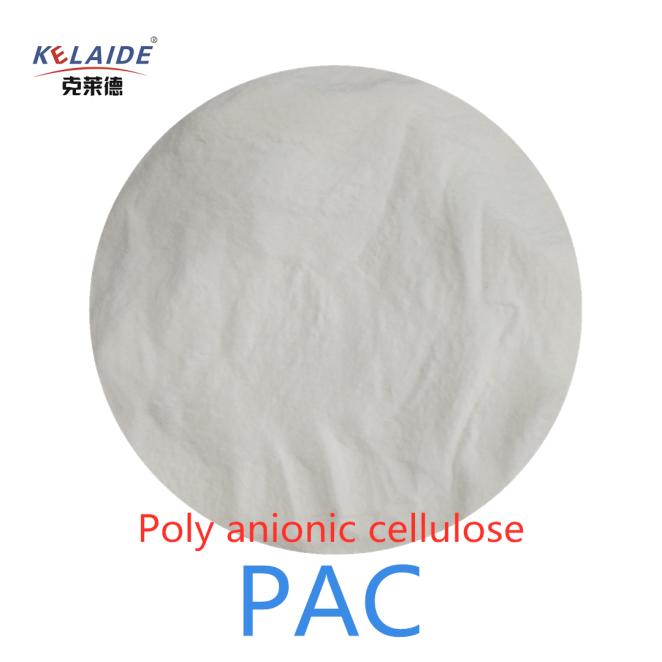 Application:
1.As a light yarn sizing agent instead of starch in the textile industry;
2.In paper making,improve the longitudinal strength and smoothness of paper, and improve the oil resistance and ink absorption of paper;
3. Preparation of soap and synthetic detergent in the daily chemical industry;
4.Latex stabilizer in rubber industry;
5. Loss-of-filtration agents and viscosity-increasing agents in the drilling industry;
6.In addition, in coatings, food, cosmetics, ceramic powder, leather and other fine chemical processing as a thickener, emulsion stabilizer, crystallization prevention agent, thickener, binder, suspending agent, water retention agent, dispersion Agent.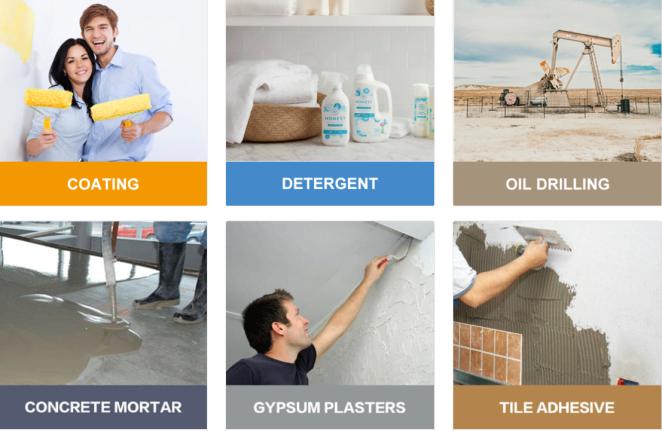 Feature:
1.White or light yellow powder or granules, tasteless and non-toxic, strong hygroscopicity, easily soluble in cold water and hot water.
2. High degree of substitution: 0.85-1.4.
3. Heat-resistant stability: The performance of the aqueous solution is stable below 80 ° C, and it can still show a certain viscosity when the temperature reaches close to 150 ° C and can maintain about 48h.
4. Acid and alkali resistance and salt resistance: The pH value is stable in the range of 3-11, which can be used in various polar harsh environments.
5. Good compatibility: It is compatible with other cellulose ethers, water-soluble gums, softeners, resins, etc .; when the degree of substitution of PAC exceeds 1.2, it gradually shows oil solubility.
6. Good solubility: it can be dissolved in cold water and hot water quickly with simple stirring equipment; hot water dissolves faster; instant PAC can be fully dissolved within minutes, greatly improving the convenience of use And productivity.
7. Good stability: PAC aqueous solution has light stability, longer shelf life, strong anti-bacterial mildew performance, and does not ferment.
8. Extremely low usage: Due to the high degree of substitution and high stability of PAC itself, under the same use environment, its dosage is only equivalent to 30% -60% of carboxymethyl cellulose (CMC), to a certain extent This reduces the cost of using the enterprise. It has high cost performance advantages; meanwhile, it saves raw material consumption and has higher economic and social benefits.
9.The main raw material of polyanionic cellulose (PAC) is refined cotton, which has no pharmacological effect, is physiologically harmless, and the production process is environmentally friendly.
10.Polyanionic cellulose can be used for deep well high temperature downhole operations.
11.Wide application range and wide adaptability to water. It is easy to form large alum flowers quickly and has good precipitation performance. The suitable pH range is wide (between 5 and 9), and the pH and alkalinity of the treated water decreases slightly. When the water temperature is low, a stable precipitation effect can still be maintained. Alkalinity is higher than other aluminum and iron salts, and it has less effect on equipment erosion.
Drilling fluid PAC Standard
Physical and chemical index
| | |
| --- | --- |
| Item | Index |
| Degree of substitution(D.S) ≥ | 0.9 |
| Moisture (%) ≤ | 10 |
| PH value(25℃ ) | 5.5-8.5 |
Application performance index
Item

Index

HV

LV

SL

F iltration(sample dosage 0.57%),mL≤

20

25

25

F iltration(sample dosage 0.86%),mL≤

15

F iltration(sample dosage 1.14%),mL≤

10

Yield strength (sample dosage 0.57%),Pa

≥2.5

≤0.5

Yield strength (sample dosage 0.86%),Pa

≥9.5

Yield strength (sample dosage 1.14%),Pa

≥19.0

A pparent viscosity,mPa.s

-

-

≤25
Contact Us