The chenxi double-sided crawling mat has good elasticity and softness, which can provide comprehensive protection for the baby's hands, feet and other parts of the body, and provide a safe and comfortable environment for the baby to practice sitting, crawling, toddler and playing. The chenxi crawling mat is non-toxic, antibacterial, odorless, and pollution-free, and has strong cushioning capacity and elasticity, which can offset the external impact force. The chenxi baby floor mat can quickly recover its shape after being subjected to external forces.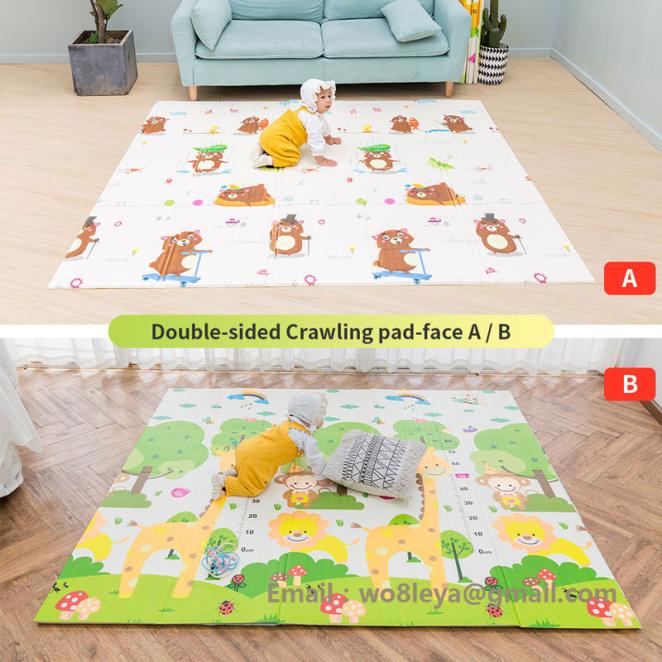 1. Environmental protection and non-toxic
The use of XPE material, elastic cotton, non-toxic, no odor, color is firm and does not fade, providing a safe playground for babies.
2. Smart and funny
Cartoon objects, rich color photos, letters, numbers, can be puzzle games to enhance the baby's brain.
3. Moisture proof, cold insulation
XPE cotton has good cushioning performance, the thickness depends on the baby's body, neither hard nor soft, comfortable and clean.
4. Waterproof
The surface of the crawling mat has a waterproof design. Sprinkle water on it and wipe it with a towel.
5. Convenient to carry and easy to clean
There are creases on the crawling mat, which can quickly fold up the entire crawling mat. The space is small, easy to carry, the surface material is waterproof, non-slip, and easy to clean.
Climbing mat product size: 180 * 200 * 1cm, folding size: 40 * 90 * 10cm, oversized crawling mat can provide enough space for babies and parents.It is widely used in various occasions, such as indoor baby games and entertainment, helping baby crawl.
Our product has a variety of sizes and thickness specifications to choose. and we also provide special requirements such as LOGO and pattern customization for VIP users from worldwide.

our MOQ is 500pcs.You can order a sample of 1pcs crawling mat, confirm the quality and style of the crawling mat, and then order. Samples will be provided to you

Note:The unit price of the 1psc crawling mat is $ 10.99, excluding international shipping.

website:http://www.babycrawlingmat-playmat.com