China corn/maize grits and flour milling machine for sale
Function
1. Peeling corn to remove corn skin, remove germ, root and hilum, and separate them to make bran for animal feed.
2. Grinding peeled corn into grits and flour.
3. Grading grits and flour. Final outputs are one big grit, one small grits and one fine flour.
Features
1. They are our unique machines with our patent peeling and milling technology.
2. Unrivaled peeling efficiency and performance, removing corn skin, corn germ, root and black hilum, final output is in consistent color without any black dot. Corn grits are best in color and taste.
3. You can adjust the Fineness wheel on the right of the machine to get any sizes of corn grits depending on different market.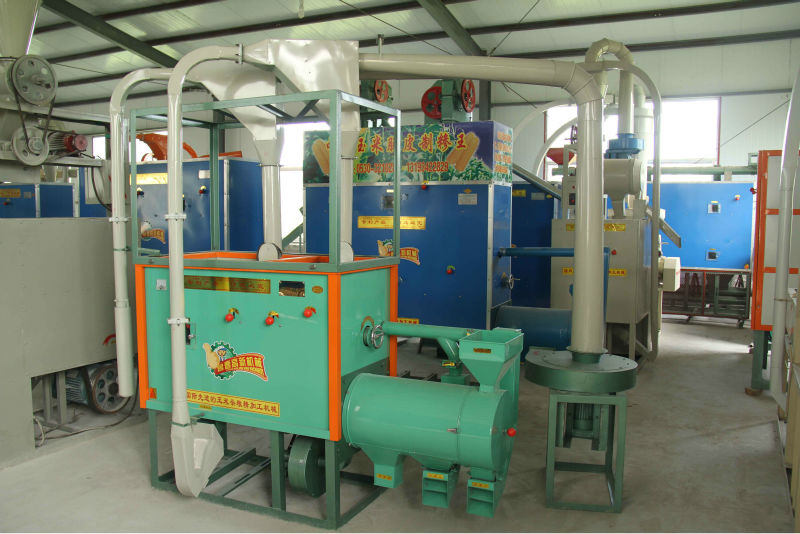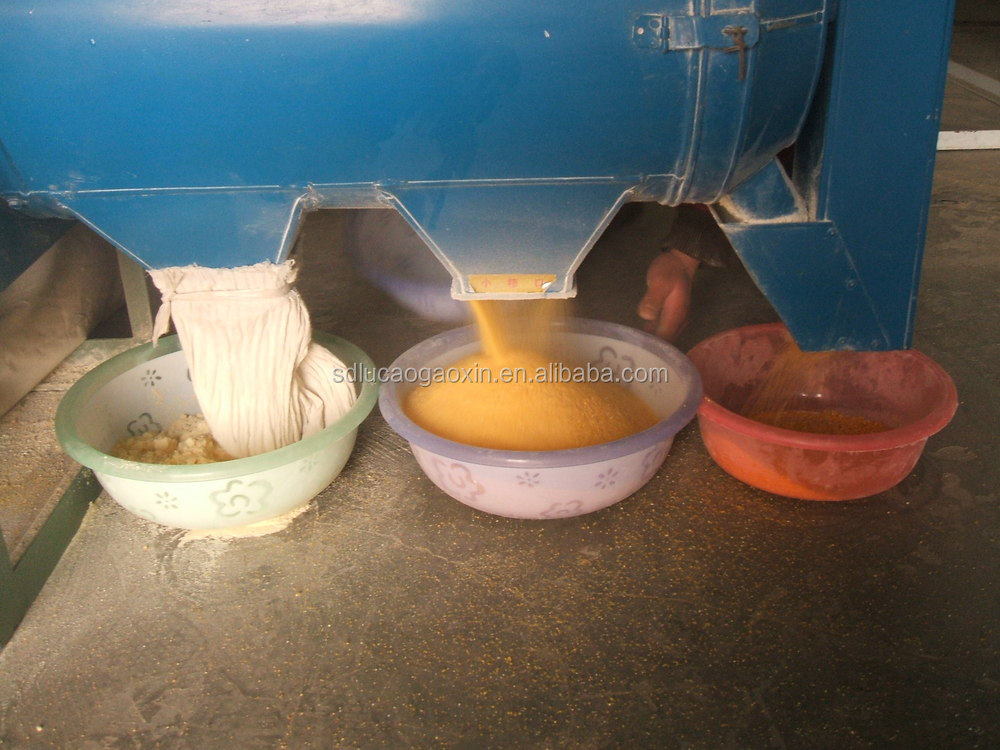 Main feature of corn/maize grits milling machine:
1. Dry or wet way peel system to remove corn seeds skin, germ, root, black hilum and other impurities, Final peeled corn with same golden yellow color.
2. Equipped with adjusting smashing system that means the corn seeds can be smashed into any sizes as per the desire of customers, according to our record final product more than 22 sizes from peeled corn to corn grits and flour can be smashed.
3. Sifting system to sift smashed corn into three final product, one outlet is corn flour, another two outlet will output small corn grits and big corn grits respectively.
Uses of Corn Grit:
--Extruded snack food Industry
--Beer industry
--Flaking Grits for Corn Flakes industry
--Corn breads(confectionaries) and muffins
--Corn Chips and Doritos
--Sweets manufacturing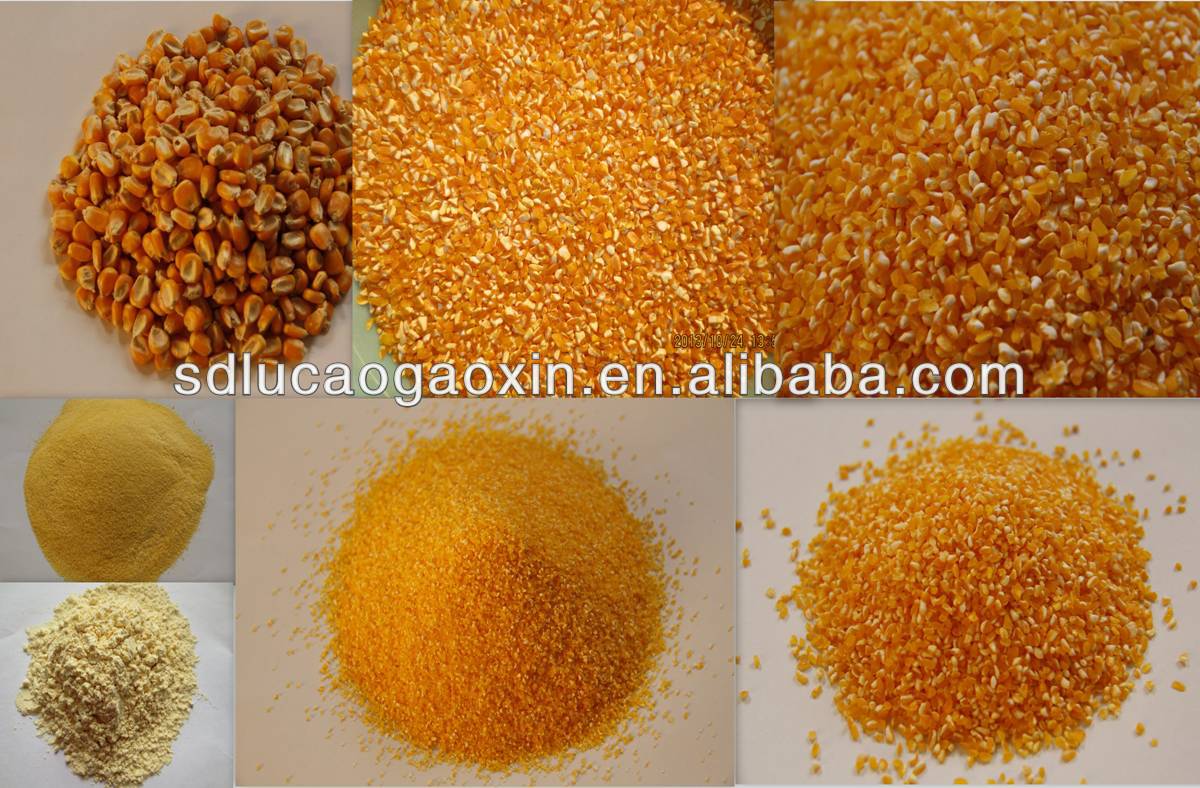 Working processing of corn/maize grits milling machine:
1.Corn grits and flour are very important material for producing snack food, and in many parts of the world,corn flour or fine corn grits are the important staple food for people daily life.
2.How to produce good quality of corn flour and grits ?
Most important way is to make corn well peeled.
To peel corn not only to remove corn outside skin, but also remove corn germ, corn root and corn hilum (the black part).
3.Our corn grits making machines can help customers peel corn well clean to get best material before further making corn flour and grits.
Other models for single maize/corn grits grinding mill machine:
| | | | |
| --- | --- | --- | --- |
| Model | Production capacity | Electric motor power | Outer dimension |
| 6FW-D1 | 400-500kg/hour | 11kw-4p | 2000*500*1100mm |
| 6FW-D1A | 400-500kg/hour | 11kw-4p | 1900*550*1200mm |
| 6FW-H | 450-550kghour | 11kw-4p | 2200*600*1300mm |
| 6FW-D2 | 8tons/day | 15kw-4p | 1950*500*1600mm |
Caoxian Lucao High Tech Machinery Manufacturing Co., Ltd
Initially started business in 1982, formally registered in 2001, we devote to producing corn and cereal grains processing equipments for over 30 years. We take technical innovation as fundamental, and offer different perfect and scientific solution as per market orientation. In 2012, we moved to our new factory with area 105 thousand s.q.m. We have obtained 22 national technical invention patents so far and have control over heart technology in corn & beans peeling and grit making area. We drafted the national technical standards of this industry, and develop to be a famous and reputable supplier. Step by step, we are growing into a high tech enterprise of the state.
We have developed more than fifty varieties covering the whole corn and cereal industrial area. Most machines are sold with patents protection. Proud to say machines are accepted by market extensively because of their excellent functioning and unique design.
1.Dry way corn peeling machines for corn grit & flour, animal feed, and alcohol brewery, etc.
2. Grit milling machines for corn, soya beans, rice, wheat, etc
3. Dry way beans peeling machines for soya beans, green peas, lima beans, black beans, gram beans, lentil beans, etc.
We have export and import license. Machines have been shipped to Europe, Asia, Africa, Middle-east and South-east Asia, to countries including Spain, Austria, France, New Zealand, Sri Lanka, Kenya, Nigeria, Congo, Zambia, Tanzania, Bolivia, U.S, Dubai, Myanmar, Thailand, etc.
Diligence wins future, and innovation fulfills dreams. All LUCAO staff are working hard with enthusiasm, courage and profession. Sticking to professional product route, we are ready to climb the peak of this industry, and strive for"Make First Class Product, Create a 100-year Company''.
--Food grain cleaning machine
--Corn skin and germ peeling machine for removing black corn hilum to produce highest quality of corn meal or flour.
--Corn grit or flour milling machine
--Whole wheat flour milling line with roller milling technology.
--Small corn and rice snacks puffing machine
Other models for single maize milling machine:
| | | | |
| --- | --- | --- | --- |
| Model | Production capacity | Electric motor power | Outer dimension |
| 6FW-D1 | 400-500kg/hour | 11kw-4p | 2000*500*1100mm |
| 6FW-D1A | 400-500kg/hour | 11kw-4p | 1900*550*1200mm |
| 6FW-H | 450-550kghour | 11kw-4p | 2200*600*1300mm |
| 6FW-D2 | 8tons/day | 15kw-4p | 1950*500*1600mm |
Other models for complete maize milling machine:
| | | | |
| --- | --- | --- | --- |
| Model | Production capacity | Electric motor power | Outer dimension |
| 6FW-12A | 12tons/day | 31.6kw-4p | 8000*1500*3500mm |
| 6FW-12B | 12tons/day | 39kw-4p | 11000*2000*4000mm |


Sunny Qu
Caoxian Lucao High Tech Machinery Manufacturing Co., Ltd.
M:86 13225320778(whatsapp/wechat)
Skype: sunnyqu01
Website: www.sdgaoxin.com (for Chinese)
www.lucaotech.com (for English)