Poultry Feed Processing Machine is specially used to make feed pellet for animals, the feed pellet is more beneficial to poultry and livestock, and easier to be abosorbed by animal.Families and small scale farms usually prefer Small Pellet Machine For Feed to make pellet for raising animals.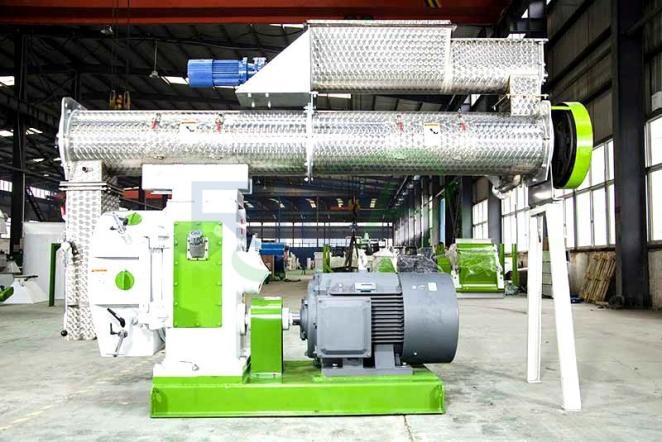 Poultry Feed Pellet Machine Features
1.High driving torque, steady transimmison, main shaft long service life, brief structure, easy maintenance and low maintenance cost.
2.The support sleeve of main shaft and main case is lined with brass bush to prevent occlusion and is easy to dissassembly.
3.Ring die feed pellet mill adopts automatic grease adding system
4.Gear driving system, with good transmission rate, stable and reliable performance and low noise.
5.The key components are imported to ensure longer service life and lower cost for maintenance.
6.Raw material contacting parts are made by stainless steel.
Poultry Feed Pellet Machine Parameters
| | | | | | | |
| --- | --- | --- | --- | --- | --- | --- |
| Model | Capacity(TPH) | Main Motor Power(kw) | Feeder Motor Power(kw) | Conditioner Power(kw) | Dia.of Ring Die(mm) | Final Pellet(mm) |
| SZLH250 | 1-2 | 22 | 0.75 | 1.5 | 250 | 2~12 |
| SZLH320 | 3-4 | 37 | 1.5 | 2.2 | 320 | 2~12 |
| SZLH350 | 5-7 | 55 | 1.5 | 3 | 350 | 2~12 |
| SZLH420 | 8-12 | 110 | 1.5 | 7.5 | 420 | 2~12 |
| SZLH508 | 10-18 | 160 | 2.2 | 11 | 508 | 2~12 |
| SZLH558 | 15-25 | 180/200 | 2.2 | 11 | 558 | 2~12 |
| SZLH558D | 14-22 | 160/180/200 | 1.5 | 7.5 | 558 | 2~18 |
| SZLH678 | 20-30 | 220/250 | 2.2 | 11 | 678 | 2~12 |
| SZLH678D | 15-25 | 200/220/250 | 2.2 | 11 | 673 | 2~18 |
| SZLH768 | 25-40 | 280/315 | 2.2 | 11 | 768 | 2~12 |
| SLZH858 | 25-42 | 280/315 | 2.2 | 15 | 858 | 2~18 |
Source: https://www.pellet-richi.com/feed-pellet-machine/poultry-feed-pellet-machine.html
Henan Richi Machinery Co., Ltd Contact
phone/whatsapp:+86 15003890639
https://www.pellet-richi.com
https://www.feed-pellet-plant.com
https://www.wood-pellet-plant.com
https://www.cn-pelletmachine.com