Aluminium welding/brazing/soldering alloy wires--AWS ER1100/ER5356/ER4043/ER4047
Introduce:
Aluminum base filler metals are mainly used for brazing aluminium and aluminium alloy, with Al-Si eutectic and aluminum copper eutectic,with the characteristic of low melting point, good liquidity
Applications :
Used for brazing the aluminum and aluminum alloy in the refrigeration and air-condition,Suitable for flame, furnace, vacuum brazing method
Product Code
Composition %
Melting Range℃
Available Forms
Domestic brands
AWS
Si
Mg
Cu
Zn
Al
Other
rods
coil/spool
rings/preforms
strip
powder/paste
HZ-4047
HL400
ER4047
11.0-13.0
0.1
0.3
0.2
remainder
<0.5
580-600
•
•
•
•
HZ-4043
S311
ER4043
5.2
0.05
0.3
0.1
remainder
<0.5
600-645
HZ-5356
S311
ER5356
-
5
1.8-2.2
-
remainder
<0.5
600-645
•
•
•
•
HZ-1100
A1109
ER1100
6.5-7.0
-
0.12
-
remainder
<0.5
670-695
•
•
•
•
Picture show: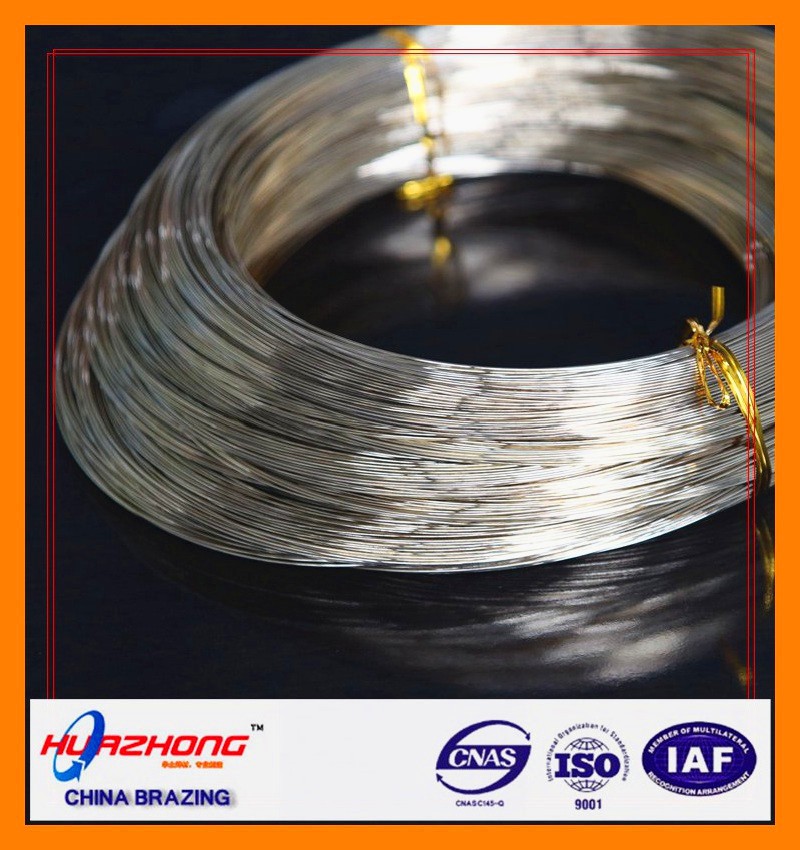 FQA
Q: How to get a formal effective quotation?
A: According to your required specification, such as material(Article) ,main dimension, and the quantity you need, we will provide a formal effective quotation within a working days.
Q:How to deal with the parts received when they are found to be in poor quality?
A: Please rest assured that all our products are QC inspected completely and accepted with inspection report before delivery. Generally there will no non-conformance. In case of non- conformance, and the errors identified was caused by us, we will arrange to repair or make right parts for you. We are Trade Assurance supplier of Alibaba, it will provide you max protection.
Q: What is the MOQ?
A: Usually we don't set MOQ, but the more, the cheaper. Besides, we are happy to make prototype or sample for clients to ensure quality standard.
Q: Whether some samples can be provided ?
A: Yes, just need some sample cost, we will return it back when proceed into mass production.
Q: If we can not find what we want on your website, what should we do?
A: You can email us the descriptions and pictures of the products you need, we will check whether we have them. We develop new items every month, and some of them have not been uploaded to website in time. Or you can send us sample by express, we will develop this item for bulk purchasing.
COMPANY INFORMATION
Anhui Huazhong Welding Material Manufacturing Co., Ltd is established in 2004, and located in Hefei——the central City of Anhui Province. We are specialized in manufacturing and producing brazing materials. Our main products include silver-based brazing filler metal, copper-based brazing filler metal, aluminum-based brazing filler metal and associated brazing flux, flux-cored welding wire etc. Our brazing flux products include: silver welding paste, silver welding powder, copper welding paste, copper welding powder, aluminum welding paste, aluminum welding powder, spot welding paste (water), etc. The available shape of brazing alloys are rod, ring, sheet, strip, wire etc.