Product Description
HUAZHONG HZ-Ag15P is a phosphorus coppersilver alloy ideal formost coppertocopper or brass joints whereclose fitup does not exist andwhere agitationand vibration in service are involved. Containing approximately 15% silver, this product has long been the standard in the refrigeration industry. Developed primarily for use on copper, this alloy may also be used on other nonferrous copper base alloys. This product is used extensively on refrigeration units, air conditioning apparatus, electrical conductors, copper and brass pipe fittings, and other copper and brass equipment. By virtue of its phosphorus content, this product is self fluxing on copper only applications. A flux should be used when brazing brass or bronze with this product.It is used for the brazing of copper and copper alloys, brass, and bronze. It can also be used on silver, tungsten and molybdenum. It is very effective for joining pipe and tubing and is widely used for electrical work.
Packaging & Shipping
Every 20kg packed with plastic film, with certificate of approval, every 30kg in one carton with warranty.
Our Services
Technique innovation & Products excellent & Quality first & Customer satisfaction
Company Information
Anhui Huazhong Welding Material Manufacturing Co., Ltd is established in 2004, and located in Hefei——the central City of Anhui Province. We are specialized in manufacturing and producing brazing materials. Our main products include silver-based brazing filler metal, copper-based brazing filler metal, aluminum-based brazing filler metal and associated brazing flux, flux-cored welding wire etc. Our brazing flux products include: silver welding paste, silver welding powder, copper welding paste, copper welding powder, aluminum welding paste, aluminum welding powder, spot welding paste (water), etc. The available shape of brazing alloys are rod, ring, sheet, strip, wire etc.
Our factory has advanced production and detecting equipments and a group of absolutely competent and famous experts in welding field as our technique consultant group, all of which have enabled us to give an authoritative guarantee in both production technology and product quality and have laid a good foundation for our company's new products research and development. With the assistance of many friends in the society and the hard work of our technicians, our company is striding forward while strictly implementing the ISO9001-2000 Quality System Standard.
In recent years, the scale of our company is continuously expanding, and especially the constant join-in of welding professionals in large amount has infused fresh "blood" into our company and brings vigorous vitality for it. Our engineering department has many experienced welding technical engineers who, having been engaged in the profession of welding for a long time, have rich experience and strong practicing ability. Our company integrates design, development, manufacture, installation and after-sale service into a whole. Realizing the "turn-key" project in the real sense, we provide you with complete and systematic welding scheme——mature welding technology, automatic operational machine, excellent welding equipments, high quality welding materials, pure and perfect welding gas, fine welding cut accessories and bit, all of which can make your welding and production much easier, sharply cut your production cost, so over the past years, we have won good praises from most customers. With advanced operation concept and optimized management mode, stressing on both inside and outside, our company has always been at the leading position in the field of welding, and also striving forward and challenge towards higher levels.
Our company adheres to the quality tenet of "technology, efficiency and casting high-quality brazing filler metal; honesty, dedication and building Huazhong famous brand", takes "unity and cooperation, exploitation and forging ahead; staying realistic and practical and pursuing excellence" as our enterprise spirit; we make our customers the focus of our attention and try our best to provide high quality products and service that can meet the customers' needs and expectations.
FAQ
FOB/ CIF/ CIP

Applications
• Refrigeration units
• Electrical conductors
• Copper and brass fittings
• Air conditioning apparatus
• Copper and brass equipment

AWS Specification
AWS A5.8/A5.8M:2011
AWS Classification BCuP-5

Typical Wire Chemistry
Ag 14.5 - 15.5
P 4.8 - 5.3
OTHER 0.15
Cu REM

Typical Physical & Mechanical Properties
Melting point 645ºC
Flow point 800ºC
Brazing temperature 815ºC
Maximum Service Temperature, Air:149°C(continuous)
204°C(intermittent)
Color when brazed Light Copper
Density 4.415 Tr. Oz / Cu in
Specific Gravity 8.378
Electrical Resistivity:0.0000174ohm-cm
Electrical Conductivity (% IACS):9.9
Company imformation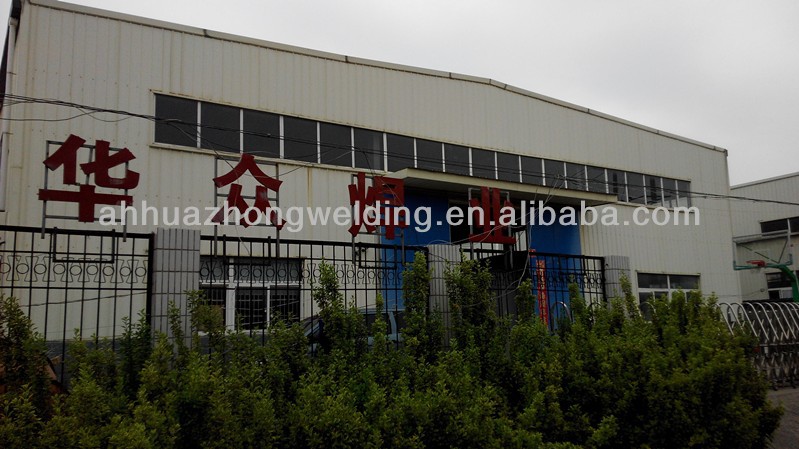 Our services