1. Grade: H65,H80
2. Standard: GB/T5330 Q/9Dn1-2015
3.Brand name:bashan
4Place of Origin: Henan China (Mainland)

Specifications
Place of Origin:Henan, China (Mainland)
Material:Stainless Steel Wire
Type:Weave Wire Mesh
Application:Screen, Pharmaceutical,metal powder,ceramic printing,screen shielding industry
Weave Style:Plain Weave
Wire Diameter:0.02- 6.0mm
Technique:Woven
Model Number:Brass mesh
Brand Name:Bashan
Materials:Copper, brass, tin bronze, phosphor bronze
Weaving pattern:Square hole(plain weave, twill weave)
Characteristic:
acid-resisting,alkali-resisting,heat-resisting,corrosion-resisting
Packaging & Delivery
Packaging Details:standard packing:
wrapped with waterproof paper+plastic filmbags.
other packing:
cartions or palletsDelivery Detail:within 7 days
Product Description
China steel mesh manufacturers Brass Wire Mesh:
China steel mesh manufacturers Brass Wire Mesh

Material

Copper, brass, tin bronze, phosphor bronze

General purpose

1,Copying newsprint, printing paper with 60 to 70 mesh copper mesh
2,Typing paper with 90 to 100 mesh copper network

Features

1,good corrosion resistance and wear resistance.

2,Phosphor bronze net, with superior tensile, bending force, wear resistance and 3,stretching force.

4,Brass mesh has appropriate tensile and extensibility, mesh habit per inch in the number of meridians for the mesh.

5,The smaller the mesh, the larger the mesh, the better the water filtration performance.
Our company
In more than 60 years experience of metal wire cold drawing, metal wire mesh weaving and deep processing products, Bashan company acquired 24 metal wire & mesh patents and took chief part of 19 standards, such as GB/T4240, GB/T5330, GB/T6003, GJB107, HB1862, etc. (GB/T, national standard; GJB national military defense standard; HB, aviation standard.)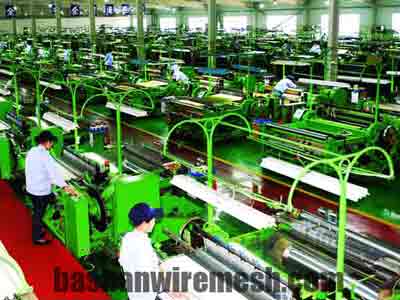 Factory
Basahn factory affiliated to China Aviation Industry Corporation (AVIC), is the only professional military manufacturer of stainless steel wire, metal wire mesh, filter element, special filtration component and wire thread insert.
Workshop
1) 800 tons of stainless steel wire of medium and fine wire.3600 tons of coarse wire above 1mm in diameter.
2) 500 thousand square meters of high precision wire cloth in nominal aperture sizes from 6.00 to 0.02mm.
3) 10 million pieces of thread inserts, including free run type and screw-locking type with ranges of M2-M45mm.
Our Certifications
1)Passed ISO9001:2008 quality certificate
2)Passed ISO/TS16949:2009 certificate
3)Passed GJB9001A-2001 military quality certificate.
4)Drafted GJB119.1A-119.4A-2001, GJB107-5110-2002, GB/T5330-2003,HB1862-93

Contact :Jessy Duan
XINXIANG BASHAN AERO MATERIAL CO.,LTD