Specification
Item / Model

IFC-3137

IFC-3645

IFC-36110

IFC-4675

IFC-5175

IFC-5675

Temperature range (°C)

550°C

Load capacity (ℓ)

11

16

38

45

58

85

Power consumption (kw)

8

10

15

14

18

22

Air consumption (ℓ/min)

60~130

60~150

160~300

150~300

150~450

220~500

Air pressure (Kg/cm2)

2~10

Outer dimensions (mm)

625 x 650 x 900

690 x 890 x 900

690 x 890 x 1650

790 x 1050 x 1350

860 x 1250 x 1400

Power supply option

220V / 380V 440V. 3ph. 50~60Hz

IFC weight (Kg)

98

180

240

450

880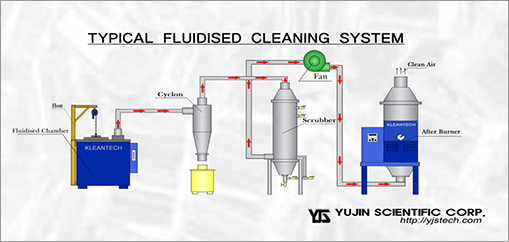 Cleaning furnace: Cleaning area to clean residue of precise parts
Cyclone: Centrifugal precipitator to collect particles like carbon scattering in the air from first precipitator.
Scrubber: Gas cleaner which neutralizes the toxic gas by liquefaction.
After Burner: Re-combustion unit to release residual toxic gas as clean gas by combustion with oxygen and LPG.
Problems of existing cleaning method
| | |
| --- | --- |
| Cleaning method | Problems |
| Chemical processing | It is possible to clean only soluble plastics. It requires a lot of time to clean. Solvent, TCE, CFC |
| High-temperature incinerator | It takes longer time due to low heat conductivity. Cleaned mechanical parts may be twisted. It cannot be used for precise mold. |
| Tool or wire brush | It is the most underdeveloped cleaning method. It needs long working time and mold wear or damage is considerable. |
| High temperature salt bath type | It needs a lot of maintenance cost by high price salt medium and continuous power supply to prevent coagulation and there is a risk of burns caused by explosion. It also may cause corrosion or thermal deformation. |
| Vacuum type | Facility cost is big and there is a risk of explosion. |
| Ultrasonic type | It is the most popular method. It is impossible to remove residual polymer. |
| Dry ice type | Surface attachment concerned. It is impossible to use precise mold. |
I.F.C. Cleaning coverage
| | |
| --- | --- |
| Field | Parts |
| Fiber | Distributor plates, Filter elements, Mixers, Spinning Gear pumps, Spin packs, Spinnerets. etc., |
| Polymer extrusion | Housing, Extrsion heads, Die plates, Melt pumps, Breaker plates, etc., |
| Film | Die plates, Distributors, Filters, Mixers, Screws, Screw elements, etc., |
| Injection molding | Dies, Hot runners, Needle valve nozzles, etc., |
| | |
| --- | --- |
| Incineration temperature | Poltmer to be removed |
| 350°C | Rubber deboning Polycarbonate |
| 440°C~450°C | Polyurethane |
| 425°C~500°C | Polypropylene |
| 450°C~480°C | Ethylene methacytic |
| 450°C | Nylon, Polystyene, Styrene, Fluoropolymers |
| 450°C~500°C | Polyethylene, PVC, Organic matter/oil/grease |
| 450°C~500°C | Paint, Teflon, Engineering plastics. |
| 550°C | Silicone / rubber |
I.F.C. with excellent cleaning effect and economics
Currently, plastic products are widely used in daily life and overall industry. According to this, manufacturers need more complicated and precise parts than before. They are struggling in cleaning precise parts such as Dies, Molds and Spinnerets used essentially in plastic manufacturing process. Also existing cleaning method needs a lot of manpower and time, wear of corrosion of the parts and it causes environmental contamination. To solve these problems, we have developed an industrial mold cleaner using Fluidized Bed Principle. For last 30 years, many larger domestic companies and overseas companies have been using our I.F.C.
I.F.C. Principle and Operation
I.F.C. is a cleaning equipment using Fluidized Bed Principle to clean out the residue in precise parts such as Dies, Nozzles, Screws, Breaker plate or Molds which are difficult to be cleaned by hands more efficiently.
Before operating I.F.C. cleaning equipment, Thermal Medium is filled in cleaning furnace. Fluid is heated up to the temperature (400~ 500 ℃) which is the most proper to clean as compressed air is injected into cleaning furnace from air supplier. At this time, a Fluidized Bed like boiling liquid is formed as powder articles (fluid) float. If putting things to be cleaned in a basket into this Fluidized Bed, cleaning is completed around in 30~50 minutes and toxic gases generated during cleaning work are released as clean gases passing through re-combustion process.
Thermal Medium: It is most suitable as flow medium in the aspects of thermal conductivity, temperature stability, uniformity and environmental protection. It is very sage as it is inactive.