Briquette press machine
Feature of coal Briquette Machine
1. Professional charcoal and coal briquetting machine manufacturer;
2. High pressure charcoal briquetting machine;
3. High briquetting efficient;
4. Energy-saving coal briquetting machine;
5. Professioal engineer installation guided.
Mainly Parameter for Charcoal Briquette Machine,coal briquette machine price:
Applicable materials:
coke, coal dust and various coal materials and charcoal and mineral powder;
Production capacity:2-70t/h;
Power: 7.5-130kw;
Shape of final products: round, cylinder, pillow shape, custom-made supplied;
Size of final products: 10-100mm custom-made supplied.
Pressure of machine: 100t-500t;
Complete production line supplied: crusher, mixer, binder mixer and briquetting machine.
Main Technical Parameters of coal briquette machine:
Model

HXXM-360

HXXM-400

HXXM-500

HXXM-650

HXXM-750

HXXM-850

HXXM-1250

Remark

Capacity

hour

4T/h

8T/h

11T/h

18T/h

25T/h

35T/h

70T/h

Annual

10000T

20000T

30000T

50000T

70000T

100000T

200000T

Roller width

250mm

280mm

300mm

336mm

400mm

500mm

650mm

(65Mn)

Roller diameter

360mm

400mm

500mm

650mm

750mm

850mm

1250mm

Motor Power

7.5kw

11-15kw

18.5-22kw

20-30kw

45kw

75kw

130kw

According to the material

Main shaft speed(rpm)

18

15

13

13

13

10

10

Reducer

ZQ350

ZQ400

ZQ500

ZQ650

ZQ750

ZQ850

ZQ1250

Standard type

ZQ400

ZQ500

ZQ650

ZQ750

strengthen type

Pressure form

Wedge constant pressure

Wedge constant pressure

Wedge constant pressure

Wedge constant pressure

Wedge constant pressure

Wedge constant pressure

Wedge constant pressure

select any type

Axle seat coupling bar

Axle seat coupling bar

Axle seat coupling bar

Axle seat coupling bar

Axle seat coupling bar

Axle seat coupling bar

Axle seat coupling bar

Hydraulic and constant pressure
interconvert

Hydraulic and constant pressure
interconvert

Hydraulic and constant pressure
interconvert

Hydraulic and constant pressure
interconvert

Hydraulic and constant pressure
interconvert

Roller Material

65Mn

65Mn

65Mn

65Mn

65Mn

65Mn

65Mn

casting

select
any type

Alloy steel

Alloy steel

9cr2Mn

9cr2Mn

9cr2Mn

9cr2Mn

9cr2Mn

forging,

Alloy steel

Alloy steel

Alloy steel

Alloy steel

Alloy steel

pressure casting

Structure form

double roller single pressure

double roller single pressure

double roller single pressure

double roller single pressure

double roller single pressure

double roller single pressure

double roller single pressure

select any type

four roll double pressure

four roll double pressure

four roll double pressure

four roll double pressure

four roll double pressure

four roll double pressure

four roll double pressure

Shape

custom

custom

custom

custom

custom

custom

custom

Usually

size

30-60mm
Charcoal briquette machine roller, mould, final product shape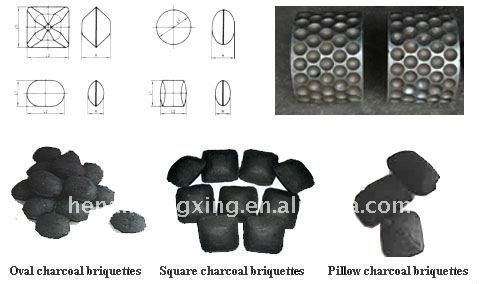 Certiificate of charcoal briquette machine: