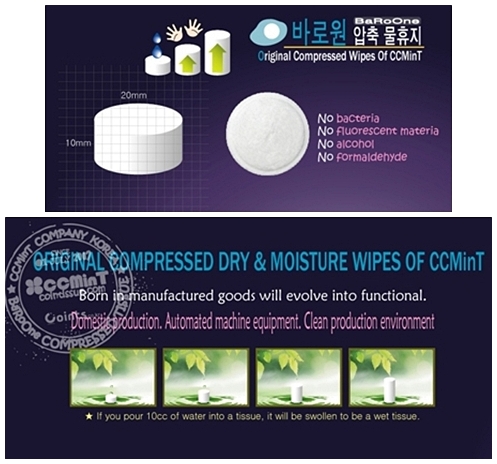 Coin Ziper 100

Coin Tissue is a water tissue prodcut made of the viscose rayon compressed without additives to it. Coin Tissue is a semi-finished product rather than a finished one. This product plays various roles of functionality depending on the needs of users. It becomes a water tissue if you use water, and a cosmetic tissue if you use cosmetics. Also it becomes a variety of functional tissues with some liquid such as green tea, herbs, and etc.

It is a manufactured goods and an unique product to be used with a variety of functionality.

Coin Tissue is of compressed state, and if you put any liquid on it, it can absorb the liquid quickly so that you may use it right away. It is possible to store the product for a long period of time because it is made in a dried state. And also because it is a compressed type of product, it needs little storage space when it is stored.

It is an eco-friendly product which is hygienic and can be decomposited naturally because it doesn't have any additives in it. The dimension of the finished product is diameter of 2cm x height of 1cm, and if you pour water of 10cc on it, it gets inflated by 23 times. The material of the fabrics is viscose rayon and its dimension is 23cm x 23cm. It is produced by automated machinery in a hygienic environment, and can be stored safely because of its vacuum packaging.