Reach-In Pass-thru Refrigerators

Digital Temperature Contoller
Digital temperature controller situated throughout the refrigerator and freezer continuously monitor temperature and humidity levels to sustain optimum food storage temperatures. And easy to read digital temperature display. It constantly conditions within the refrigerator, keep temperature at a level that's best to keep your food fresh.
High-efficiency LED lights
It provides exceptionally bright interior lighting and save energy over traditional fluorescents. It saves energy by producing less heat, while maximizing the visibility. EVERZEN is now twice as brighter than before, not only making items that are kept deep inside the fridge more easily visible and more convenient to reach but also giving a more modern, luxurious look.
High-density polyurethane technology
Polyurethanes play an important role in keeping our food cool and insulated while it flows through the supply chain. from shipment and processing to delivery and storage, polyurethanes help keep our food cool each step of the journey.
In fact, polyurethane foam is the primary insulation material in most modern day refrigerators. High density polyurethanes are to produce void free surfaces such as doors and panels. Polyurethanes are ideal for surface coating because just one application results in a near perfect finish. No further finishing is required.
Door gaskets
One piece of construction will provide maximum seal capability and removable without tools for easy cleaning and replacement.
High quality stainless steel cabinet
Stainless Steel Exterior (galvanized steel exterior back, bottom) and Interior construction gives free of rust, fewer dents and scratches and it guarantees the utmost in cleanliness and long product life.
Top mounted refrigeration system
It gives you easy access for maintenance and is designed to maximize the refrigeration efficiency and high performance.
Ergonomically designed doors
The EVERZEN is also equipped with several features that provide consumers with the utmost convenience, such as the new Easy Open Handle, which is ergonomically designed to bring more ease when opening the fridge door with much less force, the newly designed handle makes opening even the heaviest of jam-packed fridge doors effortless.
Protection glass door
Protection glass doors let users see in but keep the heat out for maximum efficiency. And the door are also economically design and self-closing helps to save energy in a bustling kitchen.

Easy to move
It comes with 4 inch swivel casters excellent for moving the unit when cleaning or serving is needed recessed hands on the doors make them more economic this is helpful. And plus, Additional leveling screws are applied to EVERZEN models to maintain balance on the ground.
Excellent cooling system
This built-in fridge has an indirect cooling system which maintains uniform temperature distribution and a frost-free environment. The no frost system with forced air circulation prevents ice forming on the sides and quickly restores the interior temperature after the door has been opened.
ECO-friendly
Self contained capillary tube system using environmentally friendly CFC free R134A refrigerant, which not harm the ozone layer.
Safety design
The sharp corners and edges have been rounded to reduce the risk of injury.
Condensor and evaporator
Oversized condenser and evaporator coils cools to set and maintain temperature in minimum time period.
Easy to repair
Removable side panel and slide-out condensing unit for convenient repair and maintenance.
More capacity in the same space
It's time to discover the convenience of having a refrigerator with the largest capacity available in its class. with the super capacity refrigerator, you have more usable space allowing you to store more food than ever before. EVERZEN features expansive store convenient and the latest advances in food freshness. Plus timeless styling that enhances every kitchen setting. The EVERZEN can store up to 1699 litters but it is slimmer than the company's previous models.
Door Opening Alarm
EVERZEN offers a door alarm that will beep if the refrigerator, or freezer, door is open for an extended period. The alarm will beep every few seconds until the door is properly closed. The alarm is helpful if you are unaware that you did not properly close the door. If you prefer to turn the alarm go off, you can do so at any time.
Fan motors
Larger fan motors and blades for more efficient air flow ensuring faster recovery time.
Inside compartment
Where to store big-size beverages, tall bottles and the foods you reach for again and again? EVERZEN solves this eternal dilemma with an array of spacious inside compartments of the refrigerator door. A place for everything keeps everyone happy.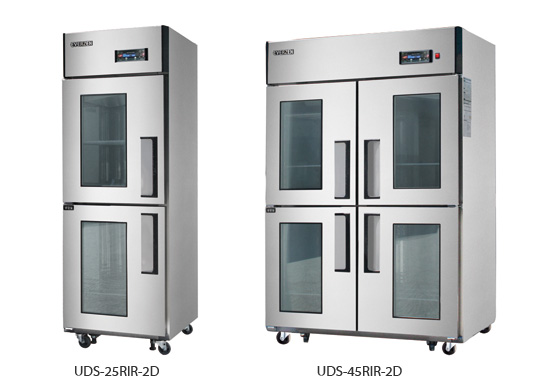 Description
Model

Option

Capacity
(L)

Dimension
(WxDxH)mm

Weight

Refrigerant

Compressor
(HP)

Control

Power

UDS-25RIR-2D

SUS Door

510

655x860x1900

108kg

R-134a

1/4HPX1

Digital

AC220V/50Hz

2 Door Glass

4 Door Glass

UDS-45RIR-2D

SUS Door

1065

1260x860x1900

181kg

R-134a

1/4HPX1

Digital

AC220V/50Hz

2 Door Glass

8 Door Glass
*Temperature control range: 0°C ~ +5°C (Refrigeration)
*Design, Features and specifications subject to change without notice. Some features in this information may not be available on all models
*Voltage, frequency and plug can be customized according to your request.