This ring die pellet machine capacity ranges are from 500 kg to 1500 kg per hour. According to the characteristics of biomass fuel pelletizing, it is mainly designed for pressing combustible materials such as saw dust and grass into pellets. This pellet machine is usually equipped with 8 mm and 10 mm ring dies, because the 8 mm and 10 mm particle diameters are more favorable for combustion. Ring dies with other bore diameters can also be equipped according to different demands of users. Nearly all forestry and agro-waste material can be made into wood pellets by our ring die wood pellet machine, such as: wood chips, sawdust, sugarcane bio-gases, caster shells/stalk, sunflower stalk, cotton stalks, rice husk, etc. The final pellets can be used for industrial boilers and large power plants as well as home heating.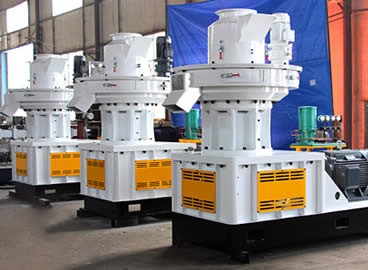 1. 98% energy transfers - meaning less energy wasted.
2. Stainless steel ring die resists corrosion and lasts longer.
3. The body is more durable because of the ductile iron material.
4. Timing feeder can control the feeding speed so as to lower the block ratio.
5. High efficiency, lower power consumption, stable operation and production
6. Multi-positioning feeder enables easier installation and alignment to bins.
7. Using imported bearings (NSK) & seals to get better transmission performance, stable operating, and less noise.
8. Capacity increased after adding another force feeder made from stainless steel to increase the feeding spread area.
9. The key working part of Vertical Ring Die Pellet Machine/Complete Ring Die Pellet Machine For Wood become stronger after modifying the material, and improving heating processing technology, etc.
10. Stand-alone oil lubrication system is more effective in maintaining lubrication and keeping the bearings from premature wear.
11. These main parts are forging pieces. Now, the processing of our ring die can reach to 800-1000MT. Ring die is assembled by quick-discharge clip.
12. Adopting aerodynamics technology & the current round principle reduces the temperature in pelletizing chamber to around90°C. As a result the machine can work well continuously.
Henan Fote Heavy Machinery Co., Ltd. has been delicately engaged in manufacturing pellet making machinery for decades including auxiliary equipment (wood chipper, screener, sifter, hammer mill, cooler, barking machine, packing machine...). Besides stand-alone equipment, our company also markedly stands out as manufacturer complete pellet plant. With rich experience in pellet plant designing, manufacturing, establishing and commissioning, we already have plenty of successful projects of large biomass pellet line. Our machinery and services have won a worldwide reputation.
Website: http://www.woodpelletmillchina.com/pro/ring_die_pellet_mill.html
Address: High and New Industrial Zone, Kexue Revenue, High and New Technology Industrial Development Zone, Zhengzhou, China