Non-heating Type Dryer
The SCD(System for Concentrate Drying by non-heating process)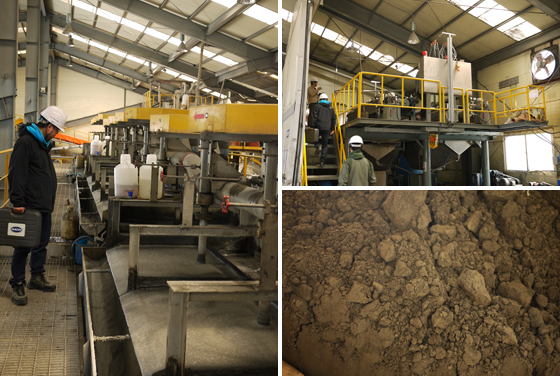 The Pore Direct Blowing Technology
Pore Direct Blowing Technology(PDBT) is the technology to produce dry concentrate containing less than 10% of water by blowing high pressure & dry air directly into the concentrate particles to remove the residual water on the surface and between the particles after pressured de-watering process.
In order to realize PDBT without the loss of fine concentrate particles, it is composed of specifically designed Filter Plate, Filter Cloth and Control System enabling high pressure air uniformly dispersed instantly.

Easy Install System
SCD is a complex facility consisting supply equipment, pneumatic equipment, dewatering / dryer unit, control equipment. We have research to improve the completeness of the Drying Plant and the ease of installation.
We are made in the form close to the finished product at the plant through the modular design of each device, is delivered by 3-5 container. So, It can be easily installed in the field. Exaggerated to say '
You just need plug-in
'.
Production in the form of finished products at Factory
Minimize wiring / piping work site at Field
Modular type equipment configuration
Product Specification
Model
Reference
Capacity
(D.S)
Size of
Filter Plate
(mm)
Applications
SCD750
20ton/day
750 x 750 x 76
Mining Concentrate
Hazardous Inorganic sludge
SCD1200
50ton/day
1200 x 1200 x 80
Mining Concentrate
Inorganic Sludge
SCD1500
100ton/day
1500 x 1500 x 95
Mining Concentrate
Inorganic Sludge

Applications
Mineral Process

Gold concentrate*
Molybdenum concentrate
Copper concentrate
Tin concentrate
Mineral Sand
Industry Sectors

Inorganic industrial sludge
The smelting of iron ore - Carbon concentrate
Hazardous organic sludge to Reduction
Fine aggregate
R&D Sectors

Required Non-heating Drying process

Some Reference
- DSME(Daewoo Shipbuilding & Marine Engineering) SMC, Sunsin Gold Mine, Rep. of Korea, SCD10 x 2SET (The biggest gold mine in the Republic of Korea)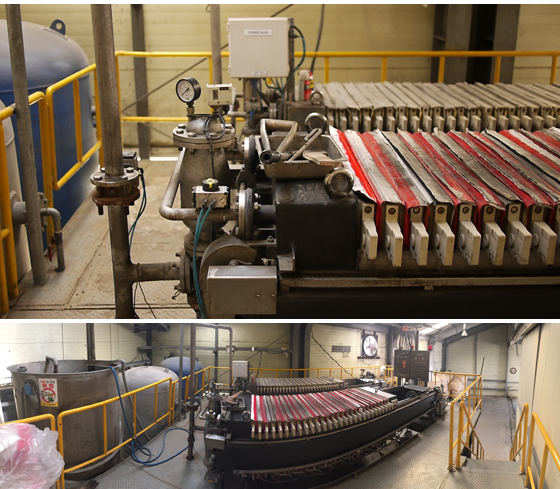 Problem we solved
developed by Wooyoung Engineering can effectively dry the concentrate of mineral mines and inorganic sludge. The non-heating type drying device can remove the surface and interstitial water and finally produce dried concentrate(water content: less than 10%) without the loss of concentrate.

What improved
In case of many mines producing valuable metals, such as gold, copper, molybdenum, etc., they produce the concentrate of increased purity through fine grinding by ball mill and remove impurities via the Froth Flotation. The concentrate in this stage contain water over 95%, and need to remove water to produce the final gold etc. through the refining process.
The conventional method using filter press type or rotary kiln type dryer has the shortcoming of low de-watering performance or threaten the safety of workers due to the loss of concentrate and generation of hazardous gases. Thus the new type of drying device has been developed by the request of DMSE SMC to solve those problems.


How do you need?
All sites are different conditions. We believe that we need to produce the products required field. Therefore, we conducted a Lab-test target samples, and it proceeds on to a field research and provides a suitable design.

Send Sample(1~2 Liter)

Recipient can bear, if you using DHL
Lab-scale test is conducted free of charge

Do not worry.

All the information is kept confidential.
Samples can be returned.

You can Receive below

Applicability and performance
Suitable processes and equipment capacity
Rough estimate
Address

Wooyoung

Engineering

R&D Center, 3F, 4-1, Beolmal-ro 40beon-gil, Bundang-gu, Seongnam-si, Gyeonggi-do

Recipient

Mr. Seungil Pak, Head Manager of R&D Center

Tel : +82-10-2703-1730