What is LZZG Filter Press?
LZZG filter press is a piece of sludge dewatering equipment that separates liquids and solids using pressure filtration in the sludge management. When working, slurry will be pumped into press chambers and dewatered with pressure. Each unit need to be designed based on the types of slurry as well as the volumes.
Our filter presses are supplied for a wide application in municipal & industrial wastewater treatment. Feed mud concentration always be 30%-40%, then mud will become mud cake and the humidity is around 20% after processed. LZZG filter press is a kind of Plate and Frame Filter Press, some now call it as "Chamber Filter Press". Typically, no flocculant are needed to help dewatering on a plate filter press.
Filter Press Structure:
The 8 main components of LZZG filter press:
Hydraulic Station (Hydraulic Systems),
Cylinder, Pressing Plate, Beam,
Filter Plates, Push Plate,
Filter Cloths, Feed Pump.
The terms used to describe the components may vary slightly from different manufacturers, but the main function still remain the same.
LZZG is professional manufacturer of filter presses: Automatic Filter Press, Recessed Plate Filter Press and Membrane Filters are all on sale, inquiry us for filter press price now.
Working Process: slurry is pumped into the filter press by high-pressure slurry pumps, the mixture flows through the filter medium (filter cloth), the solids stay on the filter cloths, forming filter cake; the filtrate exits the filter plates through the corner ports into the manifold, If it is not wanted the filtrate can be drained away for safe disposal.
Filter press is a pressure filtration method, which has the characteristics of fixed volume and batch operation, when the feed pumps generate pressure, solids build up in chambers until they are completely chock-full of. Once the chambers are full of solids, a fill cycle is over and the de-watered filter cakes will release, repeat the cycle, filter press will work cyclically.
Dewatering Effects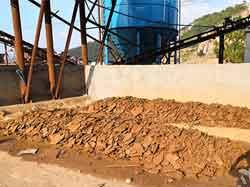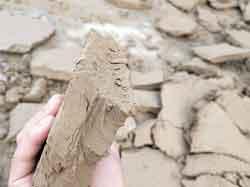 Specification:
| | | | | |
| --- | --- | --- | --- | --- |
| Model | YL50 | YL100 | YL200 | YL250 |
| Filter area(mm) | 50 | 100 | 200 | 250 |
| Plates No. | 51 | 61 | 76 | 97 |
| Pressure(MPa) | ≤0.8 | ≤0.8 | ≤0.8 | ≤0.8 |
| Power(kw) | 3 | 3 | 4 | 4 |
| Theoretical fiflter chamber volume(L) | 800 | 1500 | 3000 | 3750 |
| Filter cake thickness(mm) | 30 | 30 | 30 | 30 |
| Weight(t) | 3.45 | 6.02 | 10.5 | 11.5 |
| Dimension(mm) | 4555*1210*1270 | 5470*1380*1450 | 7360*1750*1600 | 8500*1750*1600 |
website: https://www.lzzgchina.com/