Corn Color Sorter Maize Optical Sorting Machine for Grain Processing Machinery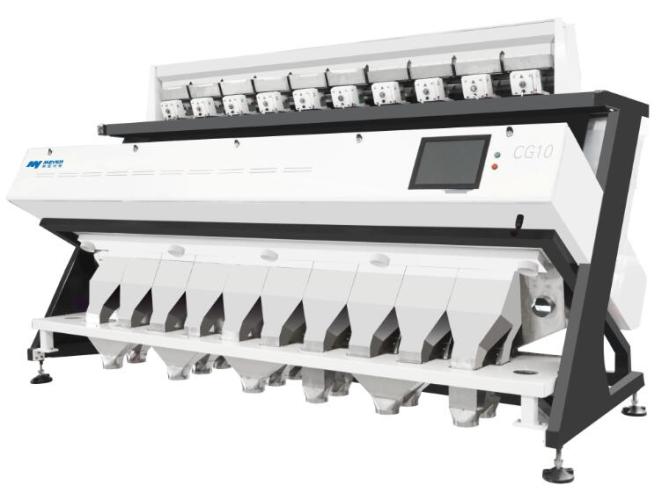 1. Multi-type chutes with anodizing treatment to ensure smooth material flow,improve machine sorting performance,meet different requirement from customers.
2. High efficient and durable LED lamps ensures long life span of the sorter.
3. True RGB controllable background assembly applied for cleaning and grading of mu ltiple materials.
4. Compound image algorithm realizes intelligent and accurate identification from color ,texture,shape,size and material.
5. High definition low distortion lens "copy" the real information into machine visual system.
6. 5400 px RGB chromatic CCD sensor & Infrared CCD sensor analyze full spectrum from the material.
7. High-end imported ALTERA "Cyclone" IV generation FGPA chips brings huge speed capacity of data processing and exchange max as100 mega byte per second.
8. 15"LCD touch screen and Linux based system equipped with simplified interface and remote control and mobile devices control Only for easy operation.
9. Magnev high frequency ejectors ensures the quality of accepted products after sorting,reduce the rate of good kernel inside of rejected products and consumption of compressor.
10. Excellent dust collecting design,reduces machine failure rate and maintenance cost,ensures stability of persistent operation during sorting.
11. Food grade water proof vacuum inner package and seaworthy wooden box ensure safety of the ca rgo delivery from whatever tremendous change of sea shipping conditions meet.
| | | | | | | | |
| --- | --- | --- | --- | --- | --- | --- | --- |
| Modelos | Canales | Boder(kw) | Voltaje | Presion de aire(Mpa) | Consumo de aire(m3/min) | Dimension(mm) | Peso(kg) |
| CG4 | 240 | 2.6 | 180-240V/50-60Hz | 0.6-0.8 | 4.0 | 1765*1570*2142 | 1050 |
| CG6 | 360 | 3.2 | 180-240V/50-60Hz | 0.6-0.8 | 5.5 | 2400*1570*2142 | 1450 |
| CG8 | 480 | 3.6 | 180-240V/50-60Hz | 0.6-0.8 | 6.5 | 2950*1570*2142 | 1800 |
| CG10 | 600 | 4.2 | 180-240V/50-60Hz | 0.6-0.8 | 8.0 | 3700*1570*2142 | 2200 |
| CF1+ | 60 | 1.0 | 180-240V/50-60Hz | 0.6-0.8 | 1.0 | 890*1570*2142 | 550 |
| CF3+ | 180 | 1.8 | 180-240V/50-60Hz | 0.6-0.8 | 3.0 | 1455*1570*2142 | 940 |
| CF5+ | 300 | 2.4 | 180-240V/50-60Hz | 0.6-0.8 | 4.5 | 2075*1570*2142 | 1330 |
| CF7+ | 420 | 3.5 | 180-240V/50-60Hz | 0.6-0.8 | 6.0 | 2625*1570*2142 | 1650 |
| M1 | 60 | 1.0 | 180-240V/50-60Hz | 0.6-0.8 | 1.0 | 767*1614*1471 | 340 |