► Application
: grinding crankshaft
► Model
: 1A1 CBN wheel
►
Wheel speed
is generally 80m/s-120m/s
► Solutions for Auto Parts Machining, Please click the below to view
Crankshaft Grinding - Vitrified bonded CBN Wheel
A type of innovation with the grinding wheels, the crankshaft grinding wheels finds its usage in the different automotive, truck, diesel, aircraft, and small engine manufacturing industry and also in the various engine rebuilding firms that are used to regrind the pins and the bearings.
The main parts of the crankshaft to grind and regrind, include
► Main Bearing
► Rod Journals / Crankpin Journals
► Flywheel Flange End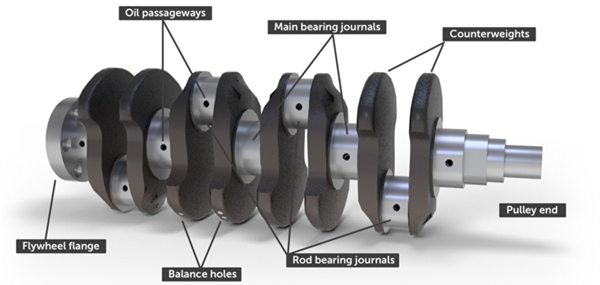 Vitrified CBN grinding wheel are remarkable for preventing grinding burns to the shoulder of the Crankshaft. CBN Grinding Wheel For Crankshaft can equip with various high precision CNC Crankshaft Grinding Machines, Suitable for high efficient,heavy grinding of Crankshaft pin grinding,Journal grinding.The wheel speed is generally 80m/s-120m/s.

The specification of crankshaft grinding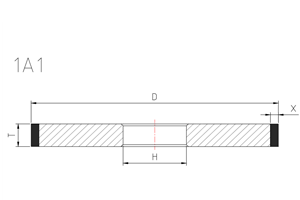 Model
D (mm)
T (mm)
H (mm)
X (mm)
1A1
500
20
203
5 8 10
1A1
22
203
5 8 10
1A1
19.5
203
5 8 10
1A1
600
35
132
5 8 10
1A1
19.8
132
5 8 10
1A1
20.5
132
5 8 10
1A1
650
40.5
132
5 8 10
1A1
43.5
132
5 8 10
1A1
44.5
132
5 8 10
1A1
50.5
132
5 8 10
Comparison of parameters between CBN wheel and corundum grinding wheel

| | | |
| --- | --- | --- |
| | Corundum Grinding Wheel | CBN Grinding Wheel |
| Workpiece life | 20000 pieces | 100000 pieces |
| Dressing | 10 pieces | 300 pieces |
| dressing time | 1 min | 4 min |
| Linear speed | 45m / s | 90m / s |
| RPM | 1200 rpm | 2500 rpm |
The case of Vitrified CBN Grinding Wheel for Journal (Diesel engine)
Application parameters
Work piece
Truck crankshaft:
End face ø90.4mm/Journal outer circle ø74mm
Material
42CrMoA, HRC 52-58
Machine
NAXOS UNION
Grinding parts
Journal end face, rounded corners and outer circles
Cooling fluid
Oil
Grinding way
Cut into the mill
Grinding wheel
1VG1L1 650- -39.6- -6- -3.5 NB151
Dressing wheel
CNC electroplating dresser roller SG 71P-150-1.2
Grinding parameters
Linear speed Vc=95m/s
Grinding allowance:
outer circle ae = ø1.2mm, end face ae = ø0.5mm
Maximum feed speed Vfa = 20 mm/min
Dressing parameters
Linear speed VR=85m/s
Dressing quantity aed=15*2+ 1 * 2 um
Dressing speed ratio qd= + 0.89
Grinding performance
Maximum material removal rate Q'wmax = 94.7mm³/mms
Grinding time TG = 10 min (40% efficiency improvement)
Dressing frequency
mT=210 journal/Dressing(50%life improvement)
Roughness Rz<4.5um