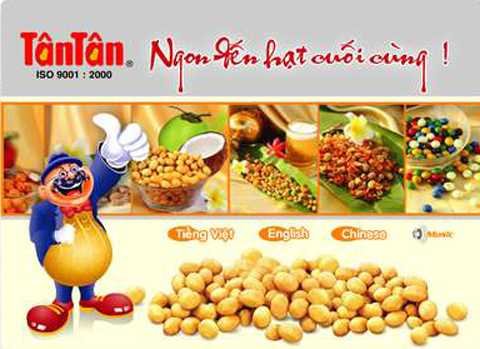 Tan Tan Cultivation - Trading - Manufacturing Co., Ltd. was founded in 1984 and growing steadily since then. Our factory has an area of 45.000m2 with over 800 employees. We have more than 140 distributors, 40000 retail outlets and achieved 80% of market share in Vietnam.
The factory manufactures under a closed synchronization process, applying management system according to international standard ISO 22000: 2005.
Thanks to improve the manufacturing processes using advanced technology from US, Japan, Spain, Italy, Malaysia, Thailand, China, Taiwan, Tan Tan has successfully exported over the world: the USA, Korea, China, Nigeria, Cuba, Cambodia, etc.
To ensure the quality and supply of peanuts, the main raw ingredient in our production, Tan Tan has been supporting farmers in provinces of Binh Duong, Tra Vinh, Nghe An, and Cu Chi district by providing new and high quality seeds. This in turn help local farmers feel more secure about the crop production yields after each harvest, before they are delivered to the factory for production.