Crown Forklift PU Wheels RA632-078 204x101-3 Holes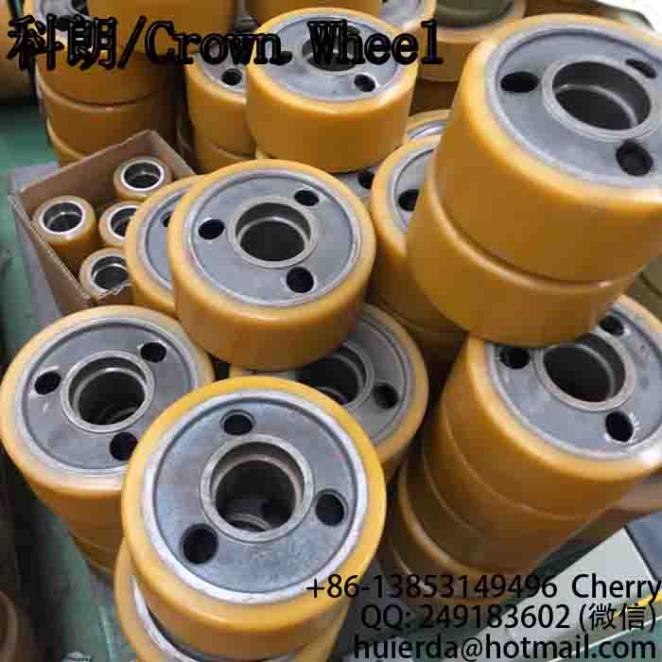 >>>Jinan Huierda Hi-Tech. Co.,Ltd<<<

Professional factory of Polyurethane Tire/ Wheel;
Focus on Polyurethane Field for 10 years;
Have been exported PU products to 20 countries and regions;
Rigid Quality Control, Competitive Price, Best Service;

Contact with :
Sales manager: Cherry Kong
Mob/ Wechat/ What's APP: +86-13853149496
Skype: cherry916310
QQ:249183602


Material:Outstanding raw materials from Bayer, BASF, and etc. advanced fabrication facilities and laboratory.
Application field: warehouse, Hypermarket loading at distribution, pipelinings of factory , port, mine, nonferrous metal mine.
Application vehicle: forklift truck, reach truck ,VNA Turret Truck ,Lateral/Multiway Truck, Electric Stacker(stacking machine ), Pallet Truck,Pallet Stacker and Port Tractor, and etc.
Advantages: high strength , high loading, high loading, high abrasion resistance and high tear resistance which were possessed by PU solid tires could not be compared by rubber solid tires.& Oil and grease resistant; & Extreme resistance to chipping and chucking whilst maintaining high stability for safety and performance.

Popular Model:
TOYOTA: 5 6 7BBR 1.0-2.5 tons….
NICHIYU: 50"S, 60"S….
NISSAN: HCO1,UO1,UO2….
BT: RRM14, RRB 6,RRE….
JUNGHEINRICH: ETV 116,ETV320, FJR12….
Linde: R10 S-R14CS,R14 SP-R18 SP,R14-R20N R16, R20….
CROWN: WAV 60, SP 3500/4000, SP 3570F/SP 3580F, TSP 6000/6500/7000, RR/RD 5700,RM/RMD6000, ESR 5200….
Other: TCM, KOMASU, HYUNDAI,HC,HELI,HYSTER,YALE, PIMESPO,STILL-WAGNER,MIC,ORMIC, GENKINGER, STOCKIN, MANUSUR, CLARK,…………
Welcome your inquiry.