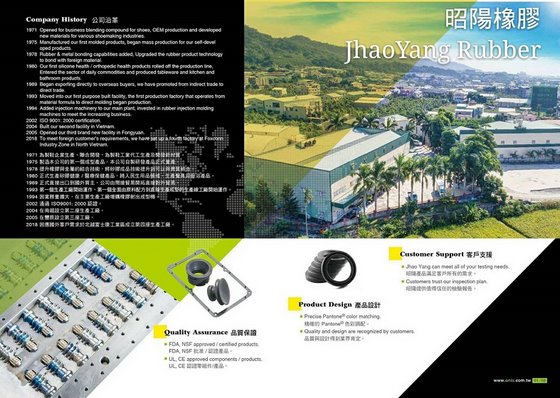 our company locate in Taiwan, also have factory in Vietnam. We manufacture custom molded rubber products in any shape, any size, and any material, such as rubber auto spare parts, Rubber gasket/seals, Liquid silicone part (LSR) and various of silicone products.
Jhao Yang offers injection molding, liquid silicone injection molding, transfer molding, and compression molding rubber products for various markets, including the automotive motorcycle, electronic, machinery, medical, appliance, construction, military, sport gears ,food grade ,toys and consumer products.
We assist our customers through the whole manufacturing process from material selection, designing suggestion, tooling development, and production. we continuously improve our equipments and technique in order to provide the best quality and competitive prices to satisfy our customers' needs.
Our highly experienced teams are appreciated to assist you. Quality service and reliable
Your products deserve best!
Selling Categories
- Manufacturing & Processing Machinery >> Other Manufacturing & Processing Machinery
- Rubber & Plastics >> Rubber Processing Machinery Parts
- Rubber & Plastics >> Rubber Products
- Rubber & Plastics >> Rubber Rollers