QUALITY IS OUR CULTURE.
AnpingYILIDA Metal wire Mesh Co.,Ltd. (one of the gray hair for wire mesh more than 30 years). Our core competencies is wire mesh ,especially Expanded Metal Mesh ,Perforated metals sheet,Anti-skid plate,Steel grating,Stainless Steel wire mesh,Fence mesh,Hexagonal wire mesh,Chain link fence,Crimped wire mesh,welded wire mesh,etc.
Our sales pitch isWITH US YOUR MONEY IN SAFE YOUR BUSINESS IN SAFE.
All our items are coming with certification and we have special team work for after-sales service. TIME IS GOLD for you and for us. So we have professional production line and stuff ,making nice quality in a short time.Welcome to our ownfactory for a visit in your right time.
Hope to be your honest dealer and trustworthy supplier in China.
------------------------------------------------------------------------------------------------------------------------------------------------------------------------------------------
Perforated Sheet Product Description
Product name

Perforated metal(also known as perforated sheet, stamping plates, or perforated screen)

Material

Steel, Aluminium,Stainless steel, Bronze, Brass, Titanium, and so on.

Thickness

0.3-12.0mm

Hole shape

round, square, diamond,rectangular perforations,octagonal cane,grecian,

plum blossom etc,can be made as your design.

Mesh size

1220*2440mm,1200*2400mm,1000*2000mm or customized

Surface treatment

1.PVC coated

2.Powder coated

3.Anodized

4.Galvanized

5.Fluorocarbon spraying

6.Polishing

7. Painting

Application

1.Aerospace: nacelles, fuel filters, air filters

2.Appliances: dish washer strainers, microwave screens, dryer and washer drums, cylinders for gas burners, water heaters and heat pumps, flame arrestors

3.Architectural: stairs, ceilings, walls, floors, shades, decorative, sound absorption

4.Audio Equipment: speaker grills

5.Automotive: fuel filters, speakers, diffusers, muffler guards, protective radiator grills

6.Food Processing: trays, pans, strainers, extruders

7.Furniture: benches, chairs, shelves

8.Filtration: filter screens, filter tubes, strainers for air gas and fluids, dewatering filters

9.Hammer mill: screens for sizing and separating

10.HVAC: enclosures, noise reduction, grilles, diffusers, ventilation

11.Industrial equipment: conveyors, dryers, heat dispersion, guards, diffusers, EMI/RFI protection

12.Lighting: fixtures

13.Medical: trays, pans, cabinets, racks

14.Pollution control: filters, separators

15.Power generation: intake and exhaust manifold silencers

16.Mining: screens

17.Retail: displays, shelving

18.Security: screens, walls, doors, ceilings, guards

19.Ships: filters, guards

20.Sugar processing: centrifuge screens, mud filter screens, backing screens, filter leaves, screens for dewatering and desanding, diffuser drainage plates

21.Textile: heat setting

Features

1.can be formed easily

2.can be paint or polished

3.easy installation

4.attractive appearance

5.wide range of thicknesses available

6.largest selection of hole size patterns and configurations

7.uniform sound abatement

8.light weight

9.durable

10.superior abrasion resistance

11.accuracy of size

Package

1.On pallet with waterproof cloth

2.In wooden case with waterproof paper

3.In carton box

4.In roll with woven bag

5.In bulk or In bundle

Certification

ISO9001,ISO14001,BV,SGS Certificate
Perforated Sheet Product Show

This color chip apply to PVC,Epoxy,PVDF Coating
Let us begin to communicate immediately contact us!!!
Perforated Sheet Process Flow
Perforated Sheet Product Application
Factory Equipment
ISO 9001 Certificate.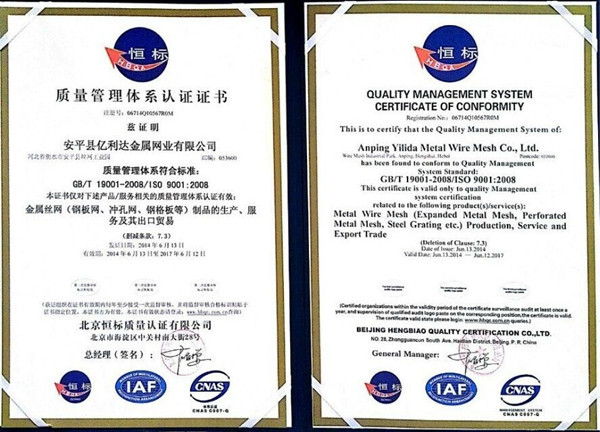 ISO 14001 Certificate.
SGS APSW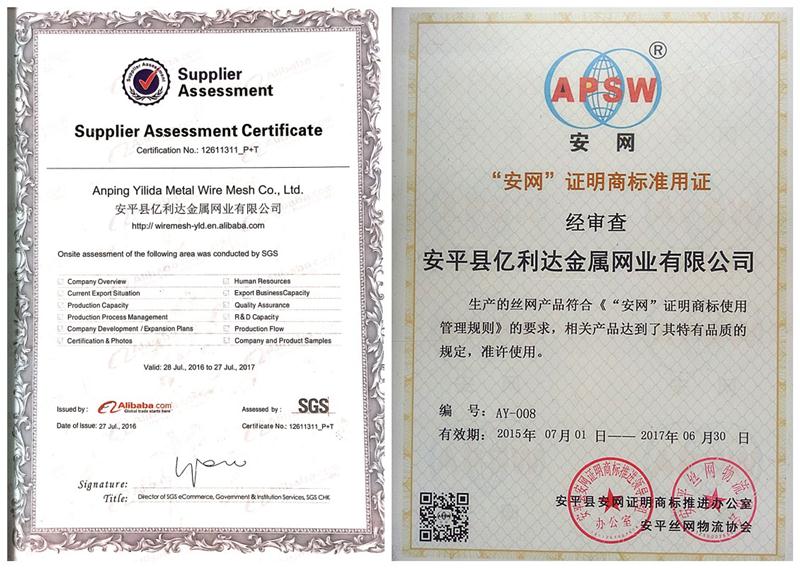 Groups Introduction
Why Choose YILIDA?
There are many wire mesh factories in Anping,China even all over the worlds.
There are the following reasons for you to make the correct choice—choose Yilida
1.The Most Professional Factory
a.The factory since 1984
b.The most highly skilled workers
c.The sophisticated equipment for the product manufacture
2.The Most Professional Sales Team
a.More than 10 years experience for exporting to the world markets
b.Proficient at product and international work
c.The best team work
3.The Best Quality Control
a.Certificate ISO9001:2008, ISO14001:2004, SGS
b.The most strict inspection standard in the factory
c.Purchase the best quality raw material in the markets
4.Payment Options Available
a.T/T
b.L/C
c.D/P
d.OA
5.The Quick Delivery Time
a.First time puchase the material after the order
b.Scientific process control in the factory
c.The first time container loading aftert the order finished
d.The first voyages choose
6.The Best Service
a.Payment reach inform
b.Update how the order going
c.Take pics when facbricating
d.Take pics when containers loading
e.After-sale follow up.
Quality Control
FAQ
1.How much about your annual production capacity?
More than 2000tons
2.What makes your products different from other company's?
YILIDA provide free design service, warranty service, with strictly quality control and very competitive price.
3.Can you make custom panels if I have a design in mind?
Yes, most of our products for exporting were manufacture to specs.
4.Can I get a pcs of your products sample?
Yes, free samples will be provided anytime.
5.Do you offer a warranty on your products?
Yes, for PVDF coating product we can provide more than 10years warranty time
6.What type of materials do you use for your products?
Carbon steel plate,Stainless steel plate,Aluminum and Aluminum Alloy plate,Cooper plate,Galvanized plate etc.
Special material also available
7.Do you have any certificate?
Yes,we have ISO9001,ISO14001,BV certificate,SGS certificate.
8.Do you have a separate quality departments?
Yes,we have QC department.Will make sure you receive the perfect product.
9.Is there quality control on all production lines?
Yes,all production line have adequate quality control
10.Do you have mutually agreed upon specifications with your suppliers?
Yes,we will make contract specify the specifications with the material suppliers.
Our Service
YILIDA
High quality of our service
Payment
| | | | | | |
| --- | --- | --- | --- | --- | --- |
| T/T | L/C | D/P | O/A | PAYPAL | WESTERN UNION |
Welcome to ourownfactory for a visit in yourrighttime.
Wire Mesh Development Zone, Anping, Hebei,China 053600
Grace Lee,
Anping Yilida Metal Wire Mesh Co.,Ltd
Wire Mesh Development Zone, Anping, Hebei,China 053600
Tel: +86-0318-7800306 Fax:+86-0318-7022622
Mobile: +86-188-3188-3538
WhatsApp/Skype:+86-188-3188-3538
Website:www.wiremesh-yld.com