Diamond Grinding Wheel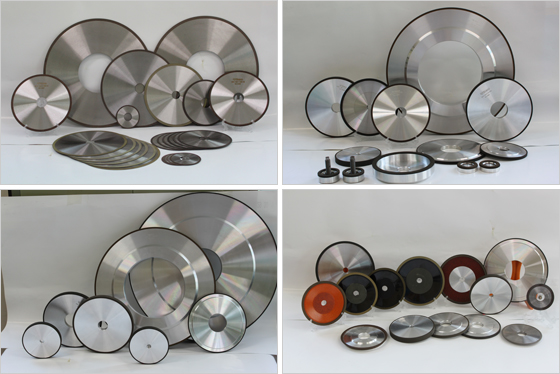 Grit size (mesh)
US(JIS) MESH

FEPA (μm)

Application

30/40#

D602

GRINDING

40/50#

D427

50/60#

D301

60/80#

D252

80/100#

D181

100/120#

D151

120/140#

D126

140/170#

D107

170/200#

D91

200/230#

D76

230/270#

D64

270/325#

D54

325/400#

D46

400/500#

40~60
US(JIS) MESH

MICRON (μm)

Application

500#

30~40

LAPPING

600#

22~36

800#

20~30

1000#

15~25

1200#

10~20

1500#

8~16

1800#

6~12

POLISHING

2000#

5~15

3000#

4~8

5000#

3~6

8000#

2~4

12000#

1~3

14000#

0~2

28000#

0~1
ABOUT THE DIAMOND & CBN
As synthetic diamond powder is the most strong material which is consist of single element, carbon(C), it is possible to grind a huge volume within short time and not much change in specification.
Under these characteristic, there were a number of demand of diamond tools in market and so developed synthetic diamond powder. Diamond is returned to the element, Carbon(C) over 600°C due to the oxidization.
So it can't use grinding Fe Series; Alloy-steel, Bearing-steel, all kinds of tool steel, SUS HSS and etc. But through the developing of New Material, CBN(Cubic Boron Nitride), We can do that. So, CBN (Cubic Boron Nitride) which is not oxidized below 1200°C use grinding above Fe series.
Application of Diamond Grinding Wheels
Workpiece Material

Grinding Method or Shape of Abrasives

Straight
type

Cup
type

Cutting
type

Flunge
type

Tungsten
Carbid
and Others

T.C. Alloys

O

O

O

Sinterde T.C. Alloys

O

Cermet

O

O

O

Ceramic

Graphite

O

Al2O3, ZrO2, Etc.

O

O

O

O

LiNbO, Etc.

O

O

O

O

SiC, SiN, Etc.

O

O

O

Automobile
Glass

Optical Glass

O

Flat Glass

O

O

Tube Glass

O

O

Quarts Glass

O

O

Jewelry
and
Semi-
Jewelry

Diamond

O

O

Ruby

O

O

Crystal

O

O

Semi-Jewelry

O

Ferrite

Audio-Frequency

O

O

O

O

High-Frequency

O

O

O

O

Semi-
Conducter

Si, Ge

O

O

Ga, As, Others

O

O
Application of CBN Grinding Wheels
Workpiece Material

Application

Internal
Combustion
Engine

Normal
Machinery
Parts

Tools

Electronic
Parts

HARDENED
TOOL

H.S.S(SKH)

VANE-PUMP
PARTS

ROLL,
SPNDLE AND
ANVIL OF
MICROMETER

END MILL,
TAP DRILL
HOB, BITE

HARDEND
TOOL
ALLOY

SKS

SKD

ROLL,
GAUGE

MOLD & DIES

CARBON STEEL

KNIFE,
RAZOR BLADE

MOLD

STRUCTURAL
ALLOY

S.C

CAM

MISSION
PARTS

SCM
SNC

FUEL GEAR
INJECTION

PRESSURE
CYLINDER
MISSION PART

SNCM
SACM

CRANK GEAR
PARTS FOR
PUMP

MOLD

BEARING
STEEL

SUJ

BEARING

CAM IRON

OIL SEAL
CAM

COMPRESSOR
PARTS

SINTERED METAL
(WITH Fe)

POWER
STEERING
PARTS

COMPRESSOR
PARTS

MAGNETIC
ALLOY

Sn-Co

VIDEO
DRUM HEAD
MAGNET

SUPER ALLOY

JET ENGINE