Quick Details
Place of Origin:Zhejiang, China
Brand Name:Zhejiang yongtailong Electronic Co.,Ltd.
Product name:SINGLE PHASE DIN-RAIL ENERGY METER WITH ACTIVE MEASUREMENT
Color:Customized
Function:Customized
HS code: 9028301300
MOQ:500pcs
Delivery Time:20-45 days
Product Feature
● It has active measurement.
● Easy installation Split CT.
● Degree of Protection: IP51 (indoor meter).
● Standard one modular Din rail meter with 18MM width.
Technical Parameters
Voltage: 230V
Current: 5(100) A 5(200)A
Accuracy class: 1.0
Standard: IEC62052-11, IEC62053-21
Frequency: 50-60Hz
Impulse constant: 10 00imp/kWh
Display: LCD 5+ 2 = 99999.9 9kW
Power consumption: ≤8VA ≤0.4Wh
Starting current: 0.004Ib
Temperature range: -20 ~ 65℃
Average humidity value of year: 75%
Maximal value: 95%
Material
Bottom PC+ ABS
Meter cover PC+ ABS
Terminal cover PC+ ABS
Nameplate PC
Hook ABS
Display

Meter Dimensions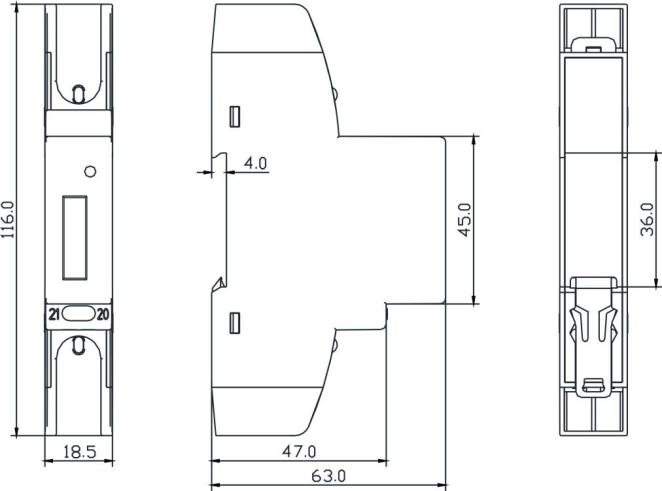 Height 116 mm
Width . 18.5 mm
Depth 63 mm
Impulse connection:
Voltage 12~27V, current≤27mA, max length of lead:20m
Impulse width=90ms, connect to terminal 20&21
Limits of values: max 60VDC, max 50mA