Description:
3 layers face mask disposable is made by soft nonwoven fabrics, breathable and comfortable, It takes into consideration both the comfort of human body and the basic requirements of efficient breath. A flexible nose bar is adopted at the bridge of nose; The four sides of the mask join flatly and tightly to the face; Hence, it avoids unfiltered air directly entering into the mask and thus make breathe safely.
3 layers face mask disposable has 3 layers of folding in vertical direction to cover the mouth, nose and chin. It creates a dome shape when worn. Both inner and outer layer of the masks is made with non-woven fabric. Between these, there is a layer of high efficiency filter which can effectively filter bacteria and particles.
All face mask are hypoallergenic, which prevents irritation and allergy problems to sensitive skins.
Features:
3-ply nonwoven face mask has high filtration efficiency 95% and is ideal for hospital, dental, clean room,food preparation and industrial environments. They come in two primary styles, ear loops using a soft bandelastic or with ties made from spunbond. Standard are white, green, blue, yellow, or pink.
* Soft, lightweight,
* Comfortable, odorless,
* Form fitting design,
* Fiberglass free,
* Latex free earloops (option),
* Non-irritating to skin,
* Permits air passage
1) MATERIALS:
Outer Coverstock White --25g/35g/40g Polypropylene
Spunbonded
Inner Coverstock Light Green/Pink/Blue --16g Polypropylene Spunbonded
Middle Filter Medium White --20g/25g Meltblown Filter
2) DIMENSION:
Width across face 175mm+/-5mm
Depth pleated 90mm+/-5mm
Metal strip, inside stitch total width(c.a.100mm)
4xTie length 380mm+/-5mm
2xloop size exposed 185mm+/-5mm
3) PACKING
20pcs/polybag,
500pcs/ctn
50pcs/inner box,
1,000pcs/ctn 50pcs/inner box,
2,000pcs/ctn
Why you choose our face mask disposable?
1. Samples, OEM service and customization available.
2. Good service, fast delivery, and worth being trusted.
3. Have enough experience and gained a high reputation from our customers all over the world.
4. We have top quality raw materials, and advance technology which can ensure our products is in good quality.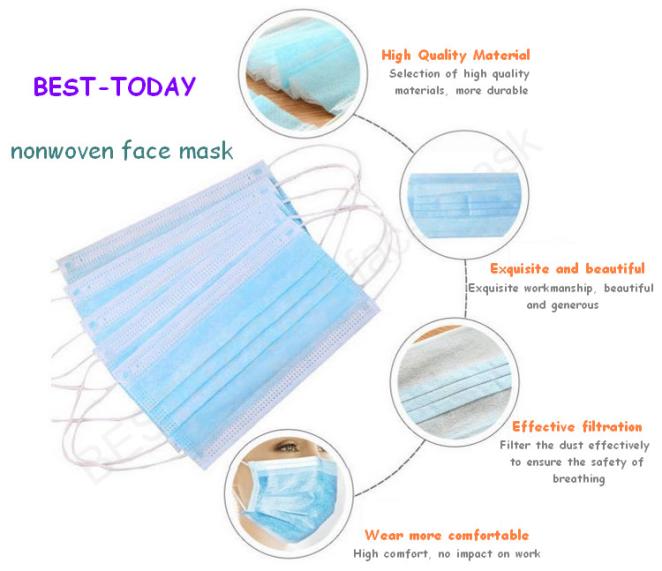 Application:
Widely used for medical, hospital, pharmaceutical, laboratorial, clean room, food/electronic/chemical workshop and industrial sectors.
Please visit below sites to view more detailed product information: https://www.alibaba.com/product-detail/Disposable-pp-non-woven-face-mask_60654405503.html https://btnonwoven.en.alibaba.com/custom_page/Page2.html
Contact information: Mobile: 0086 18552290379 Cherry / Sales