Teflon FEP

Teflon FEP 100 is a general-purpose grade and is used in many different applications. It can be melt-extruded, and is used for wire coating as primary insulation and, in certain cases, for cable jacketing. Cables insulated with Teflon FEP 100 have met the requirements of Underwriters Laboratory UL910 Steiner Tunnel tests for installation in plenums without metal conduits.

Typical Applications:
Wire and cable insulation, small tubing, and injection molded parts.

Teflon FEP 100 X
Packing:25kg/bag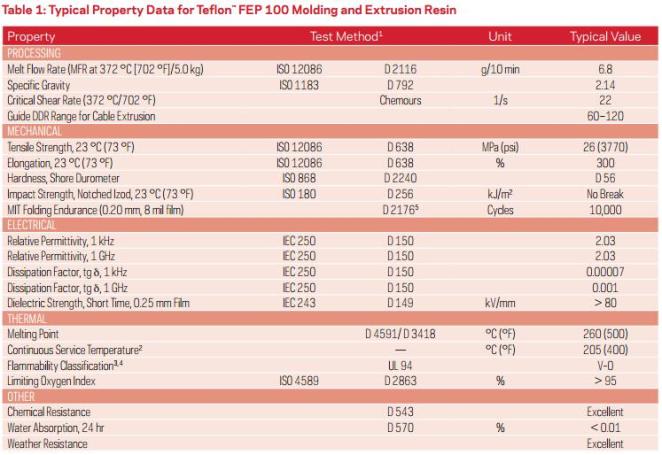 For inventory control purposes, product name may be followed by an X. Products labeled FEP 100 and FEP 100 X are equivalent, and all information in this document is applicable to both.

Processing
Teflon FEP 100 fluoroplastic resin can be processed by conventional melt extrusion, and by injection, compression, and blow molding processes. For smooth feeding to extrusion equipment, it is supplied in 3 mm (0.12 in) pellets. The extruders and molding machines used for Teflon FEP 100 should be constructed of high nickel alloy corrosion-resistant materials and be capable of operating at temperatures up to 400 °C (750 °F).

Storage and Handling
The properties of Teflon FEP 100 resins are not affected by storage time. Ambient storage conditions should be designed to avoid airborne contamination and water condensation on the resin when opening and emptying the packaging.

if need this material pls inform your order quantity so that we can offer you the best price accordingly.