Teflon FEP

Description Teflon FEP 9898 is a melt-processible fluoroplastic resin available in pellet form. It is a copolymer of tetrafluoroethylene and hexafluoropropylene, without additives, that meets the requirements of ASTM D 2116 Type II. With a relatively high melt flow rate and improved high frequency electrical properties, Teflon FEP 9898 has been designed for high-speed extrusion of thin coatings on small-gauge wires.
Typical Applications
Applications for Teflon FEP 9898 include small diameter, thin wall wire and cable insulation; industrial film; and intricate or thin wall parts made by injection molding.
Processing
Teflon FEP 9898 can be processed by conventional melt extrusion,and by injection, compression, and transfer molding processes. High melt strength and heat stability permit the use of relatively large die openings and high temperature draw-down techniques that increase production rates. Reciprocating screw injection molding machines are preferred. Corrosion-resistant metals should be used in contact with molten fluoroplastic resin. Extruder barrel should be long,relative to diameter, to provide residence time for heating the resin to approximately 400 °C (750 °F). For more detailed processing information, including recommended draw-down ratios, consult your Chemours representative.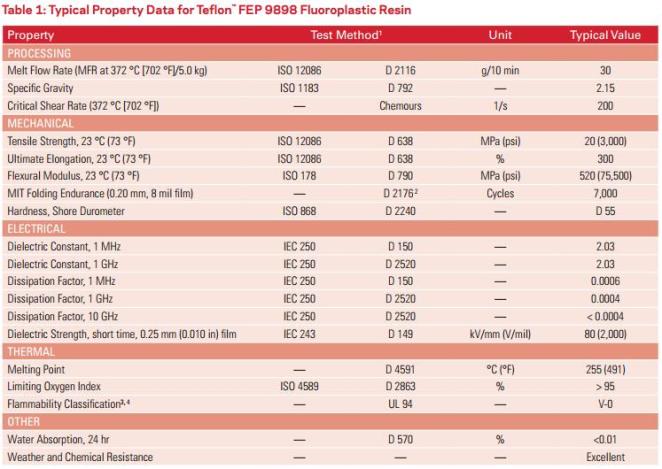 Teflon FEP 9898
Packing:25kg/bag

if need this material pls inform your order quantity so that we can offer you the best price accordingly.