Teflon PFA

Typical Applications
Teflon PFA 9725 is an ideal resin for applications involving compounding and compression molding, as well as extruded tubing and other profiles for hose, electrical insulators, and sleeving; industrial film and products made from film; and injection or blow-molded articles requiring superior electrical, chemical, and thermal properties. Teflon PFA 9725 offers a slightly lower melt flow rate than Teflon PFA TE9724, ultimately providing a higher degree of stress-crack resistance.

Description
Teflon PFA 9725 is a general-purpose fluoroplastic resin available as loosely compacted fluff. It is intended for use in special application processes in consultation with Chemours. Compared with other grades of Teflon PFA, its most unique features are a relatively low flow rate and properties that make it suitable for a variety of processes and demanding end uses, especially compounding and compression molding.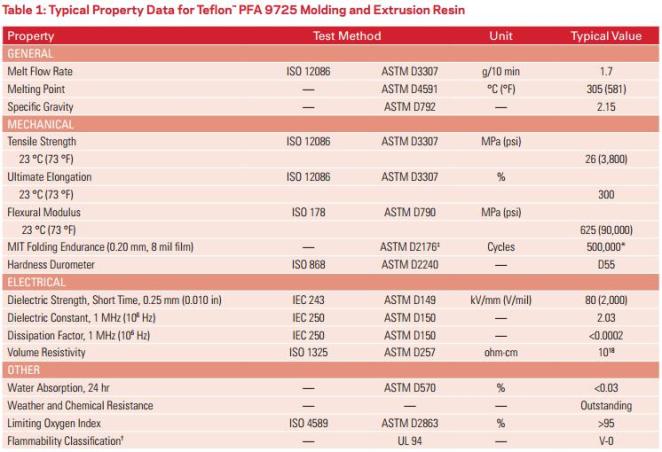 For inventory control purposes, product name may be followed by an X. Products labeled PFA 9725 and PFA 9725 X are equivalent, and all information in this document is applicable to both.

Processing
Teflon PFA 9725 can be processed by conventional melt extrusion, and by injection, compression, and transfer molding processes. High melt strength and heat stability permit the use of relatively large die openings and high temperature draw-down techniques that increase production rates. Reciprocating screw injection molding machines are preferred. Corrosion-resistant metals should be used in contact with molten fluoroplastic resin. Extruder barrel should be long, relative to diameter, to provide residence time for heating the resin to approximately 390 °C (730 °F). For more detailed processing information, including recommended draw-down ratios, consult your Chemours sales representative.

Storage and Handling
The properties of Teflon PFA 9725 resin are not affected by storage time. Ambient storage conditions should be designed to avoid airborne contamination and water condensation on the resin when it is removed from containers.

We can give discount according to order quantity.