Product Description
Durable Xenoy ZC-G01 safety padlock with steel shackle wide application.
a.Durable,lightweight with non-conductive Xenoy lock bodies.
b.High security 10 pin cylinder lock, up to 100000 different locking mechanisms.
c.Key retaining feature ensures the padlocks are not left unlocked.
d.Standard labels on front and back.
Other Servics:Can be engraved with customers' logo if required. 8 colors available.
Model No.

Description

Lock shackle materials

Key system

Remarks

ZC-G01

Short shackle(red)

Steel(A3)

KD

KA

MK

KAMK

Model "S"means stainless steel shackle,e.g red padlock with stainless steel:ZC-G01S

ZC-G02
Short shackle(yellow)
ZC-G03
Short shackle(blue)
ZC-G04
Short shackle(green)
ZC-G05
Short shackle(black)
ZC-G06
Short shackle(white)
ZC-G07
Short shackle(orange)
ZC-G08
Short shackle(purple)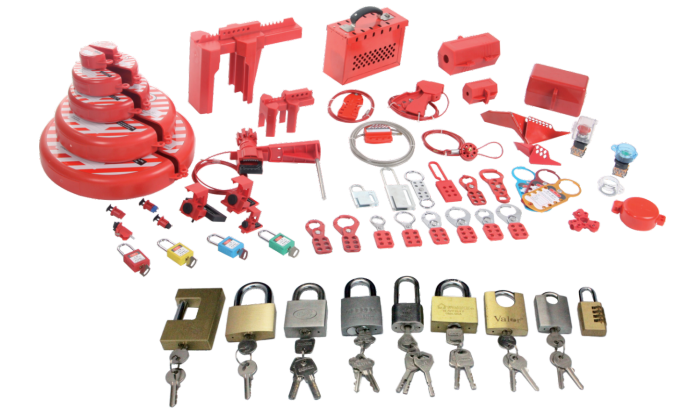 1. Material: rugged reinforced nylon
2. Widely used in chemical, electrical, automobile industry, etc.
3. superior temperature, chemical and corrosion resistance
4. With rewritable warning signs
5. Key Retaining Feature (When the shackle is open, the key can not be removed)
6. Laser printing and logo engraving available if required.
7. Shackle Length: 76mm
8.We have ABCD plastic Body , Type D is most popular recently
Our service
We provide Unique key charting system for our safety padlock
a,Keyed Differ System (KD): Each padlock is keyed differently, supplied with 2 keys per lock.20000 pcs individual padlocks available .
b, Keyed Alike System (KA): Each padlock is keyed the same. 1 key will open all padlocks in each group.
c, Differ & Master Key System (MK): Each padlock is keyed differently, supplied with 2 keys per lock. A master key will override and open any of these padlocks.
d, Alike & Master Key System (KAMK): Each padlock is keyed the same in one group. A master key will override and open all groups of Alike keyed.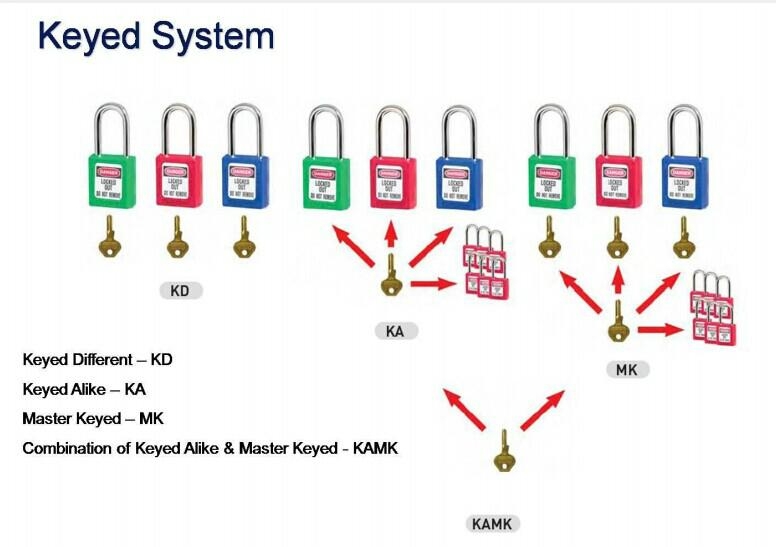 Why Use Lockout/Tag out
Due to the hight rate of industrial accidents caused by unexpected organization, start up od machines or equipment, uncontrolled release of energy, reducing the industrial accidents becomes one of today's most serious issues. LOCKOUT/TAGOUT is a planned safety procedure that disables the energy supply of industrial machinery and equipment whilst servicing, maintenance work or repairs are in progress. Many of industrial accidents can be prevented by proper LOCKOUT/TAGOUT procedures.
Making the right kind of LOCKOUT & TAGOUT equipment available to the employee is the responsibility of the plant's management.
Where use LOCKOUT/TAGOUT?
1.Perform daily maintenance on the equipment,adjustment,cleaning,inspection and debugging etc.
2.Operation under high pressure
3.The operation that needs to temporarily turn off the security system.
4.Widely used in petrochemical,chemical,nuclear power,military automobile ship building industries,suitable for oil pipelines,cable interlayer,platform channel,pup house,Tunnel Project,Mountain-climbing,Hiking,Patrolling,Overhauling and Emergency in electrical power company,Mine,Military,Police,Firefighting,Dockyard and other hazardous locations.
LOCKOUT/TAGOUT Requirements
1.If more than one individual is required to work on a particular piece of equipment,each shall place his own personal LOCKOUT/TAGOUT device on the energy isolating devices.
2.Never authorize to other employees to remove your LOGO devices.
3.During work shift,never remove your LOCKOUT/TAGOUT devices before another to confirm the LOCKOUT/TAGOUT devices are safety and then begin operations.
4.Each LOCKOUT/TAGOUT device with the name of the employee for operations.
Each employee can't continue operations depend on others' LOCKOUT/TAGOUT devices.
5.Proper application and utilization of LOCKOUT/TAGOUT devices.
6.A periodic inspection of the energy control procedures shall be conducted at least annuanlly to ensure that the procedure and the requirments of this standard are being followed.
7.If there is a poss ability of re-accumulation no longer exists.
8.Outside person,such as contractors,must be aware of the LOTO procudures of the Company.This is best accomplished with outside person during the initial meeting where a copy of the Company's LOTO program can be presented and discussed along with oher safety program requirments.
Our company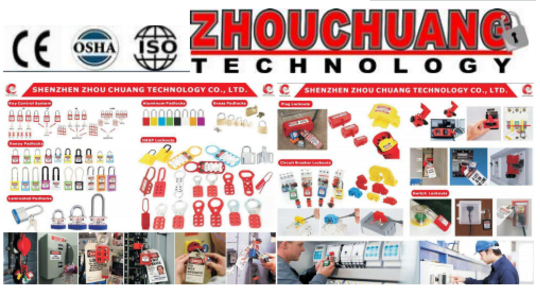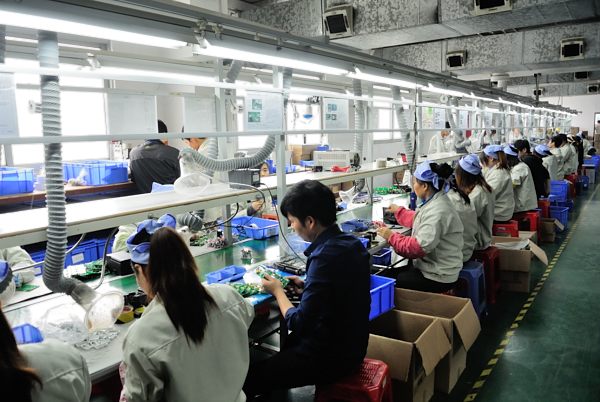 SHEN ZHEN ZHOU CHUANG TECHNOLOGY CO.,LTD is a reputed and leading manufacturer of safety lockout and tagout devices and safety lockout accessories.Our safety solutions and equipments have achieved its desired growth due to the appreciation and goodwill that customers have showed on them from alll over the world.Our company is also well known for its sincere efforts at keeping up to customer satisfication and demands.
The safety lockouts and equipments are enviroment friendly.Our company is equipped to cater and offer the best safety products for different segments of industries such as Construction,Petrochemicals,Pharmaeuticals,Power plant,Mining,Iron and Steel,etc.We supply various high quality and durable safety lockout devices for the safety operation and identification of hazards.
In order to prevent injury to the employees by hazardous energy,disable machines or equipment,it requires employees to eatablish a program and utilize procedures for affixing appropriate lockout devices or tagout devices.Proper LOCKOUT & TAGOUT procedures can avoid many industrial accident.
Packing &Delivery

10Pcs/Box 20Pcs/Carton 20kg/Carton
We can customized the package for our customer,any requirements welcome to tell us.

1. If you couldn't find the exact product you want, never mind, just contact us and tell your requirements, we will arrange the moulds and manufacture for you.
2. No minimum order quantity required
3. Many products are available from stock with the next several days.
4. If required, goods can be collected from our factory directly to your customers.
5. We also support OEM manufacturing, with any given order quantity.


Contact us

Shen Zhen Zhou Chuang Technology Co., Ltd
Add: No.2 Bldg,Da Pu Industrial,Long Dong Community,Long Gang District, Shen Zhen City, China.
Tel: +86-755-84829400 Fax:+86-755-84820206
Cell: +86 13603090255
Website: http://www.zhouchuangsz.com