Electrical Cabinet 9 Fold Profiles Roll Forming Machine
Automaitc electric factory using cabinet frame roll forming machine for electric cabinet 9 fold rack, electronic box pole, metal case frame which using in switchgear system, server case, low voltage panel building, control cabinet electrical instruments etc.
1,Technical parameters
No.

ITEM

PARAMETER

REMARK

1

MATERIAL

Type

Cold-rolled strip steel, galvanized sheet




T.(mm)

1.5mm




Yield Strength (Mpa)

Q235




2

Forming product Width

43.5mm




3

Forming speed (m/min)

2-6m

Including welding

4

Forming main power (KW)

11 KW*2 pcs

FYR

5

Hydraulic power (KW)

18.5 KW

FYR

6

Voltage

AC380V,50Hz,3P


Electronic control panel 9 bend frame production line process
2 in 1 Uncoiler Straightening→servo feeder→punch → Guide device → roll forming machine → Roller welding →shear device (including knife)→ finished product rack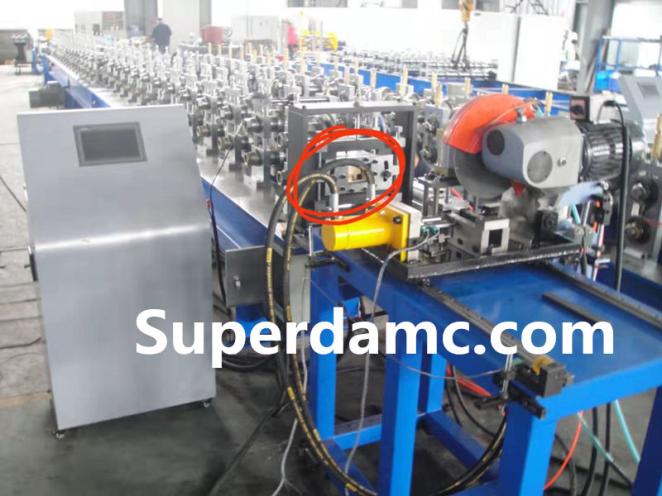 Roll Forming machine list
2, Cabinet frame 9 fold production line parameters
1), Uncoiler
3 tons of passive uncoiler
Steel coil for inner diameter: 350 - 450mm
Maximum load of steel coil: 3 tons,
tensioning method: manual tensioning
2), leveling machine
Leveling equipment: 7-roll leveling motor power: 3KW
Thickness adjustment method: screw adjustment and flattening shaft diameter: 40mm
3), automatic feeding system
Automatic feeding system motor power: about 2KW
4. Hydraulic press
Hydraulic Punch: Hydraulic Punch
Hydraulic station power: 7.5KW
Number of cylinders: 1 set
Number of die: 1 set
Punching pin material: GCr12mov
Limit: Light sense
5, roll forming system parameter
The base is welded by a square tube
Number of roller station: 28 station
Roller shaft diameter: 65mm
Roller shaft material 45#
Roller material: GCr15 fine turning process with quenching
Two sets of 11 KW motors
Forming machine structure: wall panel structure
Transmission mode: industrial drive chain
6, cut off
Cutting method: cut off the flying saw with water cooling
7, Electronic control system,
Speed control: inverter
PLC uses Panasonic brand
Encoder uses Omron brand
Touch screen adopts China Brand Touch Screen
The control system has its own power protection, overload protection, short circuit protection, and its own emergency stop button. (This button can be pressed if an accident occurs, and the device stops.)
Flat collect rack
Cabinet frame profiles 9 fold forming machine electrical control system
The entire line imported PLC control, LCD touch screen, man-machine interface. People interact with the PLC. Operator setting the program to run automatically (programmable control) and control process monitoring, production line operator control and modify the control parameters, and real-time monitoring the equipment status & parameters and fault indication. Workpiece length digital setting, adjustable length can be adjustable as well. Real-time monitoring of equipment operating status and fault indication.
Operation manual / automatic two styles. With manual and automatic switching function: In the manual mode, can be stand-alone operation, easy maintenance; In automatic mode, carry out full production run, in order to start; across the board with emergency stop buttons, easy to handle emergencies, to ensure that equipment and operating personnel Safety.
Machinery main components of the brand:
PLC control system: Siemens
Inverter: Taiwan Shilin
Encoder: Omron
Touch screen: Siemens
Some components are Schneider brand devices.